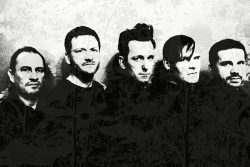 BAIL, die selbsternannten 'Melancholiependent' Rocker aus Süddeutschland begeben sich ab heute mit ihrem neuen Album "Superscar" auf die Reise in die Untiefen der menschlichen Seele. Aus insgesamt zwölf atmospährischen Songs besteht das düstere Rock Epos und punktet mit melancholischen New Wave Einflüssen sowie der prägnanten und Gänsehaut erzeugenden Stimme von Sänger Klaus Biehler. Das Album behandelt die äußerlichen Wesenszüge des Menschen, wie Schönheit, Ästhetik und der Angst vor deren Verlust, bis hin zu geheimnisvollen philosophischen Rätseln der Unendlichkeit und unserer Wahrnehmung der Realität. "Superscar" ist ein mystisches Indie Rock Album, das mit seiner geheimnisvoll dunklen Stimmung perfekt in die Jahreszeit passt. Aus diesem Grund sollten sich nicht nur Fans von Bands wie The Smiths, The Smashing Pumpkins oder Coldplay, das über N13 Music erscheinende, BAIL Album beim Plattenhändler ihres Vertrauens besorgen.
Die Band um Sänger Klaus Biehler sowie seinen Musiker-Kollegen Toby Ventura an der Gitarre, Kai Escher am Bass, Bertram Hensle am Keyboard und Jürgen Spänle am Schlagzeug hat "Superscars" in den Neuwerk Studio unter der Ägide von Produzent André Horstmann (Rod Steward, Paul Carrack, All Saints) aufgenommen. Zu den Songs von "Superscar" wurden bereits drei Musikvideos produziert. Nach dem ersten Videoclip "I Don't Want To Be The One To Tell You" und dem Zweiten "The Supermodel Is Pregnant" haben BAIL vor drei Wochen das wiederum von Regisseur und Kameramann Max Kiesele produzierte audiovisuell beeindruckende Video "Somewhere There Is Light" veröffentlicht. Das Musikvideo spielt u.a. in der Kulisse des altehrwürdigen gotischen Freiburger Münsters sowie des kultigen Kenziger Kinos. BAIL schreiben den künstlerischen Aspekt ihrer Musik in Großbuchstaben, dass spürt man sowohl in ihren Live-Auftritten, wo der visuelle Sinn des Zuschauers durch die außergewöhnliche Inszenierung angeregt wird, als auch beim anspruchsvoll gestalteten Cover des Albums, auf dem ein Spiegel, der den nächtlichen Vollmond abbildet, dem gesamten Konzept zusätzlich eine besondere Mystik verleiht. Die Songs pendeln zwischen Licht und Dunkelheit und weisen auf fast provokante Art und Weise auf die Niedertracht des Menschen hin, die sich in Lügen und Realitätsverleumdung äußert, illustrieren aber auch die Wahrheit und verborgene Realitätsperspektiven. Der Titelsong gehört dabei zu den schnelleren Stücken des Albums und lässt sich fast schon als energetische Hymne einstufen, bei der die Punk Einflüsse der Band unverkennbar sind. "I Don't Want To Be The One To Tell You" wiederum wandelt weiter auf dem Melancholie-Pfad und handelt von der Wahrheit, die zum Schutz des geliebten Glücks verschwiegen wird.
Wer die mystisch künstlerische Atmosphäre von BAILs "Superscar" selbst erleben möchte, der sollte sich das Album direkt bei seinem favorisierten Plattenhändler bestellen oder auf seine Playlist bei einem der großen Streaming-Dienste setzen: Amazon | Saturn | Media Markt | JPC | Weltbild | WOM | Ex Libris | Grooves | Rubydon | Rakuten | iTunes | Google Play | Spotify | Deezer
Weitere Informationen zum fünfköpfigen Indie Rock Ensemble BAIL und ihrem düsteren Album "Superscar", das sich mit der Liebe und ihrem Misslingen, mit den Ängsten und Unsicherheiten eines Jeden auseinandersetzt, findet ihr auf unserem Band-Profil oder unter www.bail-music.com und www.facebook.com/bailband sowie im Band-Videointerview unter https://youtu.be/Yj3K8KPZ9Bs.
Posted by Miriam Guigueno on 21.10.2016 08:30