Die süddeutschen Indie Rocker BAIL gehen mit ihrem neuen Album "Superscar" auf einen Erkundungstrip in die Untiefen des menschlichen Gewissens. Zwischen Hymnen und Abgründen berichten sie von ihren persönlichen Geschichten und erschaffen so ein bemerkenswert düsteres Rock Epos mit New Wave Einflüssen, in dem Klaus Bielers einprägsame Stimme Gänsehaut verleiht. Vereint man schließlich die Begriffe 'melancholisch' und 'independent' zu einem Wort, erhält man 'melancholipendent', was unter Vorbehalt wohl die zutreffendste Beschreibung für die Musikrichtung der Band ist. Insgesamt vereinen sich die zwölf im Neuwerk Studio aufgenommenen und von André Horstmann produzierten Songs zu einem ästhetisch eindrucksvollen Werk. "Superscar" erscheint am 21.10.2016 über N13 Music und wird mit seiner kraftvollen Präsenz nicht nur Fans von The Smiths, The Smashing Pumpkins oder Coldplay in Trance versetzen, sondern durchaus auch Fans anderer Stilrichtungen in seinen Bann ziehen.
BAIL besteht aus Sänger Klaus Biehler sowie seinen Musiker-Kollegen Toby Ventura an der Gitarre, Kai Escher am Bass, Bertram Hensle am Keyboard und Jürgen Spänle am Schlagzeug. Die Band ist bereits seit 2013 unterwegs und schreibt dem künstlerischen Aspekt der Musik eine äußerst große Bedeutung zu, was man bei ihren Live-Auftritten auch zu spüren bekommt. Der visuelle Sinn des Zuschauers wird neben der Musik durch die darauf abgestimmten Videoclips und Bilder ebenfalls in kreativer Weise angeregt. Genauso anspruchsvoll ist das Cover des Albums gestaltet, auf dem ein Spiegel, der den nächtlichen Vollmond abbildet, dem gesamten Konzept zusätzlich eine Art Mystik verleiht. Die Songs auf "Superscar" pendeln zwischen Licht und Dunkel, machen auf fast provokante Art und Weise auf die Niedertracht des Menschen aufmerksam, die sich in Lügen und Realitätsverleumdung äußert, beleuchten aber auch die Wahrheit und verborgene Realitätsperspektiven. Insgesamt ist es BAIL mit "Superscar" gelungen, ein eigenständiges Werk zu erschaffen, das sich mit der Liebe und der Angst vor ihrem Misslingen, genauer betrachtet also den Unsicherheiten eines Jeden, auseinandersetzt. Die ruhigen Töne, die sich stets mit schnelleren Titeln abwechseln, beweisen in Kombination mit den bewegenden Texten, dass man auch durch den musikalischen Aspekt der Kunst inspiriert werden kann, seine eigenen Gedanken infrage zu stellen.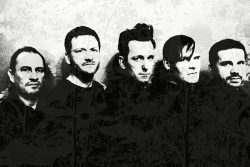 Zu "I Don't Want To Be The One To Tell You" erschien bereits ein Musikvideo, das vor einer melancholisch untermalten Kulisse von einer Lüge erzählt, die zum Schutz des geliebten Glücks aufrecht erhalten wird und die bittere Wahrheit verdrängt. Der Song "The Supermodel Is Pregnant" zum gerade veröffentlichten neuen Musikvideo von Regisseur Max Kiesele beschäftigt sich auf amüsante und freche Weise, wie der Titel bereits antizipiert, mit der Schwangerschaft einer herzensbrecherischen Dame. Hier gehen die Supermodels auf die Jagd nach den fünf Musikern und rechnen so mit den ihnen auferlegten Klischees ab, der Clip kann hier angeschaut werden: https://youtu.be/-D_EGV00x2Y
Weitere Informationen zum fünfköpfigen Indie Rock Ensemble BAIL findet ihr auf unserem Band-Profil oder unter www.bail-music.com und www.facebook.com/bailband sowie im Band-Videointerview.
Journalisten und Radio-DJs, die ihre Zuhörer und Leser auf eine aufregende Reise durch verschiedene Erzählungen und Emotionen schicken möchten, sind herzlich eingeladen, sich in der VIP & Press Lounge für die Bemusterung und weitere Pressematerialien zu registrieren. BAIL sind auch gerne dazu bereit, euch in einem Interview weiter über ihren spannenden musikalischen Trip zu berichten.
Posted by Miriam Guigueno on 02.08.2016 14:30
Last change on 05.10.2016