DUST & BONES veröffentlichen das Musikvideo ihrer zweiten Single "Fight The Black Dog" und sorgen damit für reichlich Ohrwurm-Gefahr. Ab heute könnt ihr euch den Clip exklusiv bei Legacy.de anschauen und mit DUST & BONES ordentlich abrocken.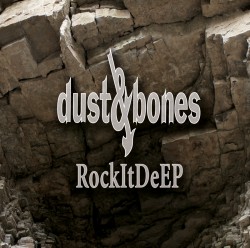 Im Juni erschien die neue DUST & BONES Platte "RockItDeEP". Nun ist es nach dem ersten Clip "Unseen" Zeit für das zweite Musikvideo. Die Punkrocker verkörpern, auch in ihrem neuen Clip, wie nicht anders erwartet ihre Kiss-Ass-Attitüde und geben einem voll auf die Zwölf. Die Melodie des Songs geht direkt ins Ohr und das Musikvideo zeigt unter anderem einige Live-Aufnahmen. Live hauen DUST & BONES das kleinste Staubkorn von der Bühne, jetzt beweisen sie auch in ihrem neuen Video dass sie mit ihrem 'StraightShitDoomyRock' in die Vollen gehen!
Lasst euch überraschen, checkt das neue Musikvideo "Fight The Black Dog" und lasst euch von der einzigartigen DUST & BONES Attitüde und Energie berauschen!
Alle weiteren Infos zur Band und zum "RockItDeEP" findet ihr in unserem DUST & BONES Profil oder auf der Website der Jungs sowie auf Facebook.
Posted by Miriam Guigueno on 08.10.2014 13:20
Last change on 24.10.2014