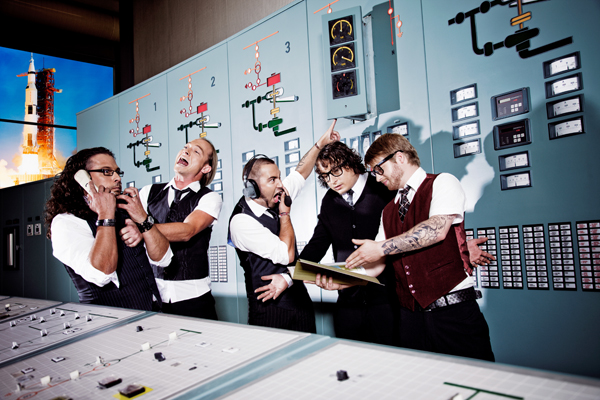 Die lange Reise hat sich für THE FLIGHT OF APOLLO gelohnt, denn nach einigen Galaxien-Kollisionen ist die österreichische Band heute, am 30. August, sicher mit ihren Songs im Gepäck auf "Jupiter" gelandet. Zwischen soften Rockballaden und harter Headbang-Action ist THE FLIGHT OF APOLLO dabei seine eigene Route geflogen und ist deshalb stets für eine Überraschung gut. Im Mittelpunkt steht die Expedition durch neue musikalische Welten ohne jedoch in die Abstraktheit abzugleiten. Zwischen Sonne, Mond und Sternen verschmelzen nahtlos Elemente aus Metal, Alternative, Rock sowie Klassik, Pop und Elektro zu einem einzigartigem Klangkosmos. Dieser "new Sound of Music" ist Teil eines neuen österreichischen Musik-Selbstverständnisses, den die fünf erfahrenen Musiker Electronic Post Grunge nennen.
Mit "Jupiter" präsentieren THE FLIGHT OF APOLLO ihr Debüt-Album auf dem sich sich ein Intro und zwölf Songs sowie ein Hidden-Track befinden. THE FLIGHT OF APOLLO ist eine außerirdisch lebendige Band, bei der einem manchmal die Puste wegbleibt vor Überraschungen und bei der die Songs inhaltlich keinen Platz für Vakuum bieten. Trotz der verschiedenen Einflüsse bleibt am Ende die Aussicht auf einen aufgehenden Stern namens THE FLIGHT OF APOLLO.
Kurz vor Reisebeginn hat die Band bereits das Musikvideo zu "Rum Drum" in die Umlaufbahn geschossen und damit für einiges Aufsehen gesorgt, indem es jede Party wie eine Rakete in den Himmel hat steigen lassen. So sieht es auch das Webzine Musikansich.de, das findet das THE FLIGHT OF APOLLO mit "Jupiter" ein Album gelungen ist, auf das sie zu recht stolz sein können und was der Band einen festen Platz auf den nächstjährigen Festivalbühnen bescheren könnte!
Folgende Tracks erwarten euch auf "Jupiter":
Intro
Airborne
Rum Drum
Hide & Seek
Harsh Fiords
Rebels Of Porn
X-Ray Generation
Frustrated
Interlude
You Were The One
We Are Hallelujah
Ordinary Beauty
A Place 4 U
Hidden Track: On The Wrong Side Of The Road
Weitere Infos zu THE FLIGHT OF APOLLO und dem Album "Jupiter" findet ihr unter auf www.dr-music-promotion unter Artists & Bands oder auf der Website www.theflightofapollo.com sowie auf der Facebook-Seite der Band!
Das Album "Jupiter" könnt ihr ab sofort u.a. hier bestellen:
Amazon: http://bit.ly/tfoa_amazon
JPC: http://bit.ly/tfoa_jpc
iTunes: http://bit.ly/tfoa_itunes
Posted by Miriam Guigueno on 30.08.2013 08:30
Last change on 21.12.2013