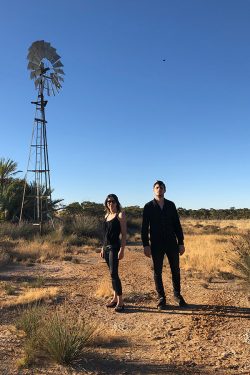 POWDER FOR PIGEONS schleudern ihr neues Alternative Rock Musikvideo "Catapult" humorvoll der medialen Gegenwartskultur entgegen
Vergangenen Freitag hat das Power Duo aus Down Under POWDER FOR PIGEONS sein neues Alternative Rock Album "Over & Out" veröffentlicht. Heute schleudern wir euch direkt ihr neues Musikvideo zum Song "Catapult" um die Ohren. Gemeinsam mit den Spezialisten von Generator Media (Bob Wayne, Red Baron, Sam Tucker) haben Rhys und Meike Jones erneut einen gesellschaftskritischen Clip produziert, der mit einem Augenzwinkern die aus den Fugen geratenen moderne Welt auseinander nimmt. Heutzutage bewegen sich die Dinge so schnell, dass es schwer ist, Schritt zu halten. Um mit der Zeit zu gehen, müssen wir in der Lage sein, uns zu verändern und an neue Situationen anzupassen. So sicher, wie wir uns in einem Moment fühlen, kann uns der nächste aus unserer Blase ins andere Extrem katapultieren, mit unberechenbaren Ergebnissen. Wie auf dem Album-Cover dargestellt, kann man, egal wie fortgeschritten wir sind, leicht eine falsche Kurve nehmen, um abzustürzen und zu brennen. POWDER FOR PIGEONS ist es gelungen, diese aktuelle Thematik mit einer humorvollen und verspielten Kehrseite audiovisuell zusammenzufassen. Der Clip zu "Catapult" zeigt Rhys, wie er die Rolle eines verrückten Social Media-Süchtigen spielt, der zunehmend außer Kontrolle gerät. Meike mimt den 'Men In Black', der ihn einer Gehirnoperation unterziehen lässt, um die Dinge wieder auf Kurs zu bringen. Zum operativen Eingriff geht es hier entlang: https://youtu.be/h7eSBXcH9u4
Das Album "Over & Out" mit seiner gigantischen Alternative Rock, Stoner und Grunge Mixtur handelt von den kontroversen Zeiten, in denen wir leben, mit Beobachtungen und Sarkasmus, die Themen wie das Internet, Social Media und was damit verbunden ist. Der rasende Informationsfluss und die endlosen Möglichkeiten beeinflussen unsere Denkweise wie auch unser Handeln im Alltag und erschließen ständig neue Situationen und unvorhersehbare Veränderungen, mit denen wir leben müssen. Überzeug dich jetzt persönlich von POWDER FOR PIGEONS neuem Album und bestelle auf www.powderforpigeons.com die Vinyl-Ausgabe oder statte einem der folgenden digitalen Shops und Streamingplattformen einen Besuch ab: Amazon | iTunes | Google Play | Spotify | Apple Music | Deezer | Tidal
Von der Live-Power der beiden Vollblut-Musiker könnt ihr euch auf der gerade gestarteten "Over & Out" Tour 2019 überzeugen, bei der sie ihre vertonten staubigen und wilden Geschichten aus dem Busch mit jeder Menge Energie und einer gehörigen Portion Dreck in europäische Clubs bringen:
13.03.2019 FR-Montpellier, The Black Sheep
14.03.2019 ES-Barcelona, Rocksound
15.03.2019 ES-Zaragoza, La Ley Seca
16.03.2019 ES-Madrid, Sala Silikona
17.03.2019 ES-Santander, TBA
19.03.2019 FR-Nantes, Scene Michelet
21.03.2019 FR-Lille, La Bulle Café (Rock in Bourlon Warm up, w/Glowsun)
29.03.2019 DE-Hamburg, Millerntorstadion (St. Pauli Aftershow/Separée)
30.03.2019 NL-Zwolle, Jacks Music Bar
04.04.2019 DE-Wiesbaden, Kreativfabrik
05.04.2019 DE-Heidelberg, Beatfabrik
06.04.2019 DE-Mohnheim, Sojus
12.04.2019 NL-Amsterdam, The Cave
13.04.2019 NL-Den Helder, Rockcafé
18.04.2019 DE-Heilbronn, Emma23
30.04.2019 DE-Hannover, Glocksee
02.05.2019 DE-Leipzig, Black Label Pub
03.05.2019 DE-Nürnberg, Z-Bau
04.05.2019 DE-Neukirchen, Sägewerk
08.06.2019 DE-Köln, Sonic Ballroom
20.07.2019 DE-Idar-Oberstein, Rock im Daal
23.08.2019 FR-Mareuil-sur-Cher, Festival Bergerie
13.09.2019 DE-Potsdam, Archiv
14.09.2019 DE-Jena, Kulturbahnhof
19.09.2019 DE-Würzburg, Immerhin
20.09.2019 DE-Bamberg, Live Club
21.09.2019 DE-Passau, Zauberberg
05.10.2019 ES-Almeria, Tabernas Rock Fest
02.11.2019 DE-Heubach, QL TourRaum
Weitere Konzerttermine werden fortlaufend bekannt gegeben. Unter anderem deshalb lohnt sich ein regelmäßiger Blick auf die POWDER FOR PIGEONS Website wie auch der Besuch ihrer Social Media Profile bei Facebook und Instagram, wo Rhys und Meike auch regelmäßig von der laufenden Europa-Tour berichten. Hintergrundinfos zur Band und "Over & Out" gibt es zudem im Artists & Bands Profil bei Dr. Music Promotion.
+++
+++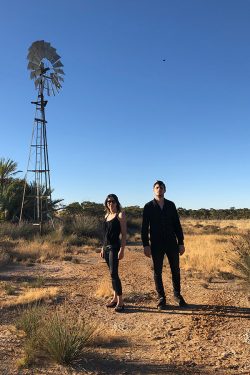 POWDER FOR PIGEONS throw their new Alternative Rock music video "Catapult" humorously against the media contemporary culture
Last Friday the power duo from Down Under POWDER FOR PIGEONS released its new Alternative Rock Album "Over & Out". Today we're throwing their new music video for the song "Catapult"straight into your face. Together with the specialists from Generator Media (Bob Wayne, Red Baron, Sam Tucker) Rhys and Meike Jones have produced another socio-critical clip which wittily takes the modern world out of joint. Things are moving so fast nowadays, that it's hard to keep up. In order to move with the times, we have to be able to change and mould with new situations. As safe as we feel in one moment the next can catapult us out of our bubble and into the opposite extreme with uncalculated outcomes. As depicted on the album cover, however advanced we are, one can easily make a wrong turn to crash and burn. POWDER FOR PIGEONS have managed to visually sum up these modern day issues with a humorous and playful flip side. The clip for "Catapult" shows Rhys playing the part of a crazed social media addict who's spiraling out of control. Meike warrants the 'Men In Black' to bring him in for brain surgery to get things back on track. For the surgical procedure, follow this way: https://youtu.be/h7eSBXcH9u4
The album "Over & Out" with its gigantic Alternative Rock, Stoner and Grunge mixture is about the controversial times we live in, with observations and passing sarcasm touching on topics such as the internet, social media and what comes with it. The overflow of information and endless opportunities influence our way of thinking and our actions in our daily lives while constantly opening up new situations and unpredictable changes we have to deal with. Check out POWDER FOR PIGEONS new album now and order the vinyl edition at www.powderforpigeons.com or visit one of the following digital shops and streaming platforms: Amazon | iTunes | Google Play | Spotify | Apple Music | Deezer | Tidal
The live power of the two full-blooded musicians awaits you on the recently started "Over & Out" Tour 2019, where they bring their energetic and filthy brand of two-piece power with dusty and wild stories from the bush to European clubs:
13.03.2019 FR-Montpellier, The Black Sheep
14.03.2019 ES-Barcelona, Rocksound
15.03.2019 ES-Zaragoza, La Ley Seca
16.03.2019 ES-Madrid, Sala Silikona
17.03.2019 ES-Santander, TBA
19.03.2019 FR-Nantes, Scene Michelet
21.03.2019 FR-Lille, La Bulle Café (Rock in Bourlon Warm up, w/Glowsun)
29.03.2019 DE-Hamburg, Millerntorstadion (St. Pauli Aftershow/Separée)
30.03.2019 NL-Zwolle, Jacks Music Bar
04.04.2019 DE-Wiesbaden, Kreativfabrik
05.04.2019 DE-Heidelberg, Beatfabrik
06.04.2019 DE-Mohnheim, Sojus
12.04.2019 NL-Amsterdam, The Cave
13.04.2019 NL-Den Helder, Rockcafé
18.04.2019 DE-Heilbronn, Emma23
30.04.2019 DE-Hannover, Glocksee
02.05.2019 DE-Leipzig, Black Label Pub
03.05.2019 DE-Nürnberg, Z-Bau
04.05.2019 DE-Neukirchen, Sägewerk
08.06.2019 DE-Köln, Sonic Ballroom
20.07.2019 DE-Idar-Oberstein, Rock im Daal
23.08.2019 FR-Mareuil-sur-Cher, Festival Bergerie
13.09.2019 DE-Potsdam, Archiv
14.09.2019 DE-Jena, Kulturbahnhof
19.09.2019 DE-Würzburg, Immerhin
20.09.2019 DE-Bamberg, Live Club
21.09.2019 DE-Passau, Zauberberg
05.10.2019 ES-Almeria, Tabernas Rock Fest
02.11.2019 DE-Heubach, QL TourRaum
Further dates will be announced on an ongoing basis. Keep up to date and check out the POWDER FOR PIGEONS website as well as their social media profiles on Facebook and Instagram, where Rhys and Meike also regularly report from the current European tour. Background information about the band and "Over & Out" is also available in the Artists & Bands profile at Dr. Music Promotion.
Posted by Miriam Guigueno on 06.03.2019 14:15
Last change on 22.05.2019