OVERSENSE begrüßen Jassy (JJ's One Girl Band) als ihr neues und fünftes Mitglied an der Gitarre
Nach einem ereignisreichen Jahr, geht es für OVERSENSE gleich mit guten Neuigkeiten weiter. Ab sofort verstärkt Jassy (JJ's One Girl Band) OVERSENSE an der Gitarre. Jassy ist eine Riesen Bereicherung für den Sound der nordbayerischen Melodic Metal Hoffnungsträger und konnte bisher schon mehr als 100.000 Fans mit Coverversionen auf ihrem eigenen Youtube-Kanal gewinnen. Für eine Kostprobe ihres Könnens schaut unter www.youtube.com/c/JJsOneGirlBand vorbei!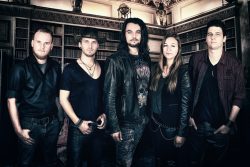 OVERSENSE haben 2017 ihr beeindruckendes Melodic Metal Debütalbum "The Storyteller" über Dr. Music Records veröffentlicht. Ob nun mit Pianoklängen, durchgeschlagenen Akustikgitarren oder auch mit anspruchsvollen Gitarrensolos, OVERSENSE bieten auf ihrem zweiten Album eine stilistische Bandbreite, die es besonders in Deutschland nur selten auf diesem hohen kompositorischen Niveau gibt und kreieren einen einzigartigen Sound in Form von schnellen Heavy Metal Tracks bis zu melodiösem Power Rock. Die zwölf Songs wurden in Zusammenarbeit mit Olaf Reitmeier (Avantasia, Kamelot, Epica) und Miro Rodenberg (Edguy, Brainstorm, Rhapsody Of Fire) produziert und wissen ihre wachsende Fangemeinde mit fetten Headbanger-Riffs, bombastischem Orchester und Chören zu überzeugen.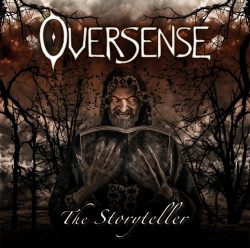 Unter www.youtube.com/oversensemusic findet ihr u.a. das aktuelle Musikvideo zum Song "Mr. Mackies Chase For Love", wo die Band in Anlehnung an Brechts Dreigroschenoper in die Gedankenwelt eines fiktiven Massenmörders eintaucht. Zudem findet ihr dort auch die ersten drei Track by Track Clips in der Sänger und Songwriter Danny Meyer die einzelnen Songs des aktuellen Albums unter die Lupe nimmt. Die aufklärende Reihe wird selbstverständlich weiter fortgesetzt.
"The Storyteller" punktet auch fortlaufend bei der internationalen Hardrock und Metal Presse und gilt als außergewöhnliches Melodic Metal Meisterwerk, das u.a. bei folgenden Shops und Streaming-Diensten verfügbar ist: Amazon | MetalMailorder.com | Saturn | Media Markt | ExLibris | WOM | JPC | Buecher.de | Grooves | Rubydon | iTunes | Google Play | Spotify | Deezer | Apple Music
Nachdem OVERSENSE im Herbst das außerordentliche Vergnügen hatten den musikalischen Teil der Metal Hammer Awards Show, bei der auch Stars wie In Extremo und Orden Ogan in Berlin auftraten, zu eröffnen und anschließend für einige Konzerte mit Doro auf Tour gingen, wird es nun Zeit für neue Konzerte. Die unterfränkischen Band wird am 02. Februar mit den Dr. Music Records Labelkollegen CONCLUSION OFAN AGE beim Wü meets Modern Metal im Cairo, Jugendkulturhaus Würzburg sowie am 18.08.2018 beim Rhön Rock Open Air 2018 in Hünfeld-Oberfeld spielen und gibt in Kürze auf www.oversense.de weitere Konzerte und Festivals bekannt.
Für aktuelle Infos rund um den Geschichtenerzähler empfehlen wir den Besuch des OVERSENSE Bandprofils sowie auf ihren Profilen bei Facebook oder Instagram.
+++
+++
OVERSENSE welcomes Jassy (JJ's One Girl Band) as new and fifth member on the guitar
After a busy year, OVERSENSE continues with good news. From now on, Jassy (JJ's One Girl Band) strengthens OVERSENSE on the guitar. Jassy is a great enrichment for the sound of the northern Bavarian Melodic Metal hopefuls and has already gained more than 100,000 fans with her cover versions on her own YouTube channel. For a sample of her skills, take a look at www.youtube.com/c/JJsOneGirlBand!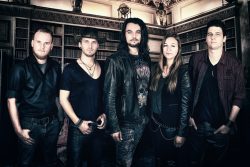 OVERSENSE released their impressive Melodic Metal debut album "The Storyteller" through Dr. Music Records in 2017. Whether it is through piano sounds, resounding acoustic guitars or also guitar solos, OVERSENSE offer a stylistic range which especially rarely exists on this high compositional level in Germany and they create an unique sound in a variety from fast Heavy Metal tracks to melodic Power Rock. The twelve songs were produced together with Olaf Reitmeier (Avantasia, Kamelot, Epica) and Miro Rodenberg (Edguy, Brainstorm, Rhapsdy Of Fire) and have not only convinced their growing fanbase with phat headbanger riffs, bombastic orchestras and choirs.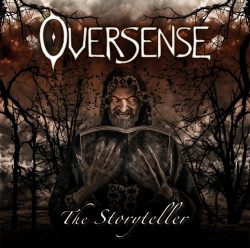 At www.youtube.com/oversensemusic you can find the current music video for the song "Mr. Mackies Chase For Love", where the band dives into the confusing feelings of a fictitious mass murderer inspired by Brechts' threepenny opera. Additionally, you will also find the first three track by track clips in which singer and songwriter Danny Meyer scrutinized each song of the current album. The enlighten series is going to be continued of course.
"The Storyteller" also scores continuously in the international Hard Rock and Metal press and is considered an outstanding Melodic Metal masterpiece that is i.a. available at the following shops and streaming platforms: Amazon | MetalMailorder.com | Saturn | Media Markt | ExLibris | WOM | JPC | Buecher.de | Grooves | Rubydon | iTunes | Google Play | Spotify | Deezer | Apple Music
After OVERSENSE had the extraordinary pleasure of opening the musical part of the Metal Hammer Awards Show in Berlin in autumn, where also stars like In Extremo and Orden Ogan performed, and their successful support shows for Doro, it's now time for new concerts and festivals. For the latest dates check out www.oversense.de.
For current information around the storyteller, we recommend to visit OVERSENSE's band profile as well as their profiles on Facebook or Instagram.
Posted by Miriam Guigueno on 22.01.2018 09:00
Last change on 17.04.2019