OVERSENSE:
"The Storyteller" invites with headbanger riffs to a thrilling Melodic Metal reading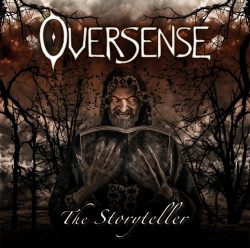 OVERSENSE: "The Storyteller" lädt mit Headbanger-Riffs zur packenden Melodic Metal Lesung
Ein außergewöhnlicher Mix aus eingängigen Melodien, fetten Gitarrenriffs, treibenden Drums und der Powerstimme von Frontmann Danny Meyer, das ist OVERSENSE. Die Musik der unterfränkischen Band lebt auf ihrem am 12.05.2017 über Dr. Music Records erscheinenden Debütalbum "The Storyteller" von der Abwechslung des Songwritings, das sich zwischen verschiedenen Metal und Rock Stilen bewegt. Die Kombination aus harten Headbanger-Riffs, bombastischem Orchester und Chören kreieren einen einzigartigen Sound in Form von schnellen Heavy Metal Tracks bis zu melodiösem Power Rock.
Nach der 2014 erschienenen Debüt-EP "Dreamcatcher", die noch in Eigenregie aufgenommen und im Wolfsburger Gate Studio gemixt wurde, begann sogleich die Arbeit für ihre neue Platte "The Storyteller". Nach ersten Schlagzeug-Aufnahmen im Februar 2015 entstanden erneut in enger Zusammenarbeit mit den Produzenten Olaf Reitmeier (Avantasia, Kamelot, Epica) und Miro Rodenberg (Edguy, Brainstorm, Rhapsody Of Fire) zwölf Stücke, die mit viel Liebe zum Detail arrangiert, aufgenommen und produziert wurden. Mit "The Storyteller" knüpfen die Melodic Metaller um Sänger Danny Meyer, den beiden Gitarristen Marco Volpert und Marcel Winkler, Bassistin Lisa Geiß (ex-Arven) sowie Drummer Patrick Lippert musikalisch direkt an ihre EP an. Dabei überraschen sie jedoch mit einer extra Ladung harter Riffs und drückenden Drums, sowie einigen Stilexperimenten. Das kurze Orchestral-Intro "Forgotten Tales" stimmt mit melancholischen Klavier- und Streicherklängen in die Welt des Geschichtenerzählers ein. Die mystisch anmutenden Melodien von Geige und E-Bow sorgen gleich zu Beginn für den ersten Gänsehaut-Effekt der Platte. Den eigentlichen Opener der CD stellt das anschließende "Wild Hunt" dar. Der beinahe achtminütige Track glänzt mit pompösem Orchester, bombastischen Chören und abwechslungsreichen Arrangements. Der eingängige Halftime-Refrain, die treibenden Strophen sowie heavy Riffs werden durch ein virtuoses Solo von niemand Geringerem als Sascha Paeth, Starproduzent und Gitarrist von Avantasia, abgerundet. "Mr. Mackie's Chase For Love", ein schräger Titel für einen ebenso abgedrehten Song, der auf sehr ironische Weise in die Gefühlswelt des fiktiven Massenmörders Mr. Mackie eintaucht und namentlich durch Brechts Dreigroschenoper inspiriert wurde. Eine rockige Attitüde, ein prägnanter Chorus, sowie ein manegenartiger Dreiviertel-Part ergeben einen packenden Ohrwurm. Aus diesem Grund war dieser Titel auch die erste Wahl für das stimmungsvolle Musikvideo. Ruhige durchgeschlagene Akustikgitarren und eine nachdenkliche Stimmung, erzeugt durch den emotionalen Abschluss einer nie erreichten Liebe, leiten die mitreißende Midtempo-Nummer "Sally" ein, deren Refrain sofort zum Mitsingen anregt. "We're Gonna Bring You Thunder" – Der titelgebende Slogan drückt genau das aus, für was dieser Song steht: Ein Arschtritt für überhebliche Selbstdarsteller, die sich für etwas Besonderes halten. Dies formulieren die Unterfranken in einer melodisch pushenden Hard Rock Hymne mit brachialem Chorus, der absolut mitreißt. In Anlehnung an Rainer Maria Rilkes Gedicht 'Der Panther' befasst sich der letzte Titel "Through The Panther's Eyes" mit dem rücksichtslosen Umgang des Menschen mit seiner Umwelt und dem Leid eingesperrter Tiere. In der melodischen Midtempo-Nummer setzen OVERSENSE hier u.a. auf den Einsatz von eindrucksvollen Synthie-Effekten und Pianoklängen. Nach äußerst melodischen Arrangements, endet der Song zunächst mit einem schnellen treibenden Finale, bevor er das Album "The Storyteller" mit einer sehr ruhigen fast bluesigen Pianoeinlage abrundet. Der Bonustrack "Big Bang" steht für Sex, Drugs and Rock 'n' Roll und jede Menge Spaß! Mit dem von Sänger Danny Meyer aufwändig gestalteten 16-seitigen Booklet und dem stimmungsvollen Frontcover von Illustrator Bloodboy (Kreator, Caliban, Kataklysm) punktet das Debüt auch optisch.
OVERSENSE haben mit "The Storyteller" ein beeindruckendes Album produziert, das in der Szene mit Sicherheit für Furore sorgen wird, wenn es Mitte Mai erscheint. Die Nordbayern bestätigen, dass es um den deutschen Melodic Metal Nachwuchs gut bestellt ist. OVERSENSE haben sich ein starkes Team zusammengestellt und mit ihrem neuen Album ein ganz besonderes Meisterwerk produziert, das nicht nur Fans von Bands wie Edguy, Orden Ogan oder Brainstorm begeistern wird!
+++
OVERSENSE: "The Storyteller" invites with headbanger riffs to a thrilling Melodic Metal reading

An extraordinary mix of catchy melodies, phat guitar riffs, driving drums and the powerful voice of frontman Danny Meyer, that's OVERSENSE. On their debut album "The Storyteller", released on May 12th, 2017 via Dr. Music Records, the music of the German band lives from the variety of the songwriting, ranging between different Metal and Rock styles. This combination of heavy headbanger riffs, bombastic orchestras and choirs creates a unique sound in a variety from fast Heavy Metal tracks to melodic Power Rock.
After the in 2014 released debut EP "Dreamcatcher", which was recorded by themselves and mixed in the Gate Studio in Wolfsburg, they started working on their new album "The Storyteller" right away. In February 2015, after the first recordings of the drums, they created twelve songs working with the producers Olaf Reitmeier (Avantasia, Kamelot, Epica) and Miro Rodenberg (Edguy, Brainstorm, Rhapsody Of Fire) again in close cooperation. These songs were arranged, recorded and produced with great attention to detail. The melodic metalheads of OVERSENSE around lead singer Danny Meyer, the two guitarists Marco Volpert und Marcel Winkler, bassist Lisa Geiß (former Arven) as well as drummer Patrick Lippert tie in with their debut "The Storyteller" to their EP. At the same time they surprise with an extra load of heavy riffs and punching drums as well as a few experiments in style. The short orchestral intro "Forgotten Tales" with its melancholy piano and strings sounds gets you in the right frame of mind for the world of storytelling. Right from the beginning of the record the mystical quaint melodies created by violin and ebow will give you goose bumps. But the real opener of the CD is the following song "Wild Hunt". The track is almost eight minutes long and shines with its grandiose orchestra, bombastic choirs and varied arrangements. The catchy halftime refrain, the driving verses as well as the heavy riffs are rounded off with a virtuoso solo by no other than the star producer and guitarist of Avantasia, Sascha Paeth. "Mr. Mackie's Chase For Love" is a strange title for a just as crazy song which takes you to the feelings of the fictitious mass murderer Mr. Mackie in a very ironic way. The song was also inspired by Brechts' threepenny opera by name. A rocking attitude, a concise chorus as well as a circus-like three-quarter part create a thrillingly catchy tune. For this reason this song was also the first pick for the emotional music video. The thrilling midtempo track "Sally" with its quiet resounding acoustic guitars and a pensive atmosphere created by the emotional conclusion of an unfulfilled love and the refrain encourages you to sing along right away. "We're Gonna Bring You Thunder" – the eponymous slogan expresses exactly what this song stands for: to kick arrogant self-exposers up the arse who consider themselves to be special. OVERSENSE express this in a melodically pushy Hard Rock hymn with a brachial chorus, which is absolutely thrilling. Following the poem 'Der Panther' by Rainer Maria Rilkes, the last song "Through The Panther's Eyes" concerns the reckless dealing of the human being with its environment and the suffering of locked up animals. OVERSENSE bet on the use of impressive synthie effects and piano sounds among other things with their melodic midtempo track. The song ends after extremely melodic arrangements for the moment with a fast driving final until the song rounds up the album "The Storyteller" with a very quiet almost bluesy piano interlude. The bonus track "Big Bang" stands for Sex, Drugs and Rock 'n' Roll and a lot of fun! The debut can score visually as well by the means of the elaborately designed booklet by singer Danny Meyer consisting of 16 pages and the atmospheric front cover by illustrator Bloodboy (Kreator, Caliban, Kataklysm).
"The Storyteller" is an impressive album produced by OVERSENSE, which will cause a sensation in the scene for sure, when it is going to be released mid May. The band form Northern Bavaria proves that there are great young talents within the German Melodic Metal scene. OVERSENSE put a strong team together and produced a real treat with their new album. Not only fans of bands like Edguy, Orden Ogan or Brainstorm will be thrilled!
Line-Up:
Danny Meyer: Vocals, Guitar, Keyboard
Jasmin Pabst: Gitarre
Marco Volpert: Bass
Patrick Lippert: Drums
Tracklist "The Storyteller":
Forgotten Tales
Wild Hunt
Mr. Mackie's Chase For Love
Purgatory
Sally
We're Gonna Bring You Thunder
Phobia
Last Goodbye
The Heart Begins To Shiver
When The Undead Rise
Through The Panther's Eyes
Bonus Track: Big Bang
Discography:
2020 White Wolf (Single) | Dr. Music Records
2017 The Storyteller (Album) | Dr. Music Records
2014 Dreamcatcher (EP) | Self-Release
Record Label: Dr. Music Records | www.dr-music-records.de
Press Downloads: www.dr-music-promotion.de
Media Kit Live: www.dr-music-promotion.de
Press Releases: www.dr-music-promotion.de/?s=oversense
Website: www.oversense.de | www.facebook.com/oversensemusic| www.instagram.com/oversensemusic | www.twitter.com/oversenseband | www.youtube.com/oversensemusic