OVERSENSE: Confirmed as tour support of DORO in The Netherlands and Belgium
The German Melodic Metal band OVERSENSE is confirmed to support the Queen of Metal DORO at her live shows in Benelux next week. Just a few weeks after their fulminant concert at the Metal Hammer Awards show in Berlin the four piece from Bavaria gets the next highlight of their young career. They will support Doro Pesch at the following dates:
11.11.2017 NL-Drachten, Iduna
12.11.2017 NL-Bergen Op Zoom, Gebouw-T
14.11.2017 BE-Kortrijk, De Kreun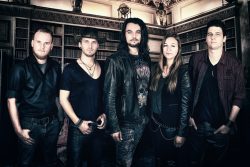 An extraordinary mix of catchy melodies, phat guitar riffs, driving drums and the powerful voice of frontman Danny Meyer, that's OVERSENSE. The music on their debut album "The Storyteller", which was released in May through Dr. Music Records, the German band is brought to life by its variety of songwriting ranging between different Metal and Rock styles. This combination of heavy headbanger riffs, bombastic orchestras and choirs creates a unique sound in a variety from fast Heavy Metal tracks to melodic Power Rock. The album is not only a must-have for fans of Edguy, Orden Ogan or Brainstorm; it surely is one of the big surprises of Melodic Metal in 2017! The fans of legendary DORO will definitely enjoy their gig.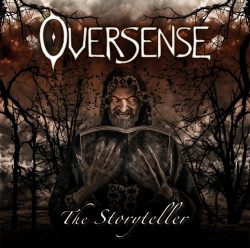 OVERSENSE did a music video for the song "Mr. Mackies Chase For Love" where the band dives into the confusing feelings of a fictitious mass murderer inspired by Brechts' threepenny opera. Who hasn't watched the video clip yet, can do it now at the following link: https://youtu.be/4VS9lyHh_B4
"The Storyteller" is available at one of the following stores or streaming service: Amazon | Saturn | Media Markt | Thalia | JPC | WOM | Moluna | Grooves | CeDe | ExLibris | MetalMailorder.com | Amazon (US) | MVD | Amazon (UK) | Plastic Head | Amazon (FR) | Amazon (ES) | Amazon (IT) | Sound Pollution | TPL.se | Bengans | Ginza | CDON | CDmarket.dk | iMusic.dk | SuperShop.sk | Tower Records | iTunes | Google Play | Spotify | Apple Music | Deezer | Tidal
Further information about OVERSENSE can be found at our band profile. Besides the latest news you can also find the upcoming live dates on the band's website and let you entertain with a lot of additional background information on Facebook.
+++
Posted by Miriam Guigueno on 06.11.2017 22:46
Last change on 19.06.2020