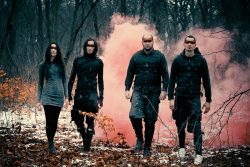 "Petrichor", so der Titel des heute über Dr. Music Records erscheinenden beeindruckenden Konzeptalbums von X-VIVO, beschreibt den Geruch, der in der Luft liegt, wenn langersehnter Regen auf verdorrte Erde trifft. Die Industrial und Alternative Metal Band lässt ihre Zuhörer durch die Augen eines Lebewesens blicken, dessen Spezies unter lebensfeindlichen Bedingungen existiert und dabei dreht sich die Essenz im Kern um den Wandel, den dieses Wesen durchlebt. "Petrichor" ist als Sinnbild für Wiederbelebung zu verstehen und stellt sich in seinen drei Kapiteln gegen den Kreislauf aus Apathie und Unterdrückung, um den Verborgenen eine Stimme zu verleihen. Mit harten Riffs, die sich sich mit finsteren synthetischen Klängen vereinen, um den Kontrast zwischen dem organischen und industriellen Soundbild von X-VIVO, samt seinen vier Gesangsstimmen, zu prägen ist den Berliner Musikern ein außergewöhnliches Meisterwerk gelungen. In seinen knapp 53 Minuten verpacken sie auf dem Album gekonnt Verwundbarkeit, Dreck, Wut und Kampfgeist. Mit ihrem sehr aufwändigen Musikvideo zu "The Eyes Of Wolves Awake" haben Sänger Kai Lietzau, Gitarrist Alex Nietzold, Bassistin Alina Axt und Oliver Gundlach an den Synthesizern zudem einen opulenten Augenschmaus am Start, der den Zuschauer in die Welt von X-VIVO entführt: https://youtu.be/OdlxXHIBGnM
Die bisherigen Pressestimmen sind ebenfalls ein guter Grund, sich das Album als Digi-CD samt 12-seitigem Booklet zu besorgen:
Wer sich bislang noch nicht mit X-VIVO und ihrem neuen Album "Petrichor", das stellenweise an eine Mischung aus Nine Inch Nails, Slipknot, Evanescence und Bring Me The Horizon erinnert, beschäftigt hat, kann es nun mit der CD nachholen oder sich bei seinem favorisierten Download-Shops und Streaming-Diensten mit seiner persönlichen Dosis Industrial versorgen: Amazon | Saturn | MediaMarkt  | Exlibris | WOM | JPC | Buecher.de | Grooves | Rubydon | iTunes | Google Play | Spotify | Deezer | Apple Music
Für tiefer gehende Infos über X-VIVO und ihr spannendes Konzeptalbum besucht unserer Bandprofil und für aktuelle Termine und Hintergründe ist ein Trip zu ihrer Website sowie der Facebook-Seite sowie Instagram zu empfehlen.
Posted by Miriam Guigueno on 01.09.2017 08:00
Last change on 16.01.2018