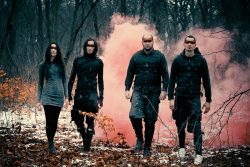 Die Berliner Industrial Metal Band X-VIVO mit ihrem neuen Album "Petrichor" bereits für zahlreiche positive Pressestimmen gesorgt. Der Albumtitel beschreibt den Geruch, der in der Luft schwebt, wenn langersehnter Regen auf verdorrte Erde fällt. Die Zuhörer blicken durch die Augen eines Lebewesens, dessen Spezies unter lebensfeindlichen Bedingungen existiert. Dabei dreht sich der Kern um den Wandel, den dieses Wesen durchlebt. "Petrichor" steht als Sinnbild für Wiederbelebung und stellt sich in seinen drei Kapiteln gegen den Kreislauf von Apathie und Unterdrückung, mit dem Ziel den Verborgenen eine Stimme zu geben. Harte Riffs vereinen sich mit finsteren synthetischen Klängen, die den Kontrast zwischen dem organischen und industriellen Soundbild von X-VIVO mit seinen vier Gesangsstimmen prägen. In den knapp 53 Minuten kommen Verwundbarkeit, Dreck, Wut und Kampfgeist zum Vorschein. Mit dem Musikvideo zu "The Eyes Of Wolves Awake" haben Sänger Kai Lietzau, Gitarrist Alex Nietzold, Bassistin Alina Axt und Oliver Gundlach an den Synthesizern ein spannendes aufwändig produziertes Musikvideo am Start, das sicher noch für gesteigerte Aufmerksamkeit sorgen wird. Gründe sind also genug vorhanden, um das Konzeptalbum "Petrichor" mit seinen zwölf abwechslungsreichen Songs jetzt auch als Digi-CD samt 12-seitigem Booklet am 01.09.2017 über Dr. Music Records in die Plattenläden zu bringen.
Mit ihrem außergewöhnlichen Musikvideo heben sich X-VIVO bereits deutlich vom Durchschnitt der Szene ab und zeigen, wie die Band sich auch live auf der Bühne in einer post-apokalyptischen Optik präsentiert. In "The Eyes Of Wolves Awake" zeigen sie eine intensive, mit allerhand Effekten versehene Show, die von Mastermind Alex Nietzold als Regisseur, Cutter und Post-Producer in Personalunion großartig mit Unterstützung der erfahrenen Kameramänner Rainer Fahrion und Humberto Rodriguez sowie Olaf Nowacki auf hohem Level produziert wurde. Lass dich am Besten direkt selbst von der abgefahrenen Musik und ihrem Videoclip überzeugen: https://youtu.be/OdlxXHIBGnM
Hier ein Auszug aus den bisherigen Pressestimmen:
Sonic Seducer: Nur mal angenommen, Slipknot und Korn würden sich an der Keipentheke begegnen und spontan beschließen, im nahegelegenen Proberaum ein bisschen Krach zu machen. Das Ergebnis könnte in eine ähnliche Richtung gehen wie "Hail The King" von X-VIVO, die man nicht nur bei diesem Kracher gewiss nicht als erstes nach Berlin stecken würde.
PowerMetal.de: Der Berliner Industrial-Vierer hat sich als eine von wenigen Bands etabliert, deren Sound so unverwechselbar ist, dass er jeweils ein eigenes Patent verdient hätte. Es ist wie ein Wiedersehen mit alten Freunden. Und wenn beim folgenden "Hail The King" wieder dissonante Gitarrensägen mit dem maschinell-präzisen, aber zugleich sehr organischen Schlagzeug-Beat und den eher hintergründigen, bedrohlichen Vocals gekreuzt werden wie Klingen zum Gefecht, kann ich ein diebisches Grinsen nicht unterdrücken. Welch ein Fest, als schließlich sattes Riffing einsetzt und X-VIVO eines dieser unerbittlichen Elektro-Gemetzel veranstaltet.
DeepGround.de: Somit liefert "Petrichor" vom ersten bis zum letzten Ton einen innovativen und eigenständigen sowie harmonischen Genremix, der sich aufgrund der brillanten Umsetzung nicht hinter namhaften Bands verstecken muss.
Wer sich bislang noch nicht mit X-VIVO und ihrem neuen Album "Petrichor", das stellenweise an eine Mischung aus Nine Inch Nails, Slipknot, Evanescence und Bring Me The Horizon erinnert, beschäftigt hat, kann dies direkt bei allen digitalen Shops und Streaming-Diensten nachholen. Die CD-Version kann in Kürze bei allen wichtigen Plattenhändlern vorbestellt werden: Amazon | iTunes | Google Play | Spotify | Deezer | Apple Music
Aktuelle Informationen zur Post-Industrial Combo sind im Bandprofil zu finden, wie auch samt aktuellen Konzertterminen auf der Website sowie bei Facebook und Instagram.
Musikjournalisten, die sich mit "Petrichor" und X-VIVO auseinandersetzen wollen, sollten sich zügig in unserer VIP & Press Lounge für die Bemusterung und weitere Presse-Downloads registrieren. Die vier Musiker stehen selbstverständlich gerne für Interviews zum Konzept-Album zur Verfügung.
Posted by Miriam Guigueno on 25.07.2017 15:00
Last change on 26.07.2017