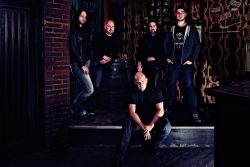 ATHORN stellen geniales Split Screen Making-of zum aktuellen Progressive Melodic Death Metal Musikvideo "Another Day In Hell" online
Nachdem die Endzeit Cowboys ATHORN bereits vergangene Woche auf Facebook ein interessantes Storyboardvideo veröffentlicht haben, bringen sich die progressiven Hannoveraner Melodic Death Metal Helden und ihr postapokalyptischen zweites Album "Necropolis", das im Herbst 2016 über Dr. Music Records erschien, wieder ins Gespräch. Mit ihrem neuen Making-of zum fulminanten epischen Musikvideo zur letztjährigen Single "Another Day In Hell" hat Sänger und Designer Carsten Frank erneut tief in seine Trickkiste geschaut und ein Making-of fernab vom Standard produziert. Der Videoclip besteht aus einem Split Screen, der oben das bombastische Musikvideo mit seiner Mischung aus The Walking Dead und Mad Max im Original zeigt und unten die jeweilige Szene im Studio bzw. den Drehort bei der Entstehung zeigt. Dank dieser simplen wie effektiven Methode ist ihm dabei eine kurzweilige Dokumentation geglückt, die dem monumentalen Wasteland Konzeptalbum "Necropolis" und der Band wieder Aufmerksamkeit garantiert. Wer sich schon immer gefragt hat wie ATHORN ihr spektakuläres 3D-Animations-Meisterwerk produziert haben oder wie moderne Musikvideos entstehen, der bekommt jetzt seine passende Antwort.
Das Making-of kommt genau rechtzeitig, um den am 12. April erscheinenden zweiten nicht minder spannenden Musikvideo zur kraftvollen Endzeitballade "Born In Flames" zu einem gesteigertem Interesse zu verhelfen. Bis es soweit ist, erfreut euch an diesem genial umgesetzten Making-of zu ATHORNs düsterer Zukunftsvision "Another Day In Hell": https://youtu.be/aR8mhu4sBAQ
Der Soundtrack zur Apokalypse kann natürlich als Digipak mit 12-seitigem Booklet in folgenden Shops bestellt oder direkt bei diesen Streaming-Diensten angehört werden: Amazon (DE) | Amazon (US) | Thalia | MetalMailorder.com | Supreme Chaos Records | Saturn | Media Markt | ExLibris | WOM | JPC | Grooves | Google Play | Spotify | Apple Music | Deezer
Die Special Edition in der Metallbox samt einigen besonderen Gimmicks gibt es weiterhin ausschließlich über den Online-Shop der ATHORN Website unter www.athorn.de oder bei einem ihrer Konzert zu kaufen!
Wer noch weitere Informationen zu den Endzeit-Cowboys und ihrem aktuellen Album erfahren möchte, der sollte auf ATHORNs Bandprofil vorbeischauen sowie die bereits genannte Bandwebsite www.athorn.de oder ihren Außenposten bei Facebook unter www.facebook.com/athornmetal besuchen.
+++
+++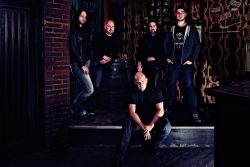 ATHORN releases new genius split screen making-of for their current Progressive Melodic Death Metal music video "Another Day In Hell"
After the Facebook posting of the interesting storyboard video last week the German Melodic Death Metal heroes ATHORN commemorate themselves and their post-apocalyptic second album "Necropolis" which has been released last fall through Dr. Music Records. In the new making-of for the fulminant epic music video (https://youtu.be/Gj-zeCOF7J4) for last year's single "Another Day In Hell" singer and designer Carsten Frank once again looked deep in his bag of tricks and produced a making-of far away from the norm. The video clip consist of a split screen that shows above the bombastic original music video with its mixture of The Walking Dead and Mad Max and shows down below the respective scene at the origination in the studio or on location. Because of this simple but effective method he succeeded with the creation of an entertaining documentary which guarantees the monumental wasteland concept album "Necropolis" and the band some new attention again. Anyone's who's ever wondered how ATHORN produced their spectacular 3D animation masterpiece or who wants to know how modern music videos come into existence, receives the answer right now.
The making-of comes punctually to get increased attention for the upcoming new and no less exciting music video for the powerful end time ballad "Born In Flames" which will be released on April 12th. Until then feel free to enjoy the ingenious realisation of the making-of for ATHORN's gloomy vision of the future "Another Day In Hell": https://youtu.be/aR8mhu4sBAQ
The soundtrack for the apocalypse can already be ordered as digipak CD with 12 pages booklet at the following shops or listen directly to it at these streaming services: Amazon (DE) | Amazon (US) | Thalia | MetalMailorder.com | Supreme Chaos Records | Saturn | Media Markt | ExLibris | WOM | JPC | Grooves | Google Play | Spotify | Apple Music | Deezer
The special edition in the metal box including some specific gimmicks is still available only at the online shop of ATHORN's website www.athorn.de or their live shows!
To get further information about the end time cowboys and their current album, feel free to check out the artist profile or the above mentioned website as well as their outpost at Facebook under www.facebook.com/athornmetal.
Posted by Miriam Guigueno on 29.03.2017 15:00
Last change on 03.08.2020