Nachdem die Essener Rock 'n' Roll Höllenhunde CROSSPLANE bereits am 10. und 11. Februar mit ihren Fans bei den beiden Release-Shows in Dortmund und Berlin das neue Album mit einem derben Trinkgelage gefeiert haben, erscheint heute "Backyard Frenzy" offiziell über 7Hard im Handel. Das alkoholgetränkte neue Meisterwerk beinhaltet insgesamt 14 kurzweilige trinkfeste Heavy Rock Hymnen, die jedem Fan des Genres freudig erstrahlen lassen. Selbst wer bereits das gemeinsam mit dem Team von EMPs Heavy Metal Maniacs produzierte Musikvideo zu "Dance With The Devil" abgefeiert hat oder auch durch das brandheisse Lyric-Video zur Single "Blackness Of Souls" angefixt wurde, wird überrascht sein vom abwechslungsreichen Songwriting des dritten Albums, mit dem die Vollgasrocker definitiv mehr als eine Schippe drauf gelegt haben!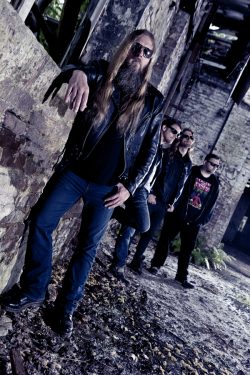 Die Band bestehend aus Rampensau Marcel 'Celli' Mönnig, Alexander 'Alex' Störmer an der Klampfe, Dirk 'Schluppi' Maßing am Tieftöner sowie Matthias 'August' Kassner an den Kesseln sorgen auf ihrem neuen Album wieder einmal für Power, Attitüde und eingängige Melodien. Songtitel wie "Love & Hate", "Alcoholic Teenage War Queen", "Killer's Diary" oder die bereits veröffentlichten Singles "Dance With The Devil" und "Blackness Of Souls" sprechen eine deutliche Sprache, was den Hörer auf dem von Waldstreet & Denroad (u.a. Grip Inc., Sodom, Moonspell) sowie Frontröhre Celli produzierten neuen Album "Backyard Frenzy" erwartet. Grundehrlicher hochprozentiger Rock 'n' Roll, der von rockenden Massen mit fliegenden Matten und Bierfontänen sehnsüchtig verschlungen werden will!
Live sind CROSSPLANE jetzt auch für das legendäre Dong Open Air bestätigt. Das Festival auf dem Hügel am Rande des Ruhrgebiets hat auch in diesem Jahr wieder mit großartigen Headlinern wie In Extremo, Iced Earth, Ensiferum neben den großartigsten Newcomern und Underground Helden wie Contradiction, Words Of Farewell oder Messiah's Kiss ein abwechslungsreiches Open Air mit Partygarantie auf die Beine gestellt.
Darum zögert nicht, sondern holt euch sofort das dritte CROSSPLANE Album bei eurem Lieblingsplattenladen oder online u.a. bei den folgenden Stores und Streamingdiensten, damit ihr bei den kommenden Konzerten auch textsicher mitgrölen könnt: EMP | Amazon | Napalm Records | Saturn | JPC | WOM | Buecher.de | Exlibris.ch | iTunes | Amazon MP3 | Google Play | Spotify | Deezer
Die Rock & Metal Presse feiert bereits mit "Backyard Frenzy". Hier die ersten Pressestimmen:
Metal Hammer (5/7 Punkte): Dass CROSSPLANE Humor haben, sieht man am Cover; dass sie Pfeffer im Arsch haben, hört man auch dem dritten Album "Backyard Frenzy" an. Gesanglich verneigt sich Frontmann Celli auf dieser Scheibe noch einmal tiefer vor Lemmy Kilmister (speziell auch bezüglich der 'zähneknirschenden' Intonation, welche Songs wie "Dance With The Devil", "Love Or Hate" oder "Alive" prägt) […] der gebotene Hörspaß hievt die Scheibe am Ende doch noch in die oberen Punkteränge. (Matthias Weckmann)
Rock It! Magazin (7,5/10 Punkte): […] es rockt und groovt wie die Hölle. Manche Songs, ganz speziell "Dance With The Devil", sind einfach eine schöne Erinnerung an Lemmy, einen der besten Entertainer aller Zeiten. Und hier tragen CROSSPLANE sein Erbe würdevoll weiter. Die Jungs haben einfach Fun und ein Rock-Feeling, was so manche Bands schmerzlich vermissen lassen. (7,5/10 Manfred Thanner)
MetalFactory.ch (8.3/10 Punkte): Hört euch das Album unbedingt an, es lohnt sich wirklich. Es gibt immer wieder Bands, die in diese Heavy Rock 'n' Roll Kerbe einschlagen und oftmals schon auf Anhieb regelrecht langweilig klingen. "Backyard Frenzy" besticht dagegen durch seine Abwechslung und Frische. Hoffentlich sieht man die Jungs auch bald wieder auf Tour, denn mit diesem tollen neuen Album im Rücken werden die kommenden Liveshows sicherlich noch energiegeladener.
Harte-Musik.de (5/5 Punkte): Genauso wie in "Love Or Hate"  muss der dreckige Rock 'n' Roll klingen und wenn man sagt, dass man unwillkürlich auch an Bands wie die großen Motörhead erinnert wird, dann dürfen dies die Ruhrpottler ruhig als Lob auffassen. Riffing, Melodik und der Sound der Stimme machen einfach Laune beim Zuhören und der Wechsel von Ausflügen ins Solospiel und Passagen, die zum Mitmachen animieren sind sehr ausgewogen. Mit einigem an Energie wird dann auch "Grabbers" aus den Boxen geknallt und der Song hat einen Rhythmus, der so eingängig ist, dass man nicht sitzen bleiben kann (beim Autofahren irgendwie blöd). […] Fazit: Machen wir es doch einfach mal kurz. Wer Rock 'n' Roll, dreckigen (aber trotzdem hoch qualitativen) Sound mag und eine dazu absolut passende Stimme sucht, der wird bei CROSSPLANE bestens bedient. Die Songs sind durchweg verdammt gut und funktionieren genauso wie es auch beabsichtigt ist. Sie gehen ins Blut und bringen einen dazu einfach mitzugehen.
Metal-Only.de (10/10 Punkte): CROSSPLANE schaffen es erneut, eine Perle des Rock 'n' Roll in seiner reinsten Form zu kreieren. Die Songs, welche sich in den über 50 Minuten erstrecken, besitzen keinen schwachen Moment. Nicht nur auf der Platte setzen die Herren diese Energie um, nein, auch live überzeugen sie durch Authentizität und Spaß an der Sache. Auch das dritte Album ist ein echter Killer geworden. Wer "Masturboned" schon mochte, wird "Backyard Frenzy" definitiv lieben! 'They are CROSSPLANE, and they still play Rock 'n' Roll!'
Time-For-Metal.de (8,9/10 Punkte): Fazit: "Backyard Frenzy" von CROSSPLANE hat alles, was ein feines Rock 'n' Roll Intermezzo benötigt. Schnelle Nummern werden von langsamen Stücken abgelöst und immer mitten drin: groovige Elemente, die den vollen Bierkrug zum Kreisen bringen. Cowboyhut auf, die Pferde gesattelt und ab geht es durch die Essener Innenstadt – natürlich wird der Gaul von CROSSPLANE angetrieben und scheppert nur so durch die Gassen. Ein gutes Werk mit Potenzial, welches live die Wirkung nicht verfehlen wird.
Kalle-Rock.de: CROSSPLANE liefern mit der Platte eine Überraschung ab, mit der man im ersten Moment nicht gerechnet hat. Man muss sich darauf einlassen, das CROSSPLANE eben nicht nur Vollgasrock sind. Sie setzen das verdammt gut um und je öfter ich die Platte höre, umso mehr entdeckt man an Feinheiten und umso mehr gefällt mir die Platte. Vom Klang her ist die Platte fett gemacht und sorgt für ein tolles Hörerlebnis. CROSSPLANE sind und bleiben einfach eine Macht in ihrem Genre.
MoshHead.de (9/10 Punkte): Ich muss sagen, dass mir dieses Album der Ruhrpott-Kappelle von allen Alben am Besten gefällt!
Earshot.at (5/7 Punkte): Der Sound von CROSSPLANE groovt, macht Spaß und man spürt direkt den Diesel im Blut der Musiker pulsieren.
Zephyrs-Odem.de (8/10 Punkte): Super arrangiert, durchkonzipiert und einen eleganten Spannungsbogen hat die Combo da hingelegt und für jede Stimmung gibts den passenden Song. Jungs, mir gefällt's! Also wer auf die gewisse Hard Rock Power aber auch auf easy going und mal in die Wolken gucken steht, ist bei den CROSSPLANEs und ihrem "Backyard Frenzy" genau an der richtigen Stelle!
Spätestens jetzt sollte jeder Rock 'n' Roll Outlaw Lust auf berauschte Hinterhof-Parties bekommen haben! Dann wird es wirklich Zeit für den Besuch eines der zahlreichen schweißtreibenden und garantiert feucht fröhlichen Konzerte von CROSSPLANE:
03.03.2017 DE-Niederjossa, Fullmetal Osthessen
11.03.2017 DE-Zwickau, TBA
18.03.2017 DE-Leverkusen, Devil
25.03.2017 DE-Güstrow, B.A. Rocktikum
08.04.2017 DE-Großefehn, Schlappohr
14.04.2017 CH-Kiesen,
15.04.2017 CH-Amriswil, Stage 8580
22.04.2017 DE-Hamburg, Marias Ballroom
29.04.2017 LUX-Luxenborg, Charity Mosh
06.05.2017 NL-Ommen, 20 Years Jublileum Heavy Metal Maniacs Holland
13.05.2017 DE-Esslingen, Eisbär
19.05.2017 DE-Amstadt, Jungfer
03.06.2017 DE-Oschersleben, Motorsport Arena
17.06.2017 DE-Büßsfeld, Mise Open Air
08.07.2017 DE-Haan, Rockin' Roster Club e.V.
13.07.2017 DE-Neukirchen-Vluyn, Dong Open Air
21.07.2017 DE- Mechemich, Summernight Open Air
22.07.2017 DE-Balge, CP Rock Das Ding
23.09.2017 DE-Hamburg, Der Clochard
30.09.2017 DE-Siegen, Shamrock
Alles Weitere über CROSSPLANE sowie News und Konzertdaten zu ihrem ureigenen Heavy Rock 'n' Roll sind natürlich in unserem Bandprofil als auch auf der Bandwebsite und bei Facebook zu finden.
Metal und Rock Journalisten, die sich gern mit CROSSPLANEs hochprozentiger Mixtur auseinandersetzen wollen, sollten sich schleunigst in unserer VIP & Press Lounge registrieren und "Backyard Frenzy" anfordern oder gleich ein Interview mit Shouter Celli ausmachen, der gern für Gespräche über die Band, die Tour und natürlich über das neue Album bereit steht. Wir arrangieren auch gern ein persönliches Treffen bei einem der kommenden Konzerte!
Posted by Miriam Guigueno on 24.02.2017 07:30
Last change on 03.03.2020