Bereits seit vergangenem Freitag ist die brandneue CROSSPLANE Single "Blackness Of Souls" digital erhältlich. Der schleppend monumentale Track erinnert mit seinem reduziertem Tempo an Black Label Society oder Crowbar. Passend zum Song haben die Essener Heavy Rock 'n' Roller um Frontröhre Marcel 'Celli' Mönnig ein Lyric-Video produziert, das mit einer aufschreckenden Bildsprache das Interesse an ihrem neuen Track "Blackness Of Souls" weckt und zum anderen die Vorfreude auf das neue Album "Backyard Frenzy" mit seinen 14 dreckigen Heavy Rock Gassenhauern wachsen lässt. Bis es soweit ist, geduldet euch noch bis zum 24.02.2017, wenn das Meisterwerk über das Label 7Hard in allen Plattenläden steht, mit dem feurigen Lyric-Video: https://youtu.be/dYPFKR6AFTs
Die Single wurde genau wie das Album vom renommierten Produzentenduo Waldstreet & Denroad (Sodom, Grip Inc., Lacuna Coil) sowie CROSSPLANE Shouter Celli produziert. Gemeinsam mit seinen Mitstreitern Alexander 'Alex' Störmer an der Klampfe, Dirk 'Schluppi' Maßing am Tieftöner sowie Matthias 'August' Kassner an den Kesseln sorgt die Band auf ihrem neuen Album "Backyard Frenzy" wieder einmal mit Power, Attitüde und eingängigen Melodien für fliegende Matten, Bierfontänen und rockende Massen! Wie es sich für echte Party-Animals gehört, lassen CROSSPLANE es mit zwei Release-Shows doppelt krachen. Los geht es am 10.02. im Dortmunder BlackEnd unterstützt von ihren befreundeten Bands Fitches, Van Bargen und Slutrocker! Am Tag darauf wird im Berliner Blackland mit den Kamikaze Kings, Heavy End, Belgrave, Bonjorno John Porno und Rockenbolle an der Spree weitergefeiert!
"Blackness Of Souls" kann bereits bei folgenden Download-Shops und Streaming-Diensten ausgiebig in Kombination mit hochprozentigen Drinks angetestet werden: iTunes | Amazon | Google Play | Spotify | Deezer
CROSSPLANE Maniacs können natürlich auch schon das komplette Album "Backyard Frency" bei den folgenden Plattenhändlern vorbestellen: EMP | Amazon | Napalm Records | Saturn | JPC | WOM | Buecher.de | Exlibris.ch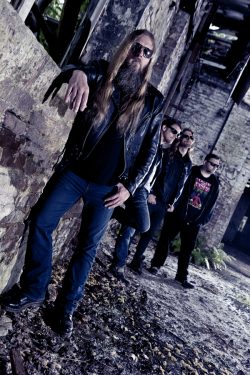 Schweißtreibende Konzertabende sind genau euer Ding? Dann notiert euch folgende Termine in eurem Partyplaner:
10.02.2016 DE-Dortmund, Black End (Release-Show)
11.02.2016 DE-Berlin, Blackland (Release-Show)
17.02.2017 DE-Hannover, Rocker
03.03.2017 DE-Niederjossa, Fullmetal Osthessen
11.03.2017 DE-Zwickau, TBA
18.03.2017 DE-Leverkusen, Devil
25.03.2017 DE-Güstrow, B.A. Rocktikum
08.04.2017 DE-Großefehn, Schlappohr
22.04.2017 DE-Hamburg, Marias Ballroom
13.05.2017 DE-Esslingen, Eisbär
19.05.2017 DE-Amstadt, Jungfer
03.06.2017 DE-Oschersleben, Motorsport Arena
17.06.2017 DE-Büßsfeld, Mise Open Air
08.07.2017 DE-Haan, Rockin' Roster Club e.V.
21.07.2017 DE- Mechemich, Summernight Open Air
22.07.2017 DE-Balge, CP Rock Das Ding
23.09.2017 DE-Hamburg, Der Clochard
30.09.2017 DE-Siegen, Shamrock
Weitere Einzelheiten zum alkoholgetränkten neuen Album "Backyard Frenzy" und zu den Ruhrpott-Höllenhunden CROSSPLANE gibt es in unserem Bandprofil und natürlich auch direkt bei den Vollgasrockern auf www.crossplane.de sowie bei Facebook unter www.facebook.com/crossplane.band!
Musikredakteure, die sich vom brandheißen Lyric-Video in den Bann gezogen fühlen, sollten sich sofort in unserer VIP & Press Lounge registrieren und CROSSPLANEs derben Rock 'n' Roll Cocktail "Backyard Frency" anfordern. CROSSPLANE stehen natürlich für Interviews zur Verfügung, sehr gerne auch bei einem der kommenden Konzerte. Bitte schickt uns dafür eure Akkreditierungsanfrage, damit wir einen Interviewtermin vereinbaren können.
Posted by Miriam Guigueno on 30.01.2017 16:00
Last change on 16.04.2020