Die Vollgasrocker CROSSPLANE haben zwischen ihren fast 40 Konzerten und Festivalgigs (u.a. auf dem Turock Open Air, Meltdown Festival, Ice Rock Wasen) 2016 noch Zeit gefunden ihr mittlerweile drittes Album aufzunehmen. Das neue alkoholgetränkte Meisterwerk hört auf den Namen "Backyard Frenzy" und wurde von Waldstreet & Denroad (u.a. Grip Inc., Sodom, Moonspell) sowie Frontröhre Marcel "Celli" Mönnig produziert. Als erste Single-Auskopplung ist bereits der Song "Dance With The Devil" seit Anfang September in den digitalen Shops und Streaming-Diensten verfügbar. Zur Single haben CROSSPLANE gemeinsam mit dem Team von EMPs Cartoon-Serie "Heavy Metal Maniacs" ein unterhaltsames und nicht alltägliches Musikvideo gedreht, dass sich jeder Fan des harten Rock 'n' Roll ruhig mal genehmigen sollte: https://youtu.be/mF9FKmMWMUM
Wer jetzt schon langsam unruhig wird, der kann sich den 24.02.2016 schon mal fett im Kalender notieren. Denn dann erscheint "Backyard Frenzy" mit seinen 14 abwechslungsreichen dreckigen Rock 'n' Roll Krachern über 7Hard weltweit in den Plattenläden. Rampensau Celli und seine Crew, bestehend aus Alexander 'Alex' Störmer an der Klampfe, Dirk 'Schluppi' Maßing am Tieftöner sowie Matthias 'August' Kassner an den Kesseln sorgen wieder einmal auf ihrem neuen Album mit Power, Attitüde und eingängigen Melodien für fliegende Matten, Bierfontänen und rockende Massen bei ihren Konzerten. Die Essener Höllenhunde feiern deswegen ihre neue Langrille mit gleich zwei Release-Shows. Die Erste findet am 10.02.2017 im Dortmunder Black End statt, wo sie mit ihren Special Guest Fitches, Van Bargen und Slutrocker zünftig feiern werden. Am Tag darauf folgt im Berliner Blackland die Party für ihre Die-Hard Fans im Osten der Republik. Unterstützung erhalten sie dort von den Berliner Heavy Rockern Kamikaze Kings, Heavy End, Belgrave, Bonjorno John Porno und Rockenbolle.
Bis es soweit ist, feiert doch einfach schon mal mit der Single "Dance With The Devil" vor und besorgt sie euch bei iTunes | Amazon | Spotify | Deezer oder füllt die Lücken in eurer persönlichen CROSSPLANE Diskografie mit ihrem großartigen Backkatalog bestehend aus dem Debüt "Class Of Hellhound High" und dem Nachfolger "Masturboned".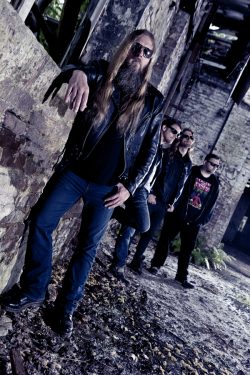 Natürlich sind CROSSPLANE auch im Dezember noch live unterwegs, hervorzuheben ist hier ihr Einsatz bei der diesjährigen 'The Rock 'n' Roll Wrestling Bash – Trash Dorado' Tour, die noch bis Mitte Januar Deutschland unsicher macht und der Auftritt bei den Kärbholztagen am 17.12.2016 in Windeck sowie die finale Sause bei der Aqua Ruction III – Die Silvesterschiffsfahrt in Nürnberg. Direkt im Anschluss wird der Konzertmarathon 2017 wiederum mit einer Show beim 'The Rock 'n' Roll Wrestling Bash – Trash Dorado' in Saarbrücken eröffnet. Bislang stehen schon gute zwanzig Shows fest, um die Songs von "Backyard Frenzy" auch auf der Bühne vorzustellen, denn wie sagt Bandleader Celli gern «Rock 'n' Roll ist ein Lebensgefühl, das muss einfach raus. Die Leute möchten tanzen, dann ist alles gut.» In diesem Sinne findet ihr alle aktuellen CROSSPLANE Tourdaten hier:
17.12.2016 DE-Windeck, Kabelmetal w/Kärbholz
28.12.2016 DE-Stuttgart, LKA Longhorn w/The Rock 'n' Roll Wrestling Bash – Trash Dorado
29.12.2016 DE-München, Backstage w/The Rock 'n' Roll Wrestling Bash – Trash Dorado
31.12.2016 DE-Nürnberg, Aqua Ruction III – Die Silvesterschiffsfahrt w/Crematory, Brainstorm
06.01.2017 DE-Saarbrücken, Garage w/The Rock 'n' Roll Wrestling Bash – Trash Dorado
13.01.2017 DE-Berlin, Huxley's Neue Welt w/The Rock 'n' Rolll Wrestling Bash – Trash Dorado
14.01.2017 DE-Mainz, Rockkeller Alexander The Great
21.01.2017 DE-Hamburg, Grünspan w/The Rock 'n' Roll Wrestling Bash – Trash Dorado
28.01.2017 DE-Böblingen, Rock Cafe
10.02.2016 DE-Dortmund, Black End (Release-Show)
11.02.2016 DE-Berlin, Blackland (Release-Show)
17.02.2017 DE-Hannover, Rocker
03.03.2017 DE-Niederjossa, Fullmetal Osthessen
11.03.2017 DE-Zwickau, TBA
18.03.2017 DE-Leverkusen, Devil
25.03.2017 DE-Güstrow, B.A. Rocktikum
08.04.2017 DE-Großefehn, Schlappohr
22.04.2017 DE-Hamburg, Marias Ballroom
13.05.2017 DE-Esslingen, Eisbär
19.05.2017 DE-Amstadt, Jungfer
03.06.2017 DE-Oschersleben, Motorsport Arena
17.06.2017 DE-Büßsfeld, Mise Open Air
08.07.2017 DE-Haan, Rockin' Roster Club e.V.
21.07.2017 DE- Mechemich, Summernight Open Air
22.07.2017 DE-Balge, CP Rock Das Ding
23.09.2017 DE-Hamburg, Der Clochard
30.09.2017 DE-Siegen, Shamrock
Weitere Infos zum hochprozentigen neuen Album "Backyard Frenzy" und zu CROSSPLANE findet ihr in unserem Bandprofil und natürlich könnt ihr euch direkt bei den Vollgasrockern über aktuelle News und neue Tourdaten auf www.crossplane.de sowie bei Facebook unter www.facebook.com/crossplane.band auf dem Laufenden halten!
Musikjournalisten und Radio-Redakteure, die sich bereits mit der hochprozentigen Mixtur beschäftigen wollen, sollten sich sofort in unserer VIP & Press Lounge registrieren und CROSSPLANEs derben Rock 'n' Roll Cocktail anfordern. Frontshouter Celli steht auch gern für Interviews zur Verfügung. Wir arrangieren gern ein persönliches Treffen bei einem ihrer kommenden Konzerte.
+++
Posted by Miriam Guigueno on 15.12.2016 14:30
Last change on 03.03.2020