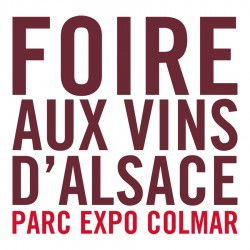 Foire aux Vins d'Alsace: Hard Rock Session mit LIMP BIZKIT, SLAYER, ARCH ENEMY und MASS HYSTERIA
Auch in diesem Jahr gehört die Hard Rock Session zum Festival-Programm der Weinmesse 'Foire aux Vins d'Alsace' in Colmar, die bereits seit zwei Jahrhunderten bzw. seit über 60 Jahren in der heutigen Form die wichtigste Weinmesse im Elsass ist. Zur Messe gehört seit Jahrzehnten auch ein abwechslungsreiches Musikprogramm mit bis zu 82.000 Zuschauern, zu dem seit 2010 auch die Hard Rock Session gehört. In den letzten Jahren gastierten Größen wie Motörhead, Nightwish oder auch Accept im überdachten Messe-Festivaltheater und feierten mit bis zu 10.000 Fans großartige Konzertabende.
Am 10. August 2016 werden neben den französischen Industrial Metal Szene-Helden MASS HYSTERIA die internationale Melodic Death Größe ARCH ENEMY mit dem genialen Gitarristen Michael Amott und ihrer beeindruckenden Frontfrau Alissa White-Gluz sowie die Nu Metal Legende LIMP BIZKIT um ihren Frontmann Fred Durst als Headliner den zahlreichen Fans bei der Hard Rock Session einheizen. Als Co-Headliner runden dabei die Thrash Metal Urgesteine SLAYER das diesjährige Line-Up ab, die vier Oldschool Thrasher um Schreihals Tom Araya und Axtmann Kerry King werden die nötige Brachialität liefern.
Das 'Foire aux Vins d'Alsace' zeigt hier wieder einmal, warum es mit seinen jährlich über 285.000 Besuchern zur Top 10 der französischen Festivals zählt und damit auch durch die Nähe zu Freiburg und Basel für das deutsche und Schweizer Publikum eine Reise Wert ist.
Tickets sind unter www.foire-colmar.com, www.reservix.de und an allen bekannten Reservix-Vorverkaufsstellen oder über die Hotline 01806 – 700 733 (0,20 € pauschal pro Anruf aus dem Festnetz bzw. max. 0,60 € je Anruf aus dem Mobilfunknetz) rund um die Uhr und auch an Wochenenden oder Feiertagen erhältlich.
Weitere Informationen sind unter www.hardrocksession.com, www.foire-colmar.com und www.facebook.com/FoireAuxVins.Alsace zu finden.
---
LIMP BIZKIT: Nach ihrer ausgedehnten Europa-Tournee, mit der sie ihrem Status als Rockgiganten im vergangenen Jahr mehr als nur gerecht geworden sind, kehren Fred Durst und Co. nun im Sommer 2016 nach Europa zurück. Mit ihrem wegweisenden Sound gehören LIMP BIZKIT zu den Vorreitern des Nu Metal Genres und sind mit über 40 Millionen verkaufter Tonträger eine der erfolgreichsten Rock Acts der letzten Dekade. Auf der Hard Rock Session werden sie mit ihrem mitreißenden Mix aus peitschenden Rhythmen, massiven Gitarrenwänden und pfundigen Hip Hop Elementen beweisen, dass sie noch lange nicht zum alten Eisen gehören und mit ihren Megahits wie "Behind Blue Eyes", "Rollin" oder "My Way" weiterhin ein Stimmungsgarant erster Güte sind.
www.limpbizkit.com | www.facebook.com/limpbizkit
+++
SLAYER: Aus dem Umfeld der Bay Area stammend haben sich SLAYER in den letzten 35 Jahren in die Big Four des Thrash Metal geshreddet. Seien es Klassiker der Metal Historie wie "Reign In Blood" oder "South Of Heaven", die vier Kalifornier haben bis heute nichts an Durchschlagskraft eingebüßt. Das beweist auch ihr aktuelles Werk "Repentless" mit gleichnamiger Single und Clip. Schaut euch außerdem das frisch veröffentlichte Musikvideo zur Single "You Against You" an!
www.slayer.net | www.facebook.com/slayer
+++
ARCH ENEMY: Seit zwei Jahrzehnten begeistern die schwedischen Melodic Death Metaller um den Gitarrenvirtuosen Michael Amott die internationale Metal Szene. Zehn gefeierte Alben und endlose Tourneen rund um den Erdball haben ARCH ENEMY zu einer festen Größe in der ersten Liga der Heavy Metal Szene gemacht. Auch der Ausstieg seines kongenialen Bruders Christopher Amok 2012 oder der langjährigen Frontlady Angela Gossow konnten der Klasse der Band nichts anhaben wie man im Musikvideo zu "War Eternal" sehen kann. Mit dem neuen Gitarristen Nick Corde und Sängerin Alissa White-Gluz werden sie dem Besuchern der Hard Rock Session erbarmungslos und filigran zugleich einheizen.
www.archenemy.net | www.facebook.com/archenemyofficial
+++
MASS HYSTERIA: Seit Ende der 90er Jahren stehen MASS HYSTERIA an der Spitze der französischen Rock-Szene. Kraftvolle Gitarren, kombiniert mit DJ-Sounds, Elektroeffekten und französischen Texten sorgen für eine ganz eigene Soundmixtur aus Industrial, Alternative Metal und Rock. Seit dem Durchbruch mit ihrem zweiten Album "Contradiction" 1999, von dem über 50.000 Tonträger verkauft wurden, gelten sie als eine der wichtigsten Bands Frankreichs. Mit ihrem neuen Album "L'enfer Des Dieux" setzen sie ihren Erfolg fort. Colmar darf sich also freuen, dass MASS HYSTERIA das Billing der Hard Rock Session begeistern.
www.masshysteriaofficial.com | www.facebook.com/masshysteriaofficiel
+++
Ebenso zum Festivalprogramm gehört das Pop/Rock Programm mit weiteren Konzertterminen (siehe dazu auch folgende Pressemitteilung):
05.08.2016 LOUISE ATTAQUE | PETER DOHERTY
06.08.2016 LES INSUS (ex-Téléphone) | THE TEMPERANCE MOVEMENT – ausverkauft
07.08.2016 JAIN | HYPHEN HYPHEN | JOSEF SALVAT | VIANNEY
08.08.2016 MANU CHAO LA VENTURA | TEACHER JEKYLL
09.08.2016 ALAIN SOUCHON & LAURENT VOULZY | CLAUDIO CAPÉO
10.08.2016 HARD ROCK SESSION – LIMP BIZKIT | SLAYER | ARCH ENEMY | MASS HYSTERIA
11.08.2016 LOUANE | L.E.J. – ausverkauft
12.08.2016 THE CRANBERRIES | AMY MACDONALD
13.08.2016 NUIT BLANCHE – ROBIN SCHULZ | FEDER | SHOWTEK | KUNGS | ORLINSKI | ANTOINE DAVILA
14.08.2016 PASCAL OBISPO | COEUR DE PRIATE
15.08.2016 THE AVENER | FRÉRO DELAVEGAA
---
Die Messe 'Foire aux Vins d'Alsace' – Ein einzigartiges Konzept
Sie hat sich in zwei Jahrhunderten, beziehungsweise sechs Jahrzehnten bewegt. Als eine populäre Veranstaltung ist sie gleichermaßen eine allgemeine Verbraucherausstellung, ein geselliges Fest, ein Treffen für die breite Öffentlichkeit wie für Fachleute und ein außergewöhnliches Schaufenster der elsässischen Weine. Alles Elemente, die der Messe eine einzigartige Identität und einen unbestreitbar festlichen Charakter geben.
Die Messe verzeichnet jedes Jahr über 350 Aussteller und eine große Anzahl von Winzern mit dem Angebot vieler köstlicher Weine.
Die 'Foire aux Vins d'Alsace' ist der bevorzugte Treffpunkt der Liebhaber der regionalen Weine. Fachleute wie Neulinge tauschen ihre Eindrücke rund um ein gutes Glas Wein aus. Der elsässische Weinbauverband CIVA, die Vereinigung der unabhängigen Winzer des Elsass, der Verband der Weinhändler des elsässischen Weines und die Vereinigung der elsässischen Winzergenossenschaften wahren die Tradition der Verkostung von über 1.500 Musterproben der besten elsässischen Sorten. Die bei den Besuchern beliebten kommentierten Weinproben werden gemeinsam von dem CIVA und der Union der französischen Oenologen, Region Elsass, durchgeführt.
Quasi als Fortsetzung der Entdeckungsreise durch die Geheimnisse des elsässischen Weins bringen Fachleute einer breiten Öffentlichkeit die Kunst der Weinproben näher. Daneben behandeln Fachtagungen und Seminare die aktuellen Fragen und Anliegen der Weinerzeuger. In den Messehallen und um die Hallen herum versetzen viele Künstler die Besucher mit viel Unterhaltung von Music Hall bis hin zu Tanzvorführungen in Erstaunen. Sorgen haben auf der 'Foire aux Vins d'Alsace' keinen Platz!
Mit seinem Messe-Freilichttheater mit einer Kapazität von 10.000 Konzertbesuchern, das bei den Musikern sehr beliebt ist, bildet die 'Foire aux Vins d'Alsace' eine unverzichtbare Etappe bei den Sommertourneen. Auch in diesem Jahr wird den schon im weiten Vorfeld informierten sowie anspruchsvollen Musikliebhabern ein herausragendes Programm geboten. Immer die aktuellen Stars und musikalischen Highlights… Einige Künstler sind der Messe mit mehreren Auftritten stets treu verbunden geblieben, darunter Johnny Hallyday, Indochine, Stephan Eicher, Bernard Lavilliers…
Posted by Miriam Guigueno on 16.03.2016 17:00
Last change on 16.06.2016