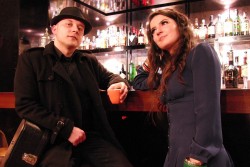 Mit elfengleichem Gesang und leichten, reduzierten Gitarrenklängen laden LILY'N'JAMES auf ihrem Debütalbum "Sweetest Illusion" zum Träumen ein und liefern somit den perfekten Soundtrack für trübe Herbsttage. Das Nürnberger Duo verzichtet in seinem akustisch geprägten Avantgarde Pop auf überladene Effekte und glänzt so durch einen klaren, geradlinigen Sound, der sehr gut ohne viel Schnickschnack auskommt und durch Gastmusiker an Geige und Percussion sowie aktueller elektronischer Musik bereichert wird. Passend zur kalten Jahreszeit erscheint das Album am 02.10.2015 über Dr. Music Records.
Sabrina Teleki und Andreas Blendinger, so die bürgerlichen Namen von LILY'N'JAMES, musizieren seit 2011 zusammen. Nachdem sie sich durch unzählige Cover-Arrangements von Jamiroquai, Faith No More, Lenny Kravitz, Sevendust oder auch Antonio Carlos Jobim gekämpft hatten, war es an der Zeit ihre ganz eigene Klangfarbe zu finden. Jetzt präsentieren sie zehn eigene, handgemachte Songs, die sich vor allem durch ihre besonnene, melancholische Atmosphäre sowie durch Lilys filigrane Stimme, die geradezu über James' unverfremdeten Gitarrenklang schwebt, auszeichnen. Zum Titeltrack hat das Duo ein reduziert avantgardistisches Musikvideo produziert, das die Leichtigkeit von LILY'N'JAMES mit einer beabsichtigten künstlerischen Dissonanz verbindet. Auch in den Texten von LILY'N'JAMES spiegelt sich die Nachdenklichkeit der Musik wider: Liebe, die sich in Verständnislosigkeit, Wut und schließlich Verachtung verwandelt; Sehnsucht nach dem Glück, welches weiterhin nur eine Illusion bleibt; der Wunsch nach einer funktionierenden Liebesbeziehung – und das alles betont kitschfrei, reduziert und leicht.
Hier schon einmal ein kleiner Einblick in LILY'N'JAMES' ganz persönliches Glanzstück; die Tracklist von "Sweetest Illusion":
 Love
You And Me
Sweetest Illusion
Shine
Closer To The Sun
Nobody Else
Do You Mind
You Are Mine
Electric Days
Your Thrill
Wer auch live ins Schwärmen geraten und sich von LILY'N'JAMES' anspruchsvollen Gitarren Lounge Pop verzaubern lassen möchte, sollte folgende Termine nicht verpassen:
25.09.2015 DE-Nürnberg, GoHo Wohnzimmer
19.01.2015 DE-Nürnberg, Cafe Ludwigs
27.02.2015 DE-Nürnberg, Balazzo Brozzi
Wenn euch die nachdenkliche Stimmung angesteckt hat und Ihr Näheres über LILY 'N' JAMES erfahren wollt, besucht unser Artist-Profil oder www.lilyandjames.de und schenkt ihnen einen Daumen auf www.facebook.com/lilyandjamesmusic.
Journalisten und Radio-DJs, die den richtigen Sound für die dunkle Jahreszeit und träumerische Momente suchen, finden das Album als Download in unserer VIP & Press Lounge. Wenn Ihr darüber hinaus Interesse an Promo-CDs oder einem Interview mit LILY'N'JAMES habt, meldet euch gerne bei uns.
Posted by Miriam Guigueno on 11.09.2015 14:00
Last change on 01.10.2015