Nun ist es amtlich: THE ERKONAUTS machen sich auf, asiatische Gefilde zu erobern. Nach ihrer erfolgreichen Show Anfang April auf dem Spring Scream in Taiwan tritt die Schweizer Band mit der Zuversicht, die in Japan und China lebenden Musikliebhaber mit ihrem abwechslungsreichen Album "I Did Something Bad" zu begeistern, die weitere Reise an.
Das Album, bei dem sie Metal, Progressive und Punk vermischen, strotzt nur so vor Spaß, was Titel wie "The Great Ass Poopery" oder "Hamster's Ghosthouse" schon vermuten lassen. Allerdings fehlt es auch nicht an Tiefgang, denn die Genfer Musiker haben ordentlich Herzblut in die Platte gesteckt und halten nichts von Bullshit oder Heuchlerei! Spielerische Gitarrenriffs, viel Rhythmus und eine bittersüße Stimme geben den Songs eine gewisse Note und THE ERKONAUTS schaffen es dadurch, mit jedem einzelnen Track zu überzeugen.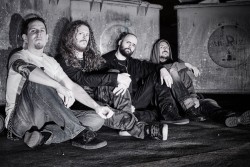 Solltet ihr euch also zufällig gerade selbst dem Abenteuer Asien stellen, dann schaut doch bei einer der folgenden Shows vorbei und lasst euch von einer Prise Vintage Industrial Metal verzaubern:
10.05.2015 JAP-Yokohama / Tokyo, New Side Beach!!
09.05.2015 JAP-Koenji / Tokyo, Mission's
08.05.2015 JAP-Osaka, Hokage
07.05.2015 JAP-Shunan, Tiki-Ta
06.05.2015 JAP-Shinjuku / Tokyo, Live Freaks
05.05.2015 JAP-Shinjuku / Tokyo, Live Freaks
04.05.2015 JAP-Koenji / Tokyo, Mission's,
03.05.2015 JAP-Yotsuya / Tokyo, Outbreak
02.05.2015 CHN-Beijing, The Garage
02.05.2015 CHN-Beijing, Caravan
01.05.2015 CHN-Suzhou Taihu, Midi Festival
30.04.2015 CHN-Nanjing, Zebra
29.04.2015 CHN-Shanghai, Inferno
Was THE ERKONAUTS für herausragende Klänge mit "I Did Something Bad" erzeugen, könnt ihr bei folgenden Portalen hören und downloaden:
Für weitere Infos zu der Band besucht das Bandprofil sowie die Website und die Facebook-Seite der Erkonauten.
Posted by Miriam Guigueno on 18.04.2015 16:30
Last change on 24.02.2016