Seid ihr bereit für ein bisschen Dark Country Rock? KISSIN' BLACK haben gerade die 'Dark Circus Tour' als Support von Stoneman bekannt gegeben!
Die Schweizer KISSIN' BLACK werden mit Stoneman, die gerade erst Platz 4 der deutschen Alternative-Charts mit ihrem Hitalbum "Goldmarie" gestürmt haben und mit wuchtigen sowie prägnanten Bühnenshows zu überzeugen wissen, Ende dieses Jahres auf Tour unterwegs sein. Doch es gibt noch weitere Unterstützung in Form von Otto Dix, Substaat und Demon Cast. Somit ist mit Goth, Metal und Electro für jeden was bei diesem Spektakel geboten. Der Startschuss für die 'Dark Circus Tour' fällt am 03.12.2014 und damit wird dir die Möglichkeit geboten, die Jungs live die Bühne in ganz Deutschland, Österreich, der Schweiz, Tschechien und der Slowakei rocken zu sehen.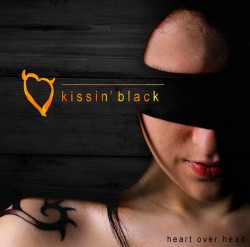 Die Dark Country Rocker KISSIN' BLACK verbinden auf ihrem neuen Album "Heart Over Head", das am 31.10.2014 über Motor Music veröffentlicht wird, spannende Lyrics mit düsteren Akustik-Klängen zu einer emotionsgeladenen Mischung aus rauem Country und atmosphärischem Dark Rock. KISSIN' BLACK spielen dunkle, akustische, rohe Sounds mit einem breiten Emotionsfächer, manchmal schnell und rücksichtslos, zuweilen langsam und schwermutig, doch ihre Songs sind immer eingängig und überzeugend.
'The Dark Circus' bietet Einiges für eingefleischte Goth- und Metal-Freaks. Echte Dark-Bands entern die Bühne mit düsteren, synthetischen Klängen, brachialen Gitarren und tanzbaren, fetten Beats. In eurer Nachbarschaft werden die dunklen Zelte aufgeschlagen und bei diesem Line-Up können wir nur sagen: Hereinspaziert, hereinspaziert! Betreten der Manege auf eigene Gefahr!
Für mehr Infos zu KISSIN' BLACK und ihrem neuen Album "Heart Over Head" checkt einfach mal unsere News und für die Release Info schaut euch das KISSIN' BLACK Artists & Band Profil an. Presseanfragen zur Tour, für das Album "Heart Over Head" und Interviews laufen wie gewohnt über uns.
+++
+++
Are you ready for some Dark Country Rock? KISSIN' BLACK just announced 'The Dark Circus Tour' as support for Stoneman!
The Swiss KISSIN' BLACK are touring with Stoneman, who directly hit the fourth position of the German Alternative charts with their current hit album "Goldmarie" and they know how to convince with their mighty as well as spectacular stage show, by the end of this year. But there's more support because Otto Dix, Substaat and Demon Cast are hitting the road with them too. Therefor, everybody will be pleased with the different genres of Goth, Metal and Electro at this magnificent spectacle. 'The Dark Circus Tour' kicks off 3rd December 2014 and you will be able to see them rock the stage all over Germany, Austria, Switzerland, Czech Republic and Slovakia.
The Dark Country Rockers KISSIN' BLACK combine thrilling lyrics with gloomy acoustic sounds to an emotionally charged mixture of rough Country and atmospheric Dark Rock on their new album "Heart Over Head", which is going to be released by Motor Music on 31st October 2014. They play dark, acoustic, rough sounds with a wide range of emotions, sometimes fast and reckless from time to time slow and mournful, however, always catchy and convincing.
'The Dark Circus' offers a lot to passionated Goth and Metal freaks. Real dark bands are going to enter the stage with their gloomy synth sounds, brutish guitars and phat beats that you can dance to. Right at your door step the dark tents will be put up and with this breathtakingly heavy line-up, all we can say is: come in and enjoy the show – but enter the ring at your own risk!
For more information about KISSIN' BLACK and their new album "Heart Over Head" just check out our news and for the release info take a look at the KISSIN' BLACK Artists & Bands profile. For press enquiries on tour, for the album "Heart Over Head" and interviews don't hesitate to contact us.
STONEMAN + KISSIN' BLACK + SUBSTAAT + DEMONCAST (THE DARK CIRCUS)
14.12.2014 CH-Herisau, Pontem
13.12.2014 D-Blaubeuren, JUHA
12.12.2014 AT-Klagenfurt, Stereo
11.12.2014 D-München, Garage
10.12.1014 CZ-Prag, Nova Chmelnice
09.12.2014 SK-Bratislava, Randal Club
08.12.2014 D-Hamburg, KIR Club
07.12.2014 D-Leverkusen, Shadow
06.12.2014 D-Eisleben, Wiesenhaus
05.12.2014 PL-Zielona Góra, Rock Out
04.12.2014 D-Flensburg, Roxy
03.12.2014 D-Berlin, Blackland
Posted by Miriam Guigueno on 08.10.2014 10:00
Last change on 30.11.2020