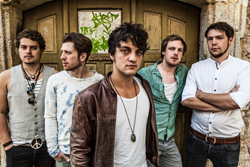 Heute feiern WILLIAM'S ORBIT, fünf schneidige Burschen aus der idyllischen Oberpfalz, die Veröffentlichung ihrer Debüt-EP "Eurydice" als Download über Bazooka Records und regen damit die Produktion der Endorphine an.
Der Titel der EP "Eurydice" spielt auf die sagenhafte Beziehung zwischen Orpheus und Eurydike an und die Songs erzählen Geschichten von Glück, Unglück, der Vergänglichkeit des Lebens und der Liebe als starkes und unkontrollierbares Gefühl – ständig begleitet von der Musik, die wir alle im Herzen tragen. Die Platte zeichnet sich vor allem durch den unverwechselbaren Indie Rock Sound und die herzergreifende Stimme von Sänger Siegfried Häusler aus. Ihren letzten außergewöhnlichen Schliff bekommt "Eurydice" dadurch, dass die EP größtenteils live in den Audiolodge Studios eingespielt wurde, um WILLIAM'S ORBIT Leidenschaft zur Musik widerzuspiegeln und die Authentizität der Band beizubehalten. Das Mastering der Scheibe wurde von Michael Schwabe (Monoposto) in die Hand genommen, der bereits mit Größen wie den Beatsteaks, Udo Lindenberg oder Mando Diao zusammen arbeitete.
Mit ihrem Facettenreichtum schaffen es WILLIAM'S ORBIT etwas ganz Besonderes in die Welt zu bringen, ohne dabei kitschige Liebeslieder zu trällern. Siegfried Häuslers rauchige Stimme in Kombination mit den emotionsgeladenen Indie Rock Melodien sorgt für Gänsehaut und lädt seine Zuhörer zum Träumen ein. Fans von Kings Of Leon, Beatsteaks, Coldplay oder auch Mumford And Sons werden ihre Freude an der EP haben und beim Hören der fesselnd, elektrisierenden Songs ein breites Grinsen im Gesicht haben, während sie in WILLIAM'S ORBITs Umlaufbahn der Liebe katapultiert werden.
In folgendem Clip wenden sich die romantisch angehauchten Jungs mit einer charmanten Videobotschaft zur Veröffentlichung ihre Debüt-EP "Eurydice" an eben genannte Fans.
Dazu überzeugen WILLIAM'S ORBIT mit ihrem neuen ausgefallenen Musikvideo zur zweiten Single "Take Your Time", einer rockigen Liebeserklärung auf ganzer Linie. Die Jungs haben es nach ihrem Clip zu "Lullaby" erneut geschafft die Leidenschaft und Emotionen des Songs in ein passendes Musikvideo zu transportieren und damit ein Feuerwerk der Gefühle auszulösen. Sie werden euch sicher mit ihrer bezaubernden Atmosphäre in den Bann ziehen!
Wir haben euer Interesse geweckt und ihr könnt gar nicht mehr genug von WILLIAM'S ORBIT bekommen oder wollt ihr noch mehr über die fünf Bayern wissen? Dann checkt mal das WILLIAM'S ORBIT Artists & Bands-Profil oder schaut auf www.williams-orbit.de sowie der liebevoll gepflegten Facebook-Seite der Band vorbei, wo ihr persönlich von ihnen auf dem Laufenden gehalten werdet.
Ab heute könnt ihr WILLIAM'S ORBIT auf eine wundervolle Reise gefüllt mit positiver Melancholie und Liebesabenteuern begleiten. Die EP "Eurydice" ist u.a. bei folgenden Händlern erhältlich:
Posted by Miriam Guigueno on 26.09.2014 15:30
Last change on 12.02.2015