STEINBACH hinterfragen mit ihren beiden neuen Pop/Rock Singles "Ist das richtig" und der englischsprachigen Version "Angels' Last Hallelujah" mit viel Leidenschaft und Herzblut die aktuelle Corona-Weltlage
Die Pandemie hat auch das lebenslustige Ruhrpott-Original Peter Steinbach nachdenklich werden lassen. Statt mit seinen authentischen und selbstkomponierten Pop/Rock Songs im Stil von Peter Maffay, Heinz Rudolf Kunze oder Silly die nationale Musiklandschaft aufzumischen, ist auch für ihn erstmal die heimische Couch angesagt gewesen, die er allerdings produktiv mit den 42 Folgen seiner '#WirbleibenzuHause Konzerte aus dem Wohnzimmerknast' nutzte. Peter Steinbach ist ein Charakter, der sich mit dem Leben auseinandersetzt, wie es uns allen täglich begegnet, es hinterfragt, Antworten sucht und versucht sich selbst und andere zu verstehen. Er lässt sich nicht einschränken, nicht bei seinen Ideen und auch nicht bei der Suche nach dem richtigen Weg. Daher hat er sich jetzt mit seiner bisherigen Band ECHT STEINBACH unter dem Namen STEINBACH neu positioniert und hat mit "Ist das richtig" eine neue eingängige Pop/Rock Single produziert, die sich mit der aktuellen Lage beschäftigt und dessen hinterfragenden Zeilen sicher viele Menschen dieser Tage bewegen. Da der Virus auch vor Grenzen nicht halt macht, hat Peter Steinbach diese besondere Single auch unter dem Titel "Angels' Last Hallelujah" zusätzlich auf Englisch eingespielt, um seine Botschaft einem internationalen Publikum zugänglich zu machen. Beide Singles sind ab heute, dem 29.07.2020 unabhängig voneinander weltweit digital über Dr. Music Records erhältlich. Hierzu gibt es von STEINBACH auch ein neues Lyric-Video zur deutschen Fassung sowie ein Musikvideo zum englischen Track, welche die Message der Songs audiovisuell verständlich rüberbringen.
Wer auf eingängigen Rock der Marke Bon Jovi oder Bryan Adams sowie der bereits genannten Künstler steht, der sollte sich jetzt beide STEINBACH Singles bei einem der folgenden Download-Shops oder Streaming-Portalen holen:
► Amazon (DE): Ist das richtig  | Angels' Last Hallelujah
► Amazon (US): Ist das richtig  | Angels' Last Hallelujah
► SMStracks: Ist das richtig  | Angels' Last Hallelujah
► Spotify: Ist das richtig  | Angels' Last Hallelujah
► Apple Music / iTunes: Ist das richtig  | Angels' Last Hallelujah
► Deezer: Ist das richtig  | Angels' Last Hallelujah
► Tidal: Ist das richtig  | Angels' Last Hallelujah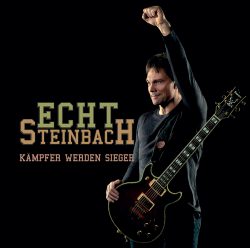 Peter Steinbach veröffentlichte vor seiner Band ECHT STEINBACH insgesamt drei Alben und mehrere Singles über Koch/Universal Music. Er trat bereits in zahlreichen TV-Shows wie u.a. dem 'ZDF-Fernsehgarten', 'Immer wieder Sonntags' (ARD) oder auch der 'MDR-Schlagerparade' auf. Dazu landeten mehrere seiner Songs in den Hitparaden von SWR, WDR, dem Hessischen und Bayrischem Rundfunk, wie auch beim MDR und er war mit Matthias Reim auf großer Tour. Vergangenes Jahr erschien mit 15 neuen und abwechslungsreiche Songs das Album "Kämpfer werden Sieger", allesamt von Peter Steinbach selbst komponiert und mit prägnanten Songtexten versehen, die direkt ins Ohr gehen. Dank tatkräftiger Unterstützung von Norbert Beyerlein und Wolfgang Moroder im Münchener Daxhill Studio (Klubb3, Howard Carpendale, Ireen Sheer) ist das Album zu einem neuen Meilenstein seiner Diskografie geworden und braucht sich nicht vor der Major-Konkurrenz nicht zu verstecken. "Kämpfer werden Sieger" ist weiterhin als Digipak-CD bei einem der folgenden Plattenhändlern oder digital samt der Single "Zeig mir dein Herz" bei einem der bekannten Download-Shops bzw. Streaming-Dienst erhältlich: Amazon | Thalia | Saturn | Media Markt | Buecher.de | Weltbild | Grooves | WOM | JPC | MyMediaWelt | Moluna | TreffpunktMusikShop.de | CeDe | ExLibris | iTunes | Google Play | SMStracks | Spotify | Apple Music | Deezer | Tidal
Für aktuelle Neuigkeiten und Konzerttermine empfehlen wir den regelmäßigen Besuch der Website www.echtsteinbach.de, der Facebook-Seite unter www.facebook.com/echtsteinbach sowie dem YouTube-Kanal des Ruhrpott-Musikers und seiner Band unter www.youtube.com/echtsteinbach. Weitere News und Infos gibt es bei Dr. Music Promotion.
+++
+++
With their new Pop/Rock single "Angels' Last Hallelujah" STEINBACH question the current Corona world situation with a lot of passion and lifeblood
The pandemic made the fun-loving German musician Peter Steinbach think more deeply. Instead of stirring up the international music scene with his authentic and self-composed Pop/Rock songs in the style of Bon Jovi or Bryan Adams, the home couch was the place to be for him too. Peter Steinbach is a character who deals with life as it confronts us all in our everyday lives, questions it, looks for answers and tries to understand himself and others. He does not restrict himself, neither in his ideas nor in his quest to search for the right path. Therefore he produced "Angels' Last Hallelujah", a new catchy Pop/Rock single that concerns itself with the current worldwide situation around the virus whose questioning lyrics will probably move many people these days. The single is available digitally via Dr. Music Records as of today, July 29th, 2020. STEINBACH has also produced a music video that visually highlights the message of the song: https://youtu.be/0nCVTCuMc2w
Who likes catchy Rock of the already mentioned musicians, should immediately get STEINBACH's new single at one of the following download shops or streaming portals: Amazon (DE) | Amazon (US) | SMStracks | Spotify | Apple Music | Deezer | Tidal
For the latest news and tour dates we recommend a regular visit to the website www.echtsteinbach.de, the Facebook page at www.facebook.com/echtsteinbach and the band's YouTube channel at www.youtube.com/echtsteinbach. Get further news and information at Dr. Music Promotion.
Posted by Miriam Guigueno on 29.07.2020 11:00