Big Apples großartiger Progressive Power Rock Export FOUR TRIPS AHEAD kündigt Track by Track Video-Reihe zu seinem Album "…And The Fire Within" an
Beginnend mit dem Song "December" leiten FOUR TRIPS AHEAD ihre Track by Track Video-Reihe zum kürzlich über Dr. Music Records erschienen Album "…And The Fire Within" im Bandkanal unter www.youtube.com/fourtripsahead ein. Die eingängige Midtempo-Ballade erschien Ende letzten Jahres als Single zusammen mit einer in den legendären Spin Recording Studios (Gojira, Lamb Of God, Trivium, Bloc Party) aufgenommenen Live-Version als Bonustrack und zeichnet ein düsteres Bild der inneren Kälte, die unsere Gesellschaft mehr und mehr durchdringt. "December" ist ein Song, der zum Nachdenken über die gefühlskalte moderne Welt anregt und dessen sehenswerten Auftritt der Live-Session es unter https://youtu.be/zX8h57qDWV4 zu betrachten gibt. Weitere Einzelheiten zum Song erläutert Sänger Peter Wilson in folgendem Track by Track Clip: https://youtu.be/rMcj9-OlyvM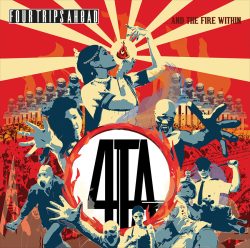 Bereits seit 2005 sorgen FOUR TRIPS AHEAD aus New York City für anspruchsvolle ehrliche Rock Musik. Getreu ihrem Bandmotto 'Reclaim Rock Music' haben sie den ursprünglichen Spirit des Genres wiederbelebt. "…And The Fire Within" beschäftigt sich mit dem Kampf um Identität, Eigenständigkeit und dem Selbstvertrauen inmitten von Chaos und Konflikt. Damit heben sie sich von vielen der heutigen eindimensionalen und künstlichen Rock Veröffentlichungen ab. Mit ihrem Album gelingt es den vier Musikern um Leadsänger Peter Wilson, Gitarrist Brian Eisenpresser, Basser Dan Cassidy sowie Schlagzeuger Ken Candelas ihren aufregenden, abenteuerlustigen Trademark-Sound mit pointierten Lyrics samt einer kraftvollen Produktion zu entfesseln. Gemeinsam mit den Studio-Koryphäen Johnny Nice (Amy Lee, Skillet, Rihanna) und Nick Cipriano (Dream Theater, Twisted Sister, Erasure), der preisgekrönter Grammy und Emmy Toningenieur ist, hat Sänger Peter Wilson die zehn neuen Songs in den Spin Recording Studios produziert. Nachdem sie mit ihrer energiegeladenen Rock Musik bereits ihre US-Heimat ausgiebig bespielt haben, nehmen sich FOUR TRIPS AHEAD nun den Rest der Welt vor. Die Zeit ist reif für ihren heavy Sound voller knarzender verzerrter Gitarren, kraftvollem Schlagzeugspiel mit intensiven Power Rock Gesang und einer Prise Prog Rock Sensibilität, die mit modernen Alternative Rock Vibes daher kommt! Wie der hochklassige Sound von FOUR TRIPS AHEAD klingt, lässt sich im Musikvideo zu "Bring Me Down" bestens erkennen: https://youtu.be/hXqWCRuKXUU
Wer auf Bands wie Black Stone Cherry, Alter Bridge, Tremonti oder The Brew steht, der sollte sich das FOUR TRIPS AHEADs Album "…And The Fire Within" mit seinen mitreißenden Rock Krachern unbedingt bei folgenden Shops und digitalen Musikanbietern besorgen: Amazon (DE) | Saturn | Media Markt | Thalia | Buecher.de | Weltbild | JPC | WOM | Moluna | Grooves | CeDe | ExLibris | Amazon (US) | MVD | Amazon (UK) | Plastic Head | Amazon (FR) | Fnac | Amazon (ES) | Amazon (IT) | Sound Pollution | Bengans | Ginza | CDON | CDmarket.dk | iMusic.dk | SuperShop.sk | Mercado Libre | HMV | Tower Records | iTunes | Google Play | SMStracks | Spotify | Apple Music | Deezer | Tidal
Für aktuelle News sowie künftige Tourdaten dieser energiegeladenen NYC Power Rock Band, macht einen Satz zu www.facebook.com/fourtripsahead, www.instagram.com/fourtripsahead oder ihrer Website www.fourtripsahead.com. Weitere Infos zu FOUR TRIPS AHEAD und ihrem Motto #ReclaimRockMusic sind zudem unter www.dr-music-promotion.de zu finden.
+++
+++
Big Apple's great Progressive Power Rock export FOUR TRIPS AHEAD announces track by track video series for their album "…And The Fire Within"
Starting with the song "December", FOUR TRIPS AHEAD introduce their track by track video series for the recently released album "…And The Fire Within" via Dr. Music Record on the band's channel at www.youtube.com/fourtripsahead. The catchy midtempo ballad has been released as a single at the end of last year along with a live version recorded at the legendary Spin Recording Studios (Gojira, Lamb Of God, Trivium, Bloc Party) as a bonus track and depicts a gloomy picture of the inner cold, which penetrates our society more and more. "December" is a song that provokes reflection on the emotionally cold modern world and its well worth seeing performance of the live session can be viewed at https://youtu.be/zX8h57qDWV4. Further details about the song are explained by vocalist Peter Wilson in the following track by track clip: https://youtu.be/rMcj9-OlyvM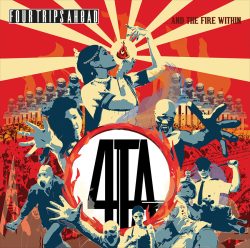 Since 2005, FOUR TRIPS AHEAD from New York City have been producing sophisticated and honest Rock music. True to their band's motto, 'Reclaim Rock Music', the original spirit of the genre has been revived. "…And The Fire Within" deals with the struggle for identity, self-reliance and confidence in the midst of chaos and conflict. This sets them apart from many of today's one-dimensional and artificial Rock releases. With their album, the four musicians around lead singer Peter Wilson, guitarist Brian Eisenpresser, bassist Dan Cassidy and drummer Ken Candelas succeed again in unleashing their exciting, adventurous trademark sound with poignant lyrics and a powerful production. Together with studio experts Johnny Nice (Amy Lee, Skillet, Rihanna) and Nick Cipriano (Dream Theater, Twisted Sister, Erasure), the Grammy and Emmy Award-winning sound engineer, vocalist Peter Wilson has produced the ten new songs at the Spin Recording Studios. After extensively having played their energetic Rock music in their homeland of the U.S., FOUR TRIPS AHEAD are now heading for the rest of the world. The time is ripe for their heavy sound full of snarling distorted guitars, powerful drumming with intense Power Rock vocals and a pinch of Prog Rock sensibility that comes with modern Alternative Rock vibes! How the high class sound of FOUR TRIPS AHEAD works, can be heard in the music video for "Bring Me Down": https://youtu.be/hXqWCRuKXUU
If you like bands such as Black Stone Cherry, Alter Bridge, Tremonti or The Brew, you should definitely get FOUR TRIPS AHEAD's album "…And The Fire Within" with its intoxicating Rock smashers from the following shops and digital music services: Amazon (DE) | Saturn | Media Markt | Thalia | Buecher.de | Weltbild | JPC | WOM | Moluna | Grooves | CeDe | ExLibris | Amazon (US) | MVD | Amazon (UK) | Plastic Head | Amazon (FR) | Fnac | Amazon (ES) | Amazon (IT) | Sound Pollution | Bengans | Ginza | CDON | CDmarket.dk | iMusic.dk | SuperShop.sk | Mercado Libre | HMV | Tower Records | iTunes | Google Play | SMStracks | Spotify | Apple Music | Deezer | Tidal
For the latest news and future tour dates of this energetic NYC Power Rock band, head over to www.facebook.com/fourtripsahead, www.instagram.com/fourtripsahead or their website www.fourtripsahead.com. To get more information about FOUR TRIPS AHEAD and their motto #ReclaimRockMusic, check out www.dr-music-promotion.de.
Posted by Miriam Guigueno on 10.04.2020 08:00
Last change on 16.04.2020