Die norddeutsche Alternative Rock Rock Band MELTED EGO kündigt mit einer ordentlichen Kampfansage für den 27.03.2020 ihr viertes Albums "Heavyweight Knockout" über Timezone Records an. Der Band bestehend aus Sänger Melf Hartwig, den beiden Gitarristen Pascal Pohns und Ingo Krantz, sowie Bassist Sven Schnapperelle und Schlagzeuger Timo von Wittken ist es gelungen einen ergreifenden und in vielen musikalischen Heimaten verwurzelten Sound, der jede Facette der individuellen Egos widerspiegelt, zu entwickeln. Bei aller Verschiedenheit der fünf Freunde sind sie immer durch die Liebe zum Rock und Hardrock verbunden. So ist auch der Bandname MELTED EGO Kind dieser Vision, indem fünf Egos in einem gemeinsamen Projekt zu einem einzigartigen Stil verschmelzen. Die von Olman V. Wiebe im Hertzwerkstudio (Ohrenfeindt, Caliban, Montreal, Emil Bulls) produzierte neue Scheibe ist zweifelsohne ihr bislang stärkstes Werk, das abseits des Mainstreams mit tiefschürfenden Ohrwürmern glänzt. Die musikalischen Einflüsse reichen dabei von Billy Talent über Shinedown bis hin zu Alter Bridge, mal hart, mal melancholisch, aber immer stimmig und auf den Punkt. Die neue Produktion beinhaltet zwölf Songs, die untermalt von melancholischen Rock Riffs Themen wie Liebe, Hass, Ängste und Hoffnung besingen. Bereits diesen Freitag, den 06.03.2020 feiern MELTED EGO, unterstützt von der Band Never Come Rain, im Speicher in Husum ihre Album-Releaseshow. Mit "Anatomy Of Melancholy?" erscheint am 05.06.2020 die erste Single und wer nicht so lange warten will, dem bietet dieser Teaser einen guten ersten Eindruck: https://youtu.be/AsLLlnCc90g
MELTED EGO geben heute sowohl das Cover als auch die Trackliste ihres ausgezeichnet produzierten, vielseitigen und einzigartigen Album bekannt:
Soul Cracks
God Or Dog
September Sky
Lover
Heavyweight Knockout
Thrown Out Of Neverland
Anatomy Of Melancholy?
The Mantis
Echoes Of My Screams
Dystopia Unchained
Silent Solitude
Carnivore Matador
Das abwechslungsreiche neue MELTED EGO Album "Heavyweight Knockout" ist bereits bei diesen Shops in der CD-Version vorbestellbar: Amazon | Buecher.de | Weltbild | JPC | WOM
Wer jetzt mehr über MELTED EGOs modernen Alternative Rock Sound mit Hardrock Vibes sowie Hintergründe zur Band erfahren will, der sollte schleunigst im Artist Profil vorbeischauen oder für aktuelle News und Konzerttermine der Bandwebsite www.meltedego.com sowie ihren Social Media Profilen bei www.facebook.com/meltedego oder www.instagram.com/meltedego_band einen Besuch abstatten.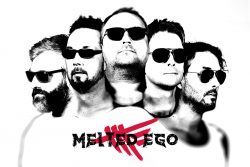 Musikjournalisten, die sich mit MELTED EGO in den Ring begeben wollen, sollten sich direkt in der VIP & Press Area von Dr. Music Promotion für die Bemusterung mit dem Promo-Download des neuen Albums "Heavyweight Knockout" vormerken lassen.
Posted by Miriam Guigueno on 03.03.2020 16:15
Last change on 03.06.2020