JESUS CHRÜSLER SUPERCAR veröffentlichen Album-Trailer zur kommenden infernalischen Death 'n' Roll Messe "Lücifer" 
Diesen Freitag erreichen die vier Schweden, die mit Vollgas weiter auf dem staubigen Asphalt des Rock 'n' Roll Highways rasen, ihr nächstes Etappenziel und veröffentlichen ihr drittes Album "Lücifer" mit genau dem richtigen Sound zwischen dem dreckigen rohen Rock 'n' Roll der 90er und der zeitgemäßen Death 'n' Roll Keule über Dr. Music Records. Vorab gestattet uns die Stockholmer Meute, angeführt von ihrem axtschwingenden Frontmann Robban Bergeskans und bestehend aus Schlagzeug-Uhrwerk Nicke Forsberg, dem früheren Refused Gitarristen Pär Jaktholm sowie Gitarrist Tobbe Engdahl einen persönlichen Einblick in die Entstehung ihres diabolischen neuen Albums im legendären Sunlight Studio von Tomas Skogsberg (Entombed, The Hellacopters, Amorphis). Im Album-Trailer verraten JESUS CHRÜSLER SUPERCAR wie die elf neuen boshaften Psalme ihre Kraft entfalteten: https://youtu.be/5MtCaIk4-oQ
Herausgekommen ist bei den Studiosessions im Sunlight Studio unter tatkräftiger Mithilfe von Nickes Bruder Fred Forsberg (Mass Worship, Anchor, Gust) sowie dem Mastering durch Brad Boatright von Audiosiege (Converge, C.O.C., Iron Reagan) ein bösartiges, heftiges Album, das seine verschiedenen musikalischen Einflüsse aus dreckigem Heavy Rock, Doom, Stoner und Old School Death Metal zu einem eigenständigen diabolischen Gebräu verschmelzen lässt. Mach dich bereit für die heißeste Mixtur, die die europäische Szene derzeit zu bieten hat und nicht grundlos den eindeutigen Titel "Lücifer" trägt. Auf der gemeinsamen Europatour mit Bullet und Screamer im letzten Jahr konnten sich die JESUS CHRÜSLER SUPERCAR Fans bereits von der Qualität des Titeltracks sowie des räudigen Uptempo Rockers "Flesh 'n' Bones" und dem Können des neuen Gitarristen Tobbe Engdahl überzeugen! Wer nicht bis Ende der Woche warten will, dem ist der Höllenritt mit dem neuen Videoclip im B-Movie Style von Regisseur Pär Brannström zum Titelsong wärmstens zu empfehlen: https://youtu.be/XInaCMwhbQo
«In einer Welt ohne Lemmy, sind JESUS CHRÜSLER SUPERCAR genau das was man benötigt!» schrieb das britische Webzine Ave Noctum. "Lücifer" zeigt, wo der Death 'n' Roll Hammer 2019 hängt und ist ein Pflichtkauf für Fans des harten Heavy Rock, egal ob sie auf Entombed, Motörhead, High On Fire oder Greenleaf stehen! JESUS CHRÜSLER SUPERCAR vereinen sie alle und sind doch komplett eigenständig! A One Way Ticket Straight To Hell!!! Das brandneue Album "Lücifer", dessen teuflisches Artwork Joshua Michael Wilkinson designte, ist ab sofort als Digisleeve-CD, in der 180 gr. Gatefold-Vinyl Edition oder digital bei einem der folgenden Plattenhändler vorbestellbar. Nimm schon mal Platz auf der Rückbank des Death 'n' Roll Supercars und dreh deine Anlage auf 11: EMP | Nuclear Blast | Napalm Records | Green Hell | Amazon | Saturn | Media Markt | Buecher.de | Weltbild | Grooves | ExLibris | WOM | JPC | CeDe | Plastic Head | Season Of Mist | Fnac | AudioGlobe | Sound Pollution | Bengans | Ginza | CDON | CDmarket.dk | iMusic.dk | Shiny Beast | Platekompaniet | SuperShop.sk | HardMusicBase.cz | Mercado Libre | Vinyl.com.au | VinylDestination.com.au | iTunes | Google Play | iGroove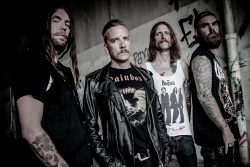 Im Oktober werden JESUS CHRÜSLER SUPERCAR auch erstmals für fast drei Wochen mit den neuen Songs im Gepäck ihren Weg im amerikanischen Straßenkreuzer über den lokalen Gottesacker fortsetzen und auf Tour gehen. Die bis dato bestätigten Termine der 'Lücifer Over Europe' Tour lauten wie folgt:
04.10.2019 DE-Greifswald, Juz Klex
05.10.2019 DE-Hannover, Chéz Heinz
06.10.2019 DE-Jena, Café Wagner
08.10.2019 DE-Hamburg, Hafenklang
09.10.2019 DE-Bochum, Rockpalast w/Thundermother
10.10.2019 DE-Düsseldorf, Pitcher
11.10.2019 DE-Osnabrück, Westwerk
12.10.2019 DE-Neukirchen, Sägewerk
13.10.2019 AT-Salzburg, Rockhouse Bar
14.10.2019 AT-Wien, Viper Room
15.10.2019 SI-Ljubljana, Channel Zero
16.10.2019 DE-Isny, Eberz
18.10.2019 DE-Chemnitz, Nikola Tesla Club
19.10.2019 DE-Fürstenwalde, Parkclub
Weitere Infos zu den Stockholmer Heavy Rock Maniacs und aktuelle News zum kommenden Tour-Fahrplan des Death 'n' Roll Supercars gibt es unter www.dr-music-promotion.de als auch auf www.jesuschruslersupercar.com, www.facebook.com/jesuschruslersupercar und www.instagram.com/jesuschruslersupercar.
Musikjournalisten und Radio-Redakteure, die sich bereits mit der diabolischen Mixtur beschäftigen wollen, sollten sich sofort in unserer VIP & Press Lounge registrieren und JESUS CHRÜSLER SUPERCARs dreckige Rock 'n' Roll Psalme anfordern. Die rauen Schweden stehen auch gern für Interviews zur Verfügung. Bei einem ihrer kommenden Konzerte arrangieren wir auch gerne ein persönliches Treffen.
+++
+++
JESUS CHRÜSLER SUPERCAR release album trailer for the upcoming infernal Death 'n' Roll mass "Lücifer"
This Friday the four Swedes, who continue to race at full throttle on the dusty asphalt of the Rock 'n' Roll Highway, reach their next destination and release their third album "Lücifer" with just the right sound between the 90s' dirty rough Rock 'n' Roll and the up to date Death 'n' Roll mace through Dr. Music Records. The Stockholm pack, led by their axe-swinging frontman Robban Bergeskans and consisting of drum machine Nicke Forsberg, former Refused guitarist Pär Jaktholm as well as guitar player Tobbe Engdahl, allows us a personal insight into the creation of their diabolic new album in Tomas Skogsberg's legendary Sunlight Studio (Entombed, The Hellacopters, Amorphis). In the album trailer, JESUS CHRÜSLER SUPERCAR reveal how the eleven new malicious psalms unfolded their power: https://youtu.be/5MtCaIk4-oQ
With the help of Nickes brother Fred Forsberg (Mass Worship, Anchor, Gust) and the mastering by Brad Boatright of Audiosiege (Converge, C.O.C., Iron Reagan) the Sunlight Studio sessions resulted in a malicious, fierce album, that merges its various musical influences from dirty Heavy Rock, Doom, Stoner and old school Death Metal into a unique diabolical brew. Get ready for the hottest mixture that the European scene has to offer at the moment and not without reason bears the clear title "Lücifer". On the joint European tour with Bullet and Screamer last year, the JESUS CHRÜSLER SUPERCAR fans could already convince themselves of the quality of the title track as well as the mangy uptempo rocker "Flesh 'n' Bones" and the skills of the new guitarist Tobbe Engdahl! For those who don't want to wait until the end of the week, the hell ride with the new video clip in a B-Movie style by director Pär Brannström for the title song is highly recommended: https://youtu.be/XInaCMwhbQo
«In a world without Lemmy, JESUS CHRÜSLER SUPERCAR are exactly what you need», wrote the British webzine Ave Noctum. "Lücifer" reveals how Death 'n' Roll has to sound like nowadays and is a must buy for fans of hard Heavy Rock, no matter if they like Entombed, Motörhead, High On Fire or Greenleaf! JESUS CHRÜSLER SUPERCAR unite them all and yet are completely independent! A one-way ticket straight to hell!!! The brand new album "Lücifer", whose devilish artwork was designed by Joshua Michael Wilkinson, can now be pre-ordered as a digisleeve CD, as 180 g gatefold vinyl edition or digitally at one of the following record dealers. Take a seat in the back of the Death 'n' Roll supercar and turn your amp to eleven: EMP | Nuclear Blast | Napalm Records | Green Hell | Amazon | Saturn | Media Markt | Buecher.de | Weltbild | Grooves | ExLibris | WOM | JPC | CeDe | Plastic Head | Season Of Mist | Fnac | AudioGlobe | Sound Pollution | Bengans | Ginza | CDON | CDmarket.dk | iMusic.dk | Shiny Beast | Platekompaniet | SuperShop.sk | HardMusicBase.cz | Mercado Libre | Vinyl.com.au | VinylDestination.com.au | iTunes | Google Play | iGroove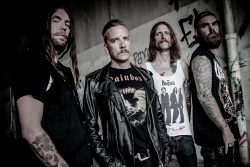 In October JESUS CHRÜSLER SUPERCAR are going to continue their American road cruiser's journey over the local graveyards and will go for the first time on tour with the new songs for almost three weeks. The confirmed dates of the 'Lücifer Over Europe' tour so far are as follows:
04.10.2019 DE-Greifswald, Juz Klex
05.10.2019 DE-Hannover, Chéz Heinz
06.10.2019 DE-Jena, Café Wagner
08.10.2019 DE-Hamburg, Hafenklang
09.10.2019 DE-Bochum, Rockpalast w/Thundermother
10.10.2019 DE-Düsseldorf, Pitcher
11.10.2019 DE-Osnabrück, Westwerk
12.10.2019 DE-Neukirchen, Sägewerk
13.10.2019 AT-Salzburg, Rockhouse Bar
14.10.2019 AT-Wien, Viper Room
15.10.2019 SI-Ljubljana, Channel Zero
16.10.2019 DE-Isny, Eberz
18.10.2019 DE-Chemnitz, Nikola Tesla Club
19.10.2019 DE-Fürstenwalde, Parkclub
Further information about the Heavy Rock maniacs from Stockholm and the latest news to the upcoming tour schedule of the Death 'n' Roll Supercar are available on www.dr-music-promotion.de as well as on www.jesuschruslersupercar.com, www.facebook.com/jesuschruslersupercar and www.instagram.com/jesuschruslersupercar.
Music journalists and radio editors who already want to deal with the diabolic mixture should immediately register in our VIP & Press Lounge and request JESUS CHRÜSLER SUPERCAR's dirty Rock 'n' Roll Psalms. The rough Swedes are also available for interviews. Of course we can also arrange a personal meeting at one of their upcoming concerts.
Posted by Miriam Guigueno on 22.05.2019 14:00
Last change on 06.06.2019