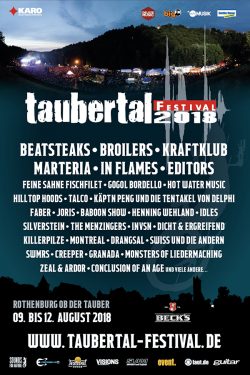 CONCLUSION OF AN AGE werden für ihr spielfreudiges Album "Captains And Kings" durch eine Einladung auf das prestigeträchtige Taubertal Festival 2018 belohnt. Dort werden die bayrischen Metal Newcomer neben den Stars von Kraftklub, den Beatsteaks sowie In Flames auftreten, und die Meute zum Toben bringen. Am Samstag den 11. August wird es dann auf der Sounds for Nature-Bühne soweit sein, dass die Jungs aus Rothenburg ob der Tauber nach ihrer 'Tyranny Falls Tour' nachlegen und ihr Publikum erneut begeistern.
Bis dahin lässt sich die Wartezeit optimal mit ihrem gefeierten Album "Captains And Kings" füllen, das im Sommer 2017 über Dr. Music Records erschien. Dieses Werk enthält feinsten Modern Melodic Metal, der bei Fans, die mit Avenged Sevenfold und Trivium etwas anfangen können, definitiv richtig liegen wird. Produziert wurde das abwechslungsreiche Album von Timon Seidl im Red Audio Studio (u.a. Visionatica, Rawkfist) und beim Mastering vertrauten sie im legendären Gate Studio auf die Künste von Miro Rodenberg (Edguy, Kamelot, Brainstorm). Für ein Debütalbum einer Truppe Anfang 20 stellt "Captains And Kings" eine beachtliche kompositorische Leistung dar, die auch auf anderen Ebenen nicht weniger beeindruckend ist. So sind es auch mitreißende Gitarrenriffs gepaart mit druckvollem Schlagzeugspiel und die markant über allem thronende Stimme von Kevin Di Prima, die dafür sorgen, dass die Platte von der ersten Sekunde an zündet. Sei es das epische "The Broken Throne" mit seinen überraschend gefühlvolle Gitarrenharmonien und einem guten Schuss Progressivität, das aufmüpfige "Tyranny Falls" oder der Titeltrack "Captain And Kings" mit seiner prägnanten, an 'Game Of Thrones' erinnernde Anfangsmelodie, die Mittelfranken wissen auf ihrem Debüt vielfältig zu begeistern. Das sah bisher auch der Metal Hammer so, der CONCLUSION OF AN AGE zum verdienten Sieger beim Metal Hammer Paradise Festival Contest erklärte.
Also macht es dem Hammer nach, und lasst CONCLUSION OF AN AGE zum Sieger eures Festivalsommers werden und stattet ihnen einen Besuch beim Taubertal Festival ab. Alle weiteren Infos zum Gig findet ihr hier: www.taubertal-festival.de/programm/sounds-for-nature-buhne/conclusion-of-an-age
Mit dem von Limlights Productions produzierten Musikvideo zu "Days Turn Into Night" könnt ihr euch bereits vom Sound und der Performance der Band überzeugen: https://youtu.be/u7I4WN1Qubs
"Captains And Kings" ist bereits bei diesen Plattenhändlern, Download-Stores und Streaming-Anbietern erhältlich: Amazon | MetalMailorder.com | Saturn | Media Markt | ExLibris | WOM | JPC | Buecher.de | Grooves | Rubydon | iTunes | Google Play | Spotify | Deezer | Apple Music
Alle wichtigen Infos zu den deutschen Modern Melodic Metal Hoffnungsträgern, die sich bereits zu Schulzeiten gründeten, sind unter www.dr-music-promotion.de zu finden und natürlich gibt es alle News sowie Konzerttermine auf der Website sowie den CONCLUSION OF AN AGE Profilen bei Facebook oder Instagram zu entdecken.
Posted by Miriam Guigueno on 26.06.2018 16:00