ASHLEE.K kündigt sein EDM Album "New Heights" mit Weltmusik Charakter für den 22.09.2017 an
Mit seinem EDM Album "New Heights" stellt ASHLEE.K ein ganz besonders spannendes Projekt vor. Die Mixtur aus zeitgemäßen Dance vereint mit östlicher Folklore- und Klassikfragmenten sowie Dubstep Vibes überzeugt auf ganzer Linie. Für das gewisse Etwas sorgen dabei so unterschiedliche Sänger und Rapper aus aller Welt. Beispielsweise konnte der aus dem Iran stammende und jetzt in Deutschland lebende Producer und DJ die israelische Sängerin Lana Lubany für sich gewinnen. Diese hat u.a. bereits für den früheren US-Präsidenten Obama gesungen und auch Andreea Lazar hat bereits bei der rumänischen Ausgabe von X-Factor ein Millionenpublikum begeistert. Hervorzuheben ist auch der christliche Hip Hopper Noahsoundz aus den USA, der bereits Mixtapes mit Xzibit und Ludacris in seiner History stehen hat. ASHLEE.K beweist mit "New Heights", das am 22.09.2017 über Dr. Music Records erscheint, dass die Musik alle Grenzen überbrücken kann und auch trotz aller politischen Differenzen, wie z.B. dem Iran und Israel, sich Künstler davon nicht vereinnahmen lassen.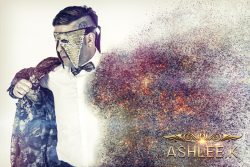 ASHLEE.K erlernte gegen den Willen seiner Eltern autodidaktisch Gitarre und studierte später erfolgreich an der renommierten 'Conservatory of Music' Akademie in Teheran. Mit seiner Band Octav feierte er zahlreiche Erfolge, veröffentlichte ein Album sowie mehrere Single und spielte viele Konzerte in Iran. Dazu führte er Regie und übernahm die Produktion eines der ersten iranischen Hip Hop Musikvideos, aufgrund der dortigen Gesellschaftssituation kein leichtes Projekt. Weiterhin produzierte er auch etliche iranische Underground- und Major-Acts, durch die er sich auch immer mehr für die elektronische Musik begeisterte. Das "New Heights" Projekt begann er vor gut zwei Jahren, mit dem Ziel ein großartiges EDM Album mit zahlreichen Gastauftritten internationaler Künstler aus so völlig unterschiedlichen Ländern wie England, Rumänien, Israel, den USA und natürlich seiner Heimat Iran zusammen zu stellen. Dies ist ihm mit eingängigen Songs wie dem Opener "Shut Up And Kiss Me", "Loving You Easy" oder dem Titelsong "New Heights" gelungen und sorgt vom Fleck weg für eine gute Stimmung auf dem Dancefloor. Bei ASHLEE.K sind Fans tanzbarer Electrosounds genau richtig, mit seinen treibenden Beats gepaart mit den fulminanten Stimmen seiner Sänger ist eine ausgelassene Party-Stimmung garantiert. Dazu dürften auch Tracks wie "Morning Stars", "Make Me Crazy" oder "Every Body Wants Me" sowie auch die Instrumentalversionen von "New Heights" und "Shut Up And Kiss Me" ebenso beitragen. Der Iraner an den Reglern überzeugt auf der vollen Albumdistanz und wird mit "New Heights" sicher viele neue Freunde finden! In Kürze wird die Stimmung auch noch mit einem abgefahrenen Musikvideo im Comic-Style angeheizt, dessen Trailer man bereits bei Facebook in Augenschein nehmen kann!
ASHLEE.Ks zeitgemäß, vielschichtiges Album mit seinem Weltmusik-Feeling kann ab sofort bei allen Plattenläden oder im Web vorbestellt werden: Amazon | Saturn | Media Markt | ExLibris | WOM | JPC | Buecher.de | Grooves | Rubydon |  MusicLine | iTunes | Google Play | DJTunes | Qobuz.com | Spotify | Deezer | Apple Music
Weitere Infos zu ASHLEE.K und seinem Electronic Dance Album sind auf unserem Künstler-Profil zu finden. Auf der Website sowie auf Facebook und Instagram informiert euch ASHLEE.K zudem persönlich über seine Arbeit als DJ und Producer und die Entstehungsgeschichte um "New Heights".
Journalisten, die sowohl ASHLEE.Ks Sound als auch sein Projekt samt den internationalen Gaststimmen näher kennenlernen wollen, sollten sich direkt in unserer VIP & Press Lounge für die Bemusterung anmelden. ASHLEE.K steht natürlich auch für Interviews zur Verfügung.
+++
+++
ASHLEE.K announces his EDM album "New Heights" with world music feelings to be released on 22.09.2017
With his new EDM album "New Heights" ASHLEE.K is presenting a particularly exciting project. A mix composed of up to date dance music combined with eastern folklore and classical fragments as well as Dubstep vibes convinces fully. At the same time so diverse vocalists and rappers from all around the world ensure that certain something. For example the Iranian native producer and DJ, who now lives in Germany, has won the Israeli singer Lana Lubany over. She has i.a. already sung for the former US President Obama and also Andreea Lazar has enthralled an audience of millions at X-Factor Romania. The christian hip-hop artist Noahsoundz from the US, who already did mix-tapes together with Xzibit and Ludacris, is also to be highlighted. With "New Heights", which will be released on 15.09.2017 through Dr. Music Records, ASHLEE.K proves with "New Heights" that music is able to push boundaries and that musicians despite all political differences, such as in Iran and Israel, will never be engrossed.
Against the will of his parents ASHLEE.K has learned the guitar autodidactically and later on studied successfully at the prestigious 'Conservatory of Music' academy in Teheran. With his band called Octav he celebrated numerous success, released an album as well as several singles and played many concerts in Iran. In addition to that he directed and produced one of the first Iranian Hip-Hop music videos ever, which was not easy-going according to the local social situation. Furthermore he produced a various number of Iranian underground and major acts, which led to his excitement for electronic music. He has started the "New Heights" project around two years ago, with the aim to put together an awesome EDM album with numerous guest performances by international artists from countries as diverse as England, Romania, Israel or the USA and of course his homeland Iran. Success is granted with catchy songs like the opener "Shut Up And Kiss Me", "Loving You Easy" or the title track "New Heights", which straightforward ensures good vibes on the dancefloor. Fans of danceable electro sounds are just right with ASHLEE.K and his driving beats coupled with the brilliant voices of his singers, which guarantee an lively party feeling. Tracks like "Morning Stars", "Make Me Crazy" or "Every Body Wants Me" as well as the instrumental version of "New Heights" and "Shut Up And Kiss Me" should also contribute to that. The Iranian in charge of the controllers convinces on the full album distance and he will surely find many new friends with "New Heights"! Soon the mood also will be heated up with a cool new comic-style music video, whose trailer you can already watch at Facebook!
ASHLEE.K's modern, complex album with its world music feeling can be pre-ordered from now on all record stores and online shops: Amazon | Saturn | Media Markt | ExLibris | WOM | JPC | Buecher.de | Grooves | Rubydon |  MusicLine | iTunes | Google Play | DJTunes | Qobuz.com | Spotify | Deezer | Apple Music
More information regarding ASHLEE.K and his Electronic Dance album is available at our artist profile. On the website as well as on Facebook and Instagram, ASHLEE.K informs you personally about his work as a DJ and producer and the making of "New Heights".
Journalists, who are interested in knowing more about ASHLEE.K's sound and his project together with the international guest voices, should register directly in our VIP & Press Lounge for sampling. ASHLEE.K is also available for interviews.
Posted by Miriam Guigueno on 12.09.2017 13:00
Last change on 06.11.2017