WOODBRIDGE:
WOODBRIDGE folgen mit ihrem Modern Rock dem Ruf der Freiheit und zünden "The Fire Inside"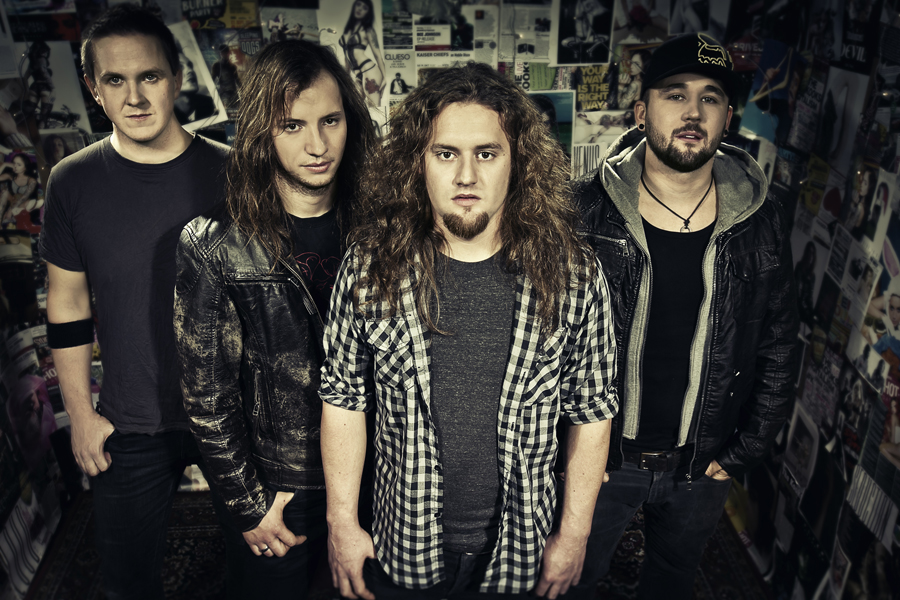 WOODBRIDGE folgen mit ihrem Modern Rock dem Ruf der Freiheit und zünden "The Fire Inside"

WOODBRIDGE lassen das innere Feuer des echten Handmade Rock auflodern. Wild, ungeschliffen und roh ist ihr gitarrenlastiges Soundgewand, das sie nun schon bereits seit neun Jahren gemeinsam auf die Bühnen bringen. Eingängige energiereiche Songs mit unberechenbaren Twists spiegeln die Freiheitslust und den Tatendrang der Schweizer wider. Amerikanisch geprägter Modern Rock ist für WOODBRIDGE mehr als nur Musik, es ist ein Lebensgefühl, das sie in allen Bereichen des täglichen Lebens ausleben. Egal ob auf der Bühne oder im Tourbus auf den Straßen dieser Welt. Die vier Musiker aus dem Kanton St. Gallen verkörpern den klassischen Outlaw-Lifestyle in Jeans und speckigen Lederjacken. Dieses besondere Feeling vermittelt auch ihr neues Album "The Fire Inside", das am 17.04.2015 über Dr. Music Records erscheint.
WOODBRIDGE haben seit Mitte des letzten Jahrzehnts bereits eine deutliche Spur in der weltweiten Rock Community hinterlassen. Neben zahlreichen Shows in der Heimat, wo sie unter anderem beim Szene Open Air in Lustenau oder dem Rock Highway Contest glänzten, tourten die Rocker aus den Alpen bereits in England, Belgien und können ebenso auf eine Australien-Tournee mit den legendären Lord Bishop Rocks aus New York im Jahr 2011 zurückblicken. Dazu haben sie auch mit Bands wie den Australiern Dead City Ruins oder den Briten The Tarantinos die Bühnenbretter geteilt.
Auf "The Fire Inside" geht es mächtig ab und WOODBRIDGE überzeugen bei jedem Song. Aufgenommen wurde das abwechslungsreiche Album in den Studios von Andi Schneider und Tommy Vetterli (Corey Taylor, Gotthard, Vivian), der in seinem New Sound Studio auch für den Mix zuständig war. Für die Feinjustierung ging es weiter in Dan Suters echochamber Studio (Kool Savas, Eluveitie, Etta Zero), damit es ordentlich kracht und dröhnt, sodass auch der letzte Softie das Weite sucht. Die Band setzt Statements und lässt sich musikalisch auf keinen Fall in ein enges Korsett zwängen. Textlich gewähren sie Einblicke in ihre geheimen Leidenschaften und erzählen von ihren ausschweifenden Abenteuern. Wie in "Born To Rumble", wo uns die Schweizer energiegeladene harte Gitarrenriffs um die Ohren feuern, um die Message zu verbreiten für seine Überzeugungen zu kämpfen und das Leben in vollen Zügen bis an sein Limit zu genießen. "Lies", die neue Single samt Musikvideo, ist wiederum an alle Machthaber gerichtet, die auf Kosten anderer herrschen und nur an sich selbst denken. Auch "Lost In Paradise" ist ein eher kritischer Track, in dem die Band sich fragt, warum wir eigentlich immer nach dem Paradies suchen, wo wir doch bereits dort leben und nicht damit umgehen können, was Umweltzerstörungen und Kriege ständig beweisen. Wir sind verloren in unserem Paradies. Nachdenklich und philosophisch gibt sich dieser Titel, der dann auch ein bisschen sanfter daher kommt als die meisten anderen Stücke dieses Albums. In "Four Wheels Of Freedom" verarbeitet die Band ihre Erfahrungen und Eindrücke während der Australien-Tour 2011. Die Freiheit auf vier Rädern, eine Reise ohne Ziel. Eine Zeit ohne Stress und Druck von außen, ein Lebensgefühl. Was die Jungs genau unter dem Ruf der Freiheit verstehen, zeigt euch das hierzu bereits veröffentlichte Musikvideo. Zum Abschluss gibt es mit "Forever Loud" noch mal ein klares Rock 'n' Roll Statement von WOODBRIDGE. Unterdrückte Gefühle und Wünsche machen uns unglücklich. Schief gegangene Pläne, falsche Erwartungen, Enttäuschungen sollen uns nicht davon zurückhalten, laut und stolz zu sein. Verspotten wir den inneren Schweinehund, lassen wir unser Herz schreien, wenn es will. Zum Beispiel mit lauter Musik, die wir raus brüllen und auf die wir stolz sind.
Mit der neuen Platte im Rücken und dem Willen ihr Feuer in die Welt hinaus zu tragen, sind WOODBRIDGE bereit ein weiteres unterhaltsames Kapitel in ihrer Bandgeschichte zu eröffnen. Alle Freunde ehrlicher, handgemachter Rock Musik mit spannenden, mal lustigen und mal nachdenklichen Songs sollten sich "The Fire Inside" auf ihren Einkaufszettel für das Frühjahr 2015 schreiben. Die Schweizer Heavy Rocker sind wieder unterwegs, den Ruf der Freiheit zu verbreiten!
+++
WOODBRIDGE follow the call of freedom with their Modern Rock and blaze "The Fire Inside"
WOODBRIDGE let the inner fire of real handmade Rock blaze up. Wild, uncut and raw is the dress code of their guitar driven sound, which they have performed on stage for more than nine years now. Memorable high-energy songs with unpredictable twists reflect the desire for freedom and the zest for action of the Swiss. For WOODBRIDGE, American Modern Rock is more than just music. It's a way of life, which they live every day, no matter if on stage or on the tourbus out on the highways of the world. The four musicians from St. Gallen embody the classical outlaw lifestyle in denim and greasy leather jackets. It is this feeling their new album "The Fire Inside" gives, which will be released on 17th April 2015 through Dr. Music Records.
Since the middle of the last century WOODBRIDGE have left a clear trace in the worldwide Rock community. Besides numerous shows in their home land, where they shined amongst other festivals at the Szene Open Air in Lustenau, Austria or at the Swiss Rock Highway Contest, the rockers from the Alps toured in England, Belgium and can also look back on an Australian tour with legendary Lord Bishop Rocks from New York in the year 2011. They also have shared the stage planks with bands like the Australians Dead City Ruins or the British The Tarantinos.
On "The Fire Inside" WOODBRIDGE set the world on fire and convince with every song. The diversified album was recorded in the studios of Andi Schneider and Tommy Vetterli (Corey Taylor, Gotthard, Vivian), who was also responsible for mixing in his New Sound Studio. For vernier adjustment they consulted the echochamber Studio of Dan Suter (Kool Savas, Eluveitie, Etta Zero) for enough droning and noise, so even the last softie would flee. The band is setting statements and doesn't let themselves be forced into a tight corset. Their lyrics allow insight into their secret passions and tell of escalating adventures. With "Born to Rumble" for example, the Swiss blaze up our ears with their energy loaded guitar riffs to spread the message that it is worth to fight for one's conviction and to live and enjoy life to full limits. "Lies", the new single together with the music video, then again is dedicated to all rulers who reign on the cost of others and only think self-centered. "Lost In Paradise", too, is a more a critical song, which shows the band asking themselves why we are always searching for paradise though we are already living in it, but just can't handle it, which is proven permanently through environmental destruction and wars. We are lost in our paradise. This title is thoughtful and philosophical and therefore a little softer than most of the other tracks of the album. With "Four Wheels Of Freedom" the band comes to terms with the experiences and impressions they gained during their Australian tour 2011. The freedom on four wheels, a journey without an end. No time pressure or impact from the outside, an awareness of life. What exactly these boys understand under the call of freedom, shows their hereto already released music video. With "Forever Loud" at the end, there is a clear Rock 'n' Roll statement from WOODBRIDGE again. Suppressed sentiments and desires make us unhappy. Plans that went wrong, false expectations and disappointments shall not hold us back of being loud and proud. Let us deride the lack of will power and let's let our heart scream, when it wants to. For example with loud music, which we yell out loud and which we're proud of.
Backed by the new record and the will to carry its fire out into the world, WOODBRIDGE are ready to open up a further entertaining chapter in their band's history. All friends of honest, handmade Rock music with straining and then again funny or thoughtful songs should note "The Fire Inside" onto their shopping list for spring 2015. The Swiss heavy rockers are once again on their way to spread the call of freedom!
Line-Up:
Dominik Naef: Vocals & Guitar
Remo Cadalbert: Guitar
Roman Engler: Bass
Pascal Kern: Drums
Tracklist "The Fire Inside":
Born To Rumble
Lies
I Feel Free
Lost In Paradise
Life's Hot
Addicted
Four Wheels
Don't Hold Me Back
Forever Loud
Next Drink
Discography:
2015 The Fire Inside (Album) | Dr. Music Records
Record Label: Dr. Music Records | www.dr-music-records.de
Press Downloads: www.dr-music-promotion.de
Website: www.woodbridgerock.com | www.facebook.com/woodbridgerock | www.youtube.com/woodbridgerock