GOODBYE EMMA!:
"Coming Home" – Das dynamische Rock-Debüt mit melancholischem Pathos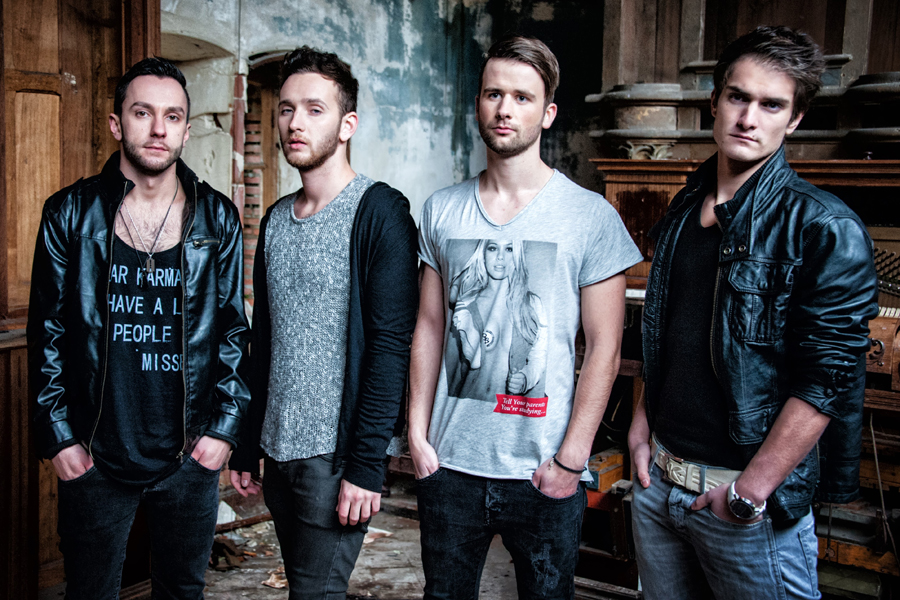 "Coming Home" – Das dynamische Rock-Debüt mit melancholischem Pathos
Kreativität, Dynamik und musikalisches Handwerk prägen die vielseitige Musik von GOODBYE EMMA!, die Musik lässt sich nur schwer in eine Schublade stecken. Der Sound der vier Musiker aus dem Süden der Bundesrepublik klingt, als ob Placebo mit U2 den Bund fürs Leben geschlossen hätten – Weite, Aufbruchstimmung, vor allem kein leeres Pathos und großartige Melodien mit viel Gefühl. Fetzige Gitarren treffen auf harte Drums, einen boomenden Bass und eine bis tief ins Herz stechende, unverwechselbare Stimme. Elektronische Einflüsse, Klavier, Cello und Streicher charakterisieren die musikalischen Schmuckstücke GOODBYE EMMA!s auf "Coming Home"!
Mit ihrer ersten Veröffentlichung überschreiten GOODBYE EMMA! Grenzen und vermischen gekonnt diverse Stilrichtungen zu einem brachialen Gesamtpaket. Progressive Gitarren, dynamische Basslines, tragende Drums und ein markanter Synthesizer, geben der EP einen prägenden und imposanten Charme. Die kraftvolle und zugleich unverwechselbare Stimme von Sänger Janik, lässt die Vielfalt der Vocals reif und energisch wirken. Die Songs auf "Coming Home" handeln von Themen und Geschichten der Gegenwart, von den Problemen in einer sich ständig verändernden Gesellschaft. Die Reihenfolge der Tracks fängt den Hörer ein und katapultiert ihn in den verschwommenen Traum einer gelungenen Party-Nacht, in der die Katerstimmung schon unterschwellig mitschwingt. Man fühlt sich wie ein Besucher, der zwischen Räumen mit Musik verschiedener Akzentuierung, doch gleicher Grundfarbe hin und her wandert. "Can't Stop The Air" zieht den Hörer mitten in die Nacht hinein. Bereits beim zweiten Track "Coming Home" beginnt die Dunkelheit zu fiebern, der Hörer hat sich bis dahin längst von GOODBYE EMMA! infizieren lassen und findet sich mitten im eigentlichen Geschehen wieder. Ausgefranste Gitarren, dazu signifikante Elektro-Klänge, Musik, die jede Leere sofort ausfüllt. "Where The Devil Has His Place" und "Little Throne" rocken routiniert weiter, kreieren Sounds, die sich eigendynamisch fortsetzen. Durch die Zusammenarbeit mit dem Freiburger Rapper Heades da Magister beweist die Baden-Württembergische Band bei der Crossover-Version von "Coming Home" ihre Vielfältigkeit und Toleranz gegenüber komplett gegensätzlichen Szenen und Genres. Auf "Coming Home" ist wohl für jeden etwas dabei und mit dieser speziellen Version des Titel-Tracks eben auch für die Hip Hop-Fraktion.
Für den Radio-Edit von "Coming Home" haben GOODBYE EMMA! mit Regisseur Harald Goetz ein stilvolles Musikvideo in einer alten verlassenen französischen Villa gedreht. Das düster-romantische Ambiente mit der alten Kirchenorgel im Hintergrund harmoniert wunderbar mit der melancholischen Stimmung von "Coming Home" und feiert seine Premiere am 08. Dezember auf dem YouTube-Kanal der Band. Am 13. Dezember 2013 kommt auch schon das Debüt "Coming Home" des Rock-Quartetts auf den Markt. Der brandneue Silberling transportiert die unbändige Energie des breiten und opulenten Sounds Goodbye EMMA!s in die heimischen vier Wände. Die Klangfarbe der Band bekommt noch mehr Raum, entfaltet sich in scheinbarer Zeitlosigkeit und unterstreicht die von Melodien gemalten Gefühle. Eine ohne Einschränkungen sympathische Band, deren CD man sich schon morgens in den CD-Player einlegen möchte, weil sie einem Mut für den Tag macht!
+++
"Coming Home" – the dynamic rock debut with melancholic pathos
Creativity, dynamics and musical craftsmanship are the ingredients GOODBYE EMMA! use to create their versatile music that cannot be classified easily. The tunes of the four musicians from the southern parts of Germany sound as if Placebo tied the knot with U2 – the music contains great melodies that make you feel the open wide and it conveys a sense of optimism and renewal. Groovy guitars meet hard drums, a booming bass and a unique voice that reaches straight for your heart. Electronic influences, piano, cello and strings characterize the musical gemstones on GOODBYE EMMA!'s "Coming Home".
With their first release, GOODBYE EMMA! overcome borders by skilfully mixing several styles into a top-class package. Progressive guitars, dynamic bass lines, supporting drums and a prominent synthesizer give the EP an imposing charm. The strong and distinctive voice of singer Janik makes the varied vocals sound mature and energetic at the same time. The songs on "Coming Home" cover topics and stories of the now – the problems of a constantly changing society. The order of the tracks captures the listener and catapults you into the blurred dream of a great party night while your upcoming hangover subliminally resonates. You feel like a visitor who wanders from rooms of music with different accentuation and yet the same base color. "Can't Stop The Air" pulls the listener into the middle of the night. With the second track, the air becomes feverish and at that point the listener has already become infected by GOODBYE EMMA! and finds himself amid the scenario. Frazzled guitars plus significant electronic sounds – music that immediately fills any emptiness. "Where The Devil Has His Place" and "Little Throne" continue to solidly rock creating sounds that have their own dynamics. In cooperation with rap artist Heades da Magister the band really proves their diversity and tolerance towards completely opposite genres and scenes with their crossover version of "Coming Home". The album includes something for everyone and this special version of the title track specifically caters to hip-hop listeners.
For the radio edit of "Coming Home" GOODBYE EMMA! teamed up with director Harald Goetz and filmed a classy music video in an abandoned villa in France. The dark-romantic ambience with an old church organ in the background suits the melancholic mood of "Coming Home" perfectly. The video will be premiered on 8th December 2013 on the band's YouTube channel. The rock quartet's debut album is scheduled to be release on 13th December. The brand new piece of silver transports GOODBYE EMMA!'s untamable energy of the wide and opulent sound right into your home. The sound color for the band gains even more space, unfolds in seemingly timelessness and emphasizes the feelings expressed through melodies. A congenial band whose CD you want to play first thing in the morning because it gives your courage for the day!
Line-Up:
Janik: Vocals, Guitar, Piano, Synthesizer
Jonney: Guitar
Hora(ziu): Bass, Piano & Backing Vocals
Jesko: Drums & Percussion
Tracklist "Coming Home":
Can't Stop The Air
Coming Home
Where The Devil Has His Place
Little Throne
Coming Home (feat. Heades da Magister)
Coming Home (Radio Edit)
Discography: 2013 Coming Home | Reverb Music
Record Label: Reverb Music | www.reverb-music.de
Press Downloads: www.dr-music-promotion.de
Website:  www.goodbye-emma.com | www.facebook.com/goodbyeemma | www.twitter.com/goodbyeemma |  www.youtube.com/goodbyeemma