EXTRAMENSCH:
EXTRAMENSCH vollbringen mit ihrer Dark Metal Single "Mein Leid für Euch" einen gekonnten Drahtseilakt zwischen Emotion und Provokation
EXTRAMENSCH vollbringen mit ihrer Dark Metal Single "Mein Leid für Euch" einen gekonnten Drahtseilakt zwischen Emotion und Provokation
EXTRAMENSCH sind zurück und präsentieren ihr neues Dark Metal Album "Und wenn die Welt", veröffentlicht am 02.12.2022 über Foxy Records, samt der provokanten neuen Single "Mein Leid für Euch". Beeinflusst von Acts wie Motionless In White und While She Sleeps, kreiert das Frankfurter Quartett seine ganz eigene Mischung aus Metal, Gothic und Dark Rock und liefert damit den perfekten Soundtrack für unsere apokalyptischen Zeiten. Produzent Benjamin Schwenen (Tanzwut, Eisbrecher, Stahlmann) verleiht den zwölf Tracks den nötigen klanglichen Feinschliff, ohne die feurige Präsenz der Musiker in den Hintergrund zu stellen. Mit ihrem Mix aus treibenden Riffs und emotionaler Lyrik erzeugen EXTRAMENSCH eine individuelle wie eingängige Klangwelt, die Dark Rock und Metal Fans sofort in ihren Bann zieht. Mit den neuen Songs beweisen EXTRAMENSCH von der ersten Sekunde an, dass sie in den zwölf Jahren seit ihrem Debütalbum nichts von ihrer knallharten Intensität eingebüßt haben. Die aktuelle Besetzung hat noch mehr Öl ins Feuer gegossen und dies ist erst der Anfang. EXTRAMENSCH melden sich zurück, direkt aus dem Brandherd.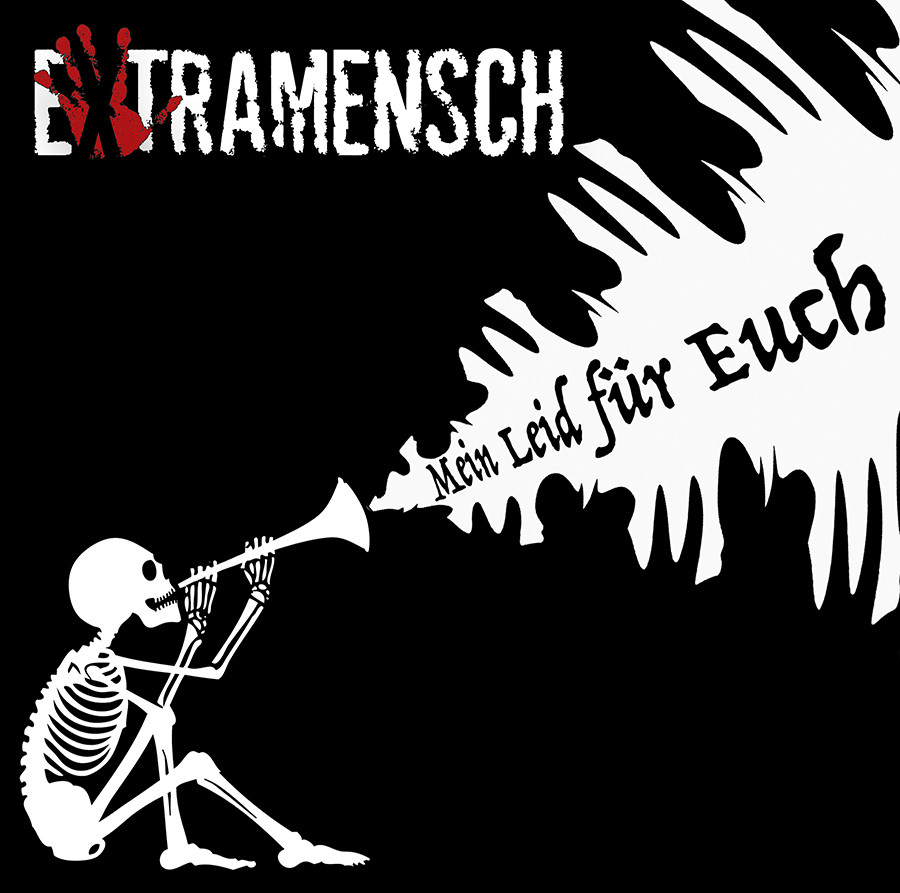 EXTRAMENSCH präsentieren sich nach einer Phase der Neufindung nun in veränderter Besetzung. Gunnar Kalb (Ex-Megalomaniax, Ex-Megavier) unterstützt die Band am Schlagzeug, und treibt die drückenden Riffs der Gründungsmitglieder Roland Jacob (Gitarre) und Andi Wilda (Bass) nach vorne. Den Gesang übernimmt Michael Gerhard, dessen kraftvolle und sehr melodische Performance der Single "Mein Leid für Euch" neben der unbändigen Energie auch einen Hauch von Verletzlichkeit gibt. Gunnar Kalbs präzise treibende Kickdrum und Roland Jacobs schneidende Riffs gehen direkt ins Ohr und reißen den Hörer sofort mit in den Moshpit. Nach einem feurigen Intro geht es nahtlos in eine atmosphärische Strophe über, die durch das Wechselspiel von Michael Gerhards Gesang und Andi Wildas drückenden Bass-Akkorden besticht. Gekonnt akzentuieren EXTRAMENSCH den Song im weiteren Verlauf mit elektronischen Elementen und melodischen Grooves und machen ihn so dynamisch, knallhart und tanzbar. Sänger Michael Gerhard thematisiert auf "Mein Leid für Euch" mit selbstbewusster Direktheit die Gefühle von Hilflosigkeit und Wut, die eine Welt in der Krise hervorruft. Dabei schwankt die Atmosphäre virtuos zwischen feuriger Härte und großer Verletzlichkeit. Gefangen in einer 'Endlosdystopie' präsentiert er sich dabei als Künstler am Pranger, der keine andere Wahl hat, als seinen innersten Schmerz allen zu zeigen. So wird auch der Hörer Teil dieses düsteren Kosmos, stark verbildlicht in der Metapher des herausgerissenen Herzens, das ihm vor Augen geführt wird. EXTRAMENSCH klagen somit an, rufen aber auch im mitreißenden Refrain zu Zusammenhalt und kollektiver Wut auf. Das von Philipp Bilz (Arts of Philo) produzierte, düster-schaurige Musikvideo greift diese Thematik weiter auf und zeigt einen Alptraum des Sängers, der als Untoter von seiner Band gezwungen wird, den Song aufzuführen. Mit einem apokalyptischen Setting und einer surrealer Albtraum-Logik fängt der Clip die Verlorenheit und Verzweiflung eines Künstlers in der Krise ein und visualisiert die zentralen Zeilen eindrücklich. Gegen Ende greifen ihn die anderen Bandmitglieder an und nehmen ihn erneut gefangen. So vollführen die Musiker sowohl klanglich wie visuell einen gelungenen Drahtseilakt zwischen Emotion und Provokation, dynamischer Härte und melodischer Finesse, irgendwo zwischen Feuersbrunst und Winterdepression.
Mit ihrem Album "Und wenn die Welt" und der Single "Mein Leid für Euch" haben EXTRAMENSCH genau den richtigen Soundtrack für den gegenwärtigen Zustand der Welt produziert. Die neuen Songs sprechen dabei nicht nur Fans von Bands wie Eisbrecher, Stoneman oder Unzucht an und werden in der Szene für Aufsehen sorgen.
+++
EXTRAMENSCH perform a skillful tightrope act between emotion and provocation with their Dark Metal single "Mein Leid für Euch"
EXTRAMENSCH are back and present their new Dark Metal album "Und wenn die Welt", released on 12/02/2022 via Foxy Records, along with the provocative new single "Mein Leid für Euch". Influenced by acts such as Motionless In White and While She Sleeps, the Frankfurt quartet creates their own blend of Metal, Gothic and Dark Rock, presenting the perfect soundtrack for our apocalyptic times. Producer Benjamin Schwenen (Tanzwut, Eisbrecher, Stahlmann) puts the finishing touches on the sound of the twelve tracks without upstaging the musicians' fiery presence. With their mix of driving riffs and emotional lyricism, EXTRAMENSCH create an individual and catchy soundscape that immediately captures Dark Rock and Metal fans. With the new songs, EXTRAMENSCH prove from the very first second that they haven't lost any of their hard-hitting intensity in the twelve years since their debut album. The current line-up has added even more fuel to the fire, and this is just the beginning. EXTRAMENSCH are back, straight from the fire source. 
EXTRAMENSCH now present themselves in a changed line-up after a period of reinvention. Gunnar Kalb (Ex-Megalomaniax, Ex-Megavier) supports the band on drums and pushes the heavy riffs of the founding members Roland Jacob (guitar) and Andi Wilda (bass) forward. Michael Gerhard takes over the vocals, whose powerful and melodic performance gives the single "Mein Leid für Euch" a touch of vulnerability and irrepressible energy. Gunnar Kalb's precise driving kick drum and Roland Jacob's incisive riffs are straight ear-catching and immediately take the listener into the mosh pit. After a fiery intro, it flows smoothly into an atmospheric verse that impresses with the interplay of Michael Gerhard's vocals and Andi Wilda's pushing bass chords. Skillfully, EXTRAMENSCH accentuates the song in the further course with electronic elements and melodic grooves, making it dynamic and badass and danceable. On "Mein Leid für Euch" singer Michael Gerhard addresses with self-confident directness the feelings of helplessness and rage that a world in crisis brings up. The atmosphere swings virtuously between fiery heaviness and high vulnerability. Trapped in an 'endless dystopia', he presents himself as an artist in the pillory, having no choice but to expose his innermost pain to all. Thus, the listener also becomes a part of this gloomy cosmos, strongly visualized in the metaphor of the torn-out heart presented to him. Therefore, EXTRAMENSCH accuse but also call for cohesion and collective anger in the rousing chorus. The dark and gruesome music video, produced by Philipp Bilz (Arts of Philo), takes up this theme further and shows a nightmare of the singer being forced as undead by his band to perform the song. With an apocalyptic setting and surreal nightmare logic, the clip captures the lostness and despair of an artist in crisis and impressively visualizes the central lyrics. Towards the end, the other band members assault him, taking him into renewed captivity. In this way, the musicians perform, both sound-wise and visually, a successful tightrope act between emotion and provocation, dynamic harshness and melodic finesse, somewhere between conflagration and winter depression.
EXTRAMENSCH have produced just the right soundtrack for the current state of the world with their album "Und wenn die Welt" and the single "Mein Leid für Euch". The new songs not only appeal to fans of bands such as Eisbrecher, Stoneman or Unzucht and will cause a stir in the scene.
Line-Up:
Michael Gerhard: Vocals
Roland Jacob: Guitar
Andi Wilda: Bass
Gunnar Kalb: Drums
Tracklist "Und wenn die Welt":
Mein Leid für Euch
Und wenn die Welt
Cthulhu
Brenn mit Mir
Im Ascheregen
Amerika / Der Lügner
Braune Schatten
Photo
Verlorene Zeit
Vorbei
Sturm

 

Ich weiß
Discography:
2022 Und wenn die Welt (Album) | Foxy Records
2010 Extramensch (Album) | Delicious Records
Record Label: Foxy Records | www.foxy-records.de
Press Downloads: www.dr-music-promotion.de
Press Releases: www.dr-music-promotion.de/?s= extramensch
Website: www.extramensch.com | www.facebook.com/extramensch | www.instagram.com/extramensch_official | www.tiktok.com/@extramensch_official