THE HEARTBREAK MOTEL:
The deathrock ghost train arrives!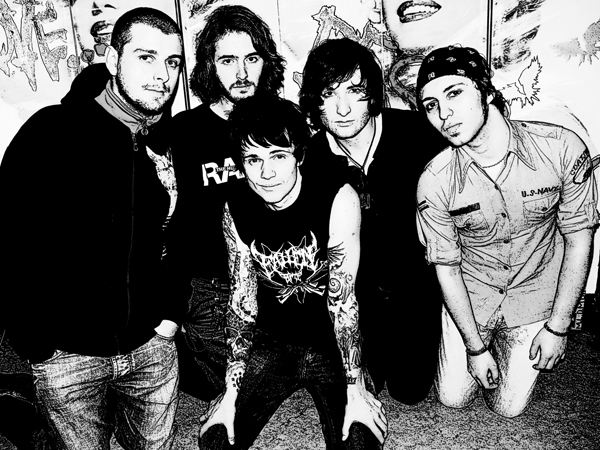 When all you have is a hammer, doesn't everything around you look like nails? When all you ever had is burning down in front of you and all that's left is a buzzsaw, doesn't everything around you seem to be a wood? A ghosttrain fueled with passion, an aimless crusade so pure and dangerous… Welcome to the world of THE HEARBREAK MOTEL. A deathrockmonster, dark and sick like a cold winternight, altough almost innocent and beautiful. Dark driven rock without any compromises, full of dynamic and energy. Rough fragments swallow bittersweet melodies without any melancholy. They take no prisoners, they give you freedom from a guillotine, darling. These boys never hide or sink their heads…other bands like Beatsteaks, Backyard Babies, Randy, Nada Surf, The Bones and a thousand more had to feel this during the past 220 shows, when these hellchilds entered the stage. After releasing the album "Handguns Make The Most Love" they're ready to explode and set free themselves from this snakepit full of bugs and whores… A merciless haunt is on the run… so better watch out or do you prefer to die!?
Line-Up:
Michael Laur de Manos: Vocals
Alan Kassab: Guitar, Vocals
Markus Frevel: Guitar
Frederick Matuschczyk: Drums
Stefan Menzel: Bass, Vocals
Tracklist "Handguns Make The Most Love":
White Doves & Lollipop Virgins
Zero Sleep / Death Supreme
Pills & Thrills
The Intentional Strangers
Handguns Make The Most Love
Flight Of The Nephilin
Morphine Nights & Silhouette Dreams
Black Widow
Most Difficult Letters
Hellbound
Wrong Train
Ride Of The Nephilim
Discography:
2007 Handguns Make The Most Love | Limited Access Records
Record Label:
Limited Access Records | www.la-records.com
Press Downloads:
www.la-records.com
Website:
Facebook