EAT THE GUN:
The heavy rock demons from Monster Rock City are back!!!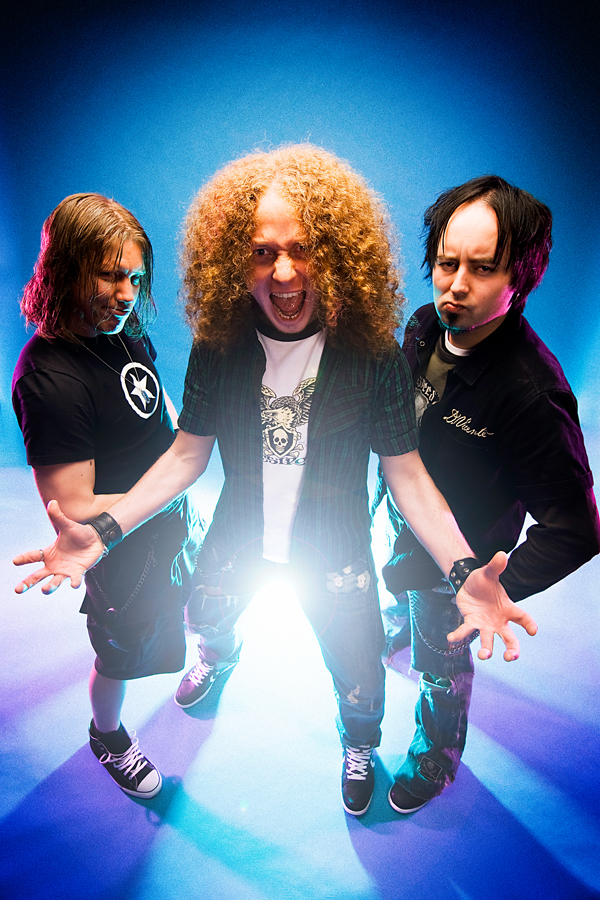 EAT THE GUN sind zurück. Zwei Jahre nach der Veröffentlichung ihres Albums "Cross Your Fingers" blasen die Münsteraner mit "Super Pursuit Mode Aggressive Thrash Distortion" zum Angriff. Der Titel des Albums ist Programm: Die zum Trio geschrumpfte Band hat den Dreck der Straße abgeschüttelt und präsentiert sich härter, kompakter, wütender und ernster als auf dem Debüt. Zwar war "C.Y.F." eine Hard Rock Platte, wie sie im Buche steht, und auf die EAT THE GUN auch heute noch zu Recht stolz sind, aber dennoch – das war alles gestern.
Vier Jahre sind zwischen der Entstehung von "C.Y.F." und "S.P.M.A.T.D." vergangen, in denen die Münsteraner über hundert Konzerte abgerissen und sich musikalisch massiv weiterentwickelt haben. 2008 klingen EAT THE GUN frisch und unverbraucht, vor allem aber auch zeitgemäßer als zuvor. Nachdem sich die früher vierköpfige Band zu Triogröße verjüngt hat, hat sich natürlich auch ihr Sound verändert zu Gunsten eines transparenteren Gesamtbildes, in dem die einzelnen Instrumente und die Stimme mehr Luft zum Atmen und mehr Platz zum Wüten genießen. Gleichzeitig hat sich die Band aber auch auf ihren Kern reduziert, auf drei Freunde, die es seit fünf Jahren genießen, zusammen zu rocken, und die während der Entstehungsphase von "S.P.M.A.T.D." zu einem völlig neuen, viel entspannteren Spielgefühl gefunden haben. Das Ergebnis sind elf schweißtreibende, wütende Songs, die ohne Umschweife nach vorne lospreschen, keine Gefangenen machen und sich in Schallgeschwindigkeit in höllische Ohrwürmer verwandeln. Weniger Ballast, ansonsten von allem etwas mehr, und ein weiterer Beweis dafür, dass man für Rock 'n' Roll nicht mehr als drei Leute braucht. Die einzelnen Songs wie der Sound sind härter, aggressiver, energischer, weniger verspielt und dafür viel groovelastiger, was nicht zuletzt dem durchweg viel dominanteren Basssound zuzurechnen ist. Alte Fans werden nicht enttäuscht, denn im Herzen sind EAT THE GUN immer noch die, die sie vorher waren, nur eben als Konzentrat. Gleichzeitig sind die neuen Songs wesentlich griffiger und auf den Punkt, während Sänger Hendrik mit neugefundener Ausdrucksstärke den verbalen Mittelfinger schwingt.
Produziert wurde "S.P.M.A.T.D." gemeinsam mit Claus Grabke, seines Zeichens Skaterlegende, Produzent (u.a. DOG EAT DOG, THE DATSUNS, BOOZED, DAMPFMASCHINE) und selbst Musiker (u.a. THUMB, ALTERNATIVE ALLSTARS, derzeit solo unter eigenem Namen) in dessen Studio in Gütersloh. Vom Einstöpseln der Gitarre bis zum fertigen Master sind 36 Studiotage ins Land gezogen, in denen Grabke der Band zum gewünschten druckvollen und modernen Sound verhalf, der das wesentlich kompaktere Songwriting des Trios wirkungsvoll unterstreicht. Ein weiteres Highlight des Albums ist zweifelsohne der Midtempo Rocker "Wiser", auf dem EAT THE GUN die Buddy-Karte ziehen und ihre Münster-Connection ausspielen. Hier leisten mit Henning Wehland (H-BLOCKX) und Ingo Knollmann (DONOTS) zwei Freunde und Nachbarn der Band mit ihren Gesangstalenten Schützenhilfe, während sich DONOTS-Gitarrist Guido ein heißes Soli-Duell mit Hendrik liefert. Und weil es so schön war, hat es sich auch Claus Grabke selbst nicht nehmen lassen, noch ein paar Vocals zu "Wiser" beizusteuern, was für die Band, so Hendrik "eine große Ehre" darstellt. Das heißt aber keineswegs, dass EAT THE GUN auf fremde Hilfe angewiesen sind. Wie gesagt, die Zeiten sind vorbei.
+++
EAT THE GUN are back. Two years after releasing their first album "Cross Your Fingers" the band from Münster/Germany strikes back with their brand-new record "Super Pursuit Mode Aggressive Thrash Distortion"! After five years of playing every stage that got in their way, EAT THE GUN have become harder, tighter, angrier, and wilder than ever before. "Cross Your Fingers" was an archetypal Hard Rock album the band can be proud of, but all that was yesterday- Ladies and Gentlemen: EAT THE GUN!
Four years have passed since the production of  "Cross Your Fingers" and EAT THE GUN have played hundreds of shows in the meantime, while continually improving their musical output. In 2008 the bands' sound is not only fresher but surprisingly up-to-date – this is new millennium Rock 'n' Roll! The music is characterized by a far more differentiated sound giving each instrument exactly the musical room it needs. To sum it up, here you've got three friends still rocking with stirring excitement and a newfound attitude that will fascinate every listener immediately!
The result: Eleven uncompromising rockets, recklessly shooting through the history of Rock 'n' Roll music with sonic speed! Here is another proof of the fact that it doesn't need more than three rocking maniacs to play high energy Rock 'n' Roll with a pure heavy metal rooted attitude. Each song and the bands' sound have become harder, more aggressive and energetic while everything's less complicated and much groovier. Old fans will not be disappointed because EAT THE GUN remain true to themselves and their musical roots. The new songs' arrangements are far more to the point – underlined by the amazingly new in-your-face expressiveness of Hendrik's voice.
"Super Pursuit Mode Aggressive Thrash Distortion" was produced together with skateboard legend, music producer and passionate musician Claus Grabke at the Claus Grabke Studios in Gütersloh, Germany. 36 recording days passed from the first chord to the finished master CD during which Claus Grabke and EAT THE GUN developed a teamwork that is unmistakable.
Another highlight of the album is doubtlessly the mid-tempo rocker "Wiser" on which EAT THE GUN played their buddy-ace. The song features Henning Wehland (H-Blockx) and Ingo Knollmann (Donots), both friends of the band, and Claus Grabke himself as guest singers while Donots guitarist Guido and Hendrik recorded a guitar duel on top – a great honour for the band.
Line-Up:
Hendrik 'Deuce' Ücüncü: Vocals & Guitar
Phil Hüls: Bass
Gereon Homann: Drums
Tracklist "Super Pursuit Mode Aggressive Thrash Distortion":
Tendency to Sin
Solitary Sinners
Showdown
Wiser
Walk out on Me
Blood Running Black
Unleash the Freak
Renegade
The Shallow Brained
Viva la Insane
Greedom Speaks
Discography:
2003 Kingsize EP
2006 Cross Your Fingers | Eattitude Records
2009 Super Pursuit Mode Aggressive Thrash Distortion | Limited Access Records
Endorsement:
Dean Guitars, Music Man, Ernie Ball, Ddrum, Zildjian & Agner Drumsticks
Record Label:
Limited Access Records | www.la-records.com
Press Downloads:
www.la-records.com
Website:
www.eatthegun.com | www.facebook.com/eatthegun.official