RYBERSKI:
On "Slander, Libel & Love" RYBERSKI celebrate timeless top-class Pop music to dance to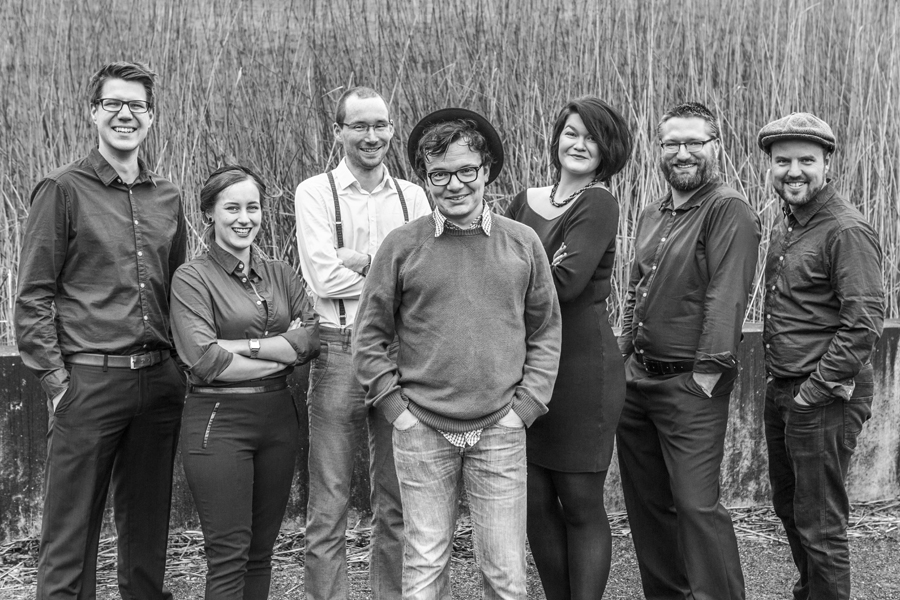 RYBERSKI zelebrieren auf "Slander, Libel & Love" zeitlosen, tanzbaren Pop der Extraklasse
RYBERSKI spielen poppigen Soul mit Funkgrooves, mitsingbaren Melodien und tanzbaren Rhythmen. Die Hooks gehen in die Ohren und die Kicks direkt in die Beine. Dafür sorgen eine tighte Rhythmussektion aus Gitarre, Bass, Schlagzeug und Percussion, die einen Teppich für die exakten Bläsersätze legt. Über allem liegt stets mehrstimmiger Gesang und eine Freude am intelligenten Arrangement! Inspiriert von klassischem Soul, Rhythm and Blues und Pop legt die Band um Julian Rybarski besonderen Wert auf das Songwriting. Man muss das Gelsenkirchener Ensemble gar nicht kennen, um schon beim zweiten Refrain bei jedem Song mitzusingen oder zu tanzen. Oder beides! Der beste Song wird noch besser, wenn er in einer mitreißenden Show mit Bläsern und Gesangschoreographien dargeboten wird. Mit den Stücken auf "Slander, Libel & Love", das am 10.11.2017 über Dr. Music Records im Vertrieb von Soulfood Music erscheint, können sich Freunde zeitgemäßer und tanzbarer Popklänge bestens auf das nächste Konzert einstimmen. Spielfreude durch und durch – die Musiker spielen authentisch miteinander und mit dem Publikum. RYBERSKI machen keine Sitzmusik. «A splendid time is guaranteed for all.»
2013 haben sich RYBERSKI zusammengefunden, um zunächst einmal ein Dutzend Songs des Bandleaders Julian Rybarski aufzunehmen. Das war der Plan, aber dann kamen die Auftritte, noch mehr Shows und weitere Gigs, Gigs, Gigs! Dadurch hat sich die Formation bereits von Beginn an ziemlich gut aufeinander einschießen können. Von Festivals bis hin zu Buchungen, die ganze Nächte dauerten, ist immer alles dabei. Das Wagnis, ein derart großes Ensemble von bis zu zwölf Leuten auf die Straße und in die Clubs zu bringen, zahlt sich also aus. Zwischen der ganzen Live-Arbeit kam das erste Album "Take A Ride" im Dezember 2013 heraus – kein Grund, sich auf den Lorbeeren auszuruhen, im Januar 2014 ging es also direkt wieder zurück ins Studio, um die zweiten Aufnahmen zu produzieren. Herausgekommen sind dabei die EP "Slander, Libel", die im Februar 2016 auf den Markt kam und "Slander, Libel & Love" mit elf wunderbaren neuen Songs, die jetzt im Oktober im gesamten europäischen Raum auf CD und natürlich auch digital erscheinen. Bisher wurden zwei Videos zum Album "Slander, Libel & Love" veröffentlicht: Die filmische Umsetzung zu "Jolly Good" wurde von der Amsterdamer Filmemacherin und Fotokünstlerin Didi Lehnhausen realisiert. Das Musikvideo zu "Beware! Beware! Beware!" hat die Band mit der Düsseldorfer Filmschere gedreht. RYBERSKI Songs sind sozial- und gesellschaftskritisch und vermitteln doch mit einer Portion Humor den Spaß am Leben. Titel wie "Jolly Good", das sich mit dem Thema 'Reisende soll man nicht aufhalten' auseinandersetzt oder der "Breakup Song", in dem es um Standard-Floskeln bei Trennungen geht. "The Right Idea And The Wrong Reaction" meint, wer die Welt verbessern möchte, sollte sein Umfeld nicht schlecht behandeln.
RYBERSKI spielen Soul, Rhythm and Blues sowie groovigen, funkigen Pop und sowohl die Besetzung als auch die Arrangements, die Kompositionen und nicht zuletzt die Liveshows verraten einen Sinn für das Klassische in der populären Musik. Macht sie das zu einem Retro-Act, der möglichst authentisch Vintage sein will? Nicht unbedingt. Der Band geht es nicht darum, auf Gedeih und Verderb Musik zu spielen, die auch vor fünfzig Jahren genau so hätte stattfinden können. Im Gegenteil. Sie machen ihre Musik ganz genau im Hier und Jetzt. RYBERSKI ist kein Tribute-Act, keine Revival-Show und kein Nostalgiezirkus. RYBERSKI ist Musik, der man wohl ihre Wurzeln anhört. Aber die hört man bei guter Musik ja immer.
+++
RYBERSKI celebrate timeless top-class, danceable Pop music on "Slander, Libel & Love"
RYBERSKI play Pop-like Soul with funk grooves, catchy melodies and danceable rhythms. The hooks aim straight for the ears, while the kicks are going straight to the legs. This is guaranteed by a tight rhythm section consisting of guitar, bass, drums and percussion, laying the groundwork for the precise brass section. Above all this, polyphonic vocals soar, coupled with a pure joy for intelligent arrangements! Inspired by classic Soul, Rhythm & Blues as well as Pop, the band around Julian Rybarski is focusing elementally on songwriting. One does not need to know the German ensemble to start singing and dancing along to every single song. Or both! The greatest song is getting even better when presented within an awesome show, accompanied by horns and vocalist choreographies. With every song on "Slander, Libel & Love", which will be released on 10.11.2017 by Dr. Music Records, distributed by Soulfood, friends of modern, danceable Pop sounds should be well prepared for the upcoming concerts. Joy of playing to the core – the authentic musicians are consorting with each other and with the audience. RYBERSKI do not play static music. «A splendid time is guaranteed for all»
RYBERSKI were founded in 2013, first just in order to record a dozen songs, written by the band leader Julian Rybarski. Even if that was the plan, live appearances started coming up all of a sudden, followed by more shows and even more gigs, gigs, gigs! Due to this, the group started becoming a very close-knit unit from the start. From festivals up to all-nighter bookings, something or other was always brewing. The risk of taking such a big ensemble of up to twelve musicians to the streets and into the clubs was paying off. In between the entire live activity, the first album "Take A Ride" was released in December 2013 – yet this was no reason to rest on any laurels, and in January 2014, they went back to the studio again to produce the second wave of recordings. This resulted in the "Slander! Libel!" EP first, released in February 2016, followed by "Slander, Libel & Love", a full-length effort including eleven beautiful new songs, which are going to be released on CD and of course digitally this October throughout Europe. Up until now, two music videos for "Slander, Libel & Love" have seen release: The visual realisation for "Jolly Good" was made by Amsterdam-based filmmaker and photo artist Didi Lehnhausen. The music video for "Beware! Beware! Beware!" was shot by the band in cooperation with the German production company Filmschere. RYBERSKI songs are sociocritical, though they transport the joy of life with a sense of humour. There are titles like "Jolly Good", which exposes the motive of 'Don't let the door hit you on the way out' or the "Breakup Song", which refers to empty phrases after a separation. "The Right Idea And The Wrong Reaction" reckons, that if one wants to turn the world into a better place, it would be best not to mistreat the people right in front.
RYBERSKI play Soul, Rhythm and Blues coupled with groovy, funky Pop and both the scoring and the arrangements, the compositions and not least the live shows are offering up a sense for classic elements in modern music. Is this making them a retro-act that wants to be most vintage as possible? Not at all! The band does not want to play music that would fit into the 1950's (or any other decade), regardless of the cost. Quite to the contrary. They play music in the here and now. RYBERSKI is not a tribute act, no revival show and nothing for the  nostalgia circuit. RYBERSKI is music with clear roots. But that's a thing you can always hear in good music.
Line-Up:
Julian Rybarski: Vocals, Bass, Guitar, Musical Direction, Songwriting
Hendrik Freund: Trumpet, Flugelhorn, Backing Vocals, Section Leader
Katharina Sawadski: Vocals
Jenny D. Madly: Vocals
Fabian Hirz: Guitar
Rebecca Himmerich: Bass
Manuel Blaze: Bass
Nils Bloch: Drums
Matthias Plewka: Percussion, Vocals
Laura Metzemacher: Saxophone, Backing Vocals
Alexander Lücke: Trombone, Backing Vocals
Bernd Westhoff: Second Trumpet
Marius Mählen: Bass Trombone
Tracklist "Slander, Libel & Love":
Beware! Beware! Beware!
Breakup Song
Seven Years Of
Looking For A Place To Find You
Hard And Cold
Midnight
Waiting Again
The Right Idea And The Wrong Reaction
Feeling Of Spring
Emergency Exit
Jolly Good
Discography:
2017 Slander, Libel & Love (Album) | Dr. Music Records
2016 Slander! Libel! (EP) | 99 Rockets Records
2013 Take A Ride (Album) | Housemaster Records
Record Label: Dr. Music Records | www.dr-music-records.de
Press Downloads: www.dr-music-promotion.de
Website: www.ryberski.de | www.facebook.com/ryberski | www.instagram.com/ryberski_ | www.twitter.com/ryberski