NITERAIN:
Norway's young Sleaze sensation NITERAIN fire off their new single "Rock N' Roll"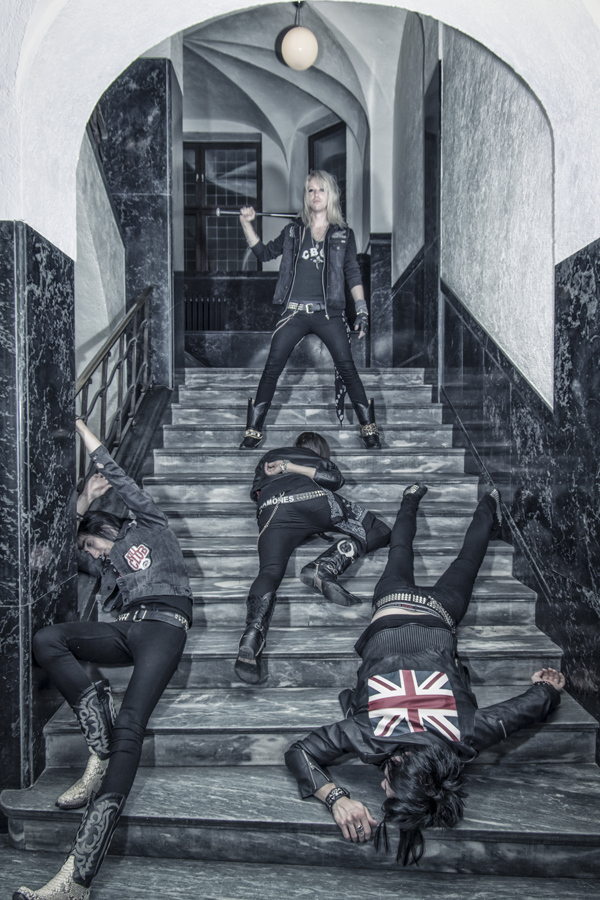 Norwegens junge Sleaze Sensation NITERAIN feuern ihre neue Single "Rock N' Roll" ab
Als einer der international erfolgreichsten Newcomer aus Norwegen geben NITERAIN den Ton der neuen Rock 'n' Roll Generation Skandinaviens vor. Verfeinert mit Glam und Sleaze Elementen, spielen NITERAIN die volle Rohheit des Genres aus und verleihen dem Ganzen dazu einen modernen, innovativen Klang. Auch Schwingungen der 70er und 80er Jahre, die der Musik einen beständigen Charakter verleihen, sind hierbei nicht zu überhören. Ihre vor Energie sprühende Single "Rock N' Roll", die am 24.10.2015 über NiteRain Enterprises veröffentlicht wird, ist der Vorbote des zweiten Studioalbums "Vendetta", mit dem die vier Norweger Anfang 2016 für gehörig Alarm in der weltweiten Hardrock Gemeinde sorgen werden.
Mit energiegeladenen, explosiven Bühnenshows erobern NITERAIN bereits seit 2012 internationale Szenegefilde. Nachdem sie L.A. Guns 2011 auf ihrer Skandinavien-Tour mit vollem Erfolg unterstützt hatten, folgte 2012 die erste europaweite Tour als Support-Act der Band um Phil Lewis und Steve Riley. Seitdem rockten die Norweger zusammen mit Größen wie Steel Panther, TNT, Sebastian Bach und The 69 Eyes die Bühne. Ihr Debüt-Album "Crossfire", von Ronni Le Tekrø (TNT) produziert und in den norwegischen Whiteroom Studios von Bjørn Erik Pedersen gemischt, erschien Ende 2013 und brachte die drei Singles "Dirty", "My World" und "Judgement Day" hervor, die allesamt weltweit im Radio zu hören waren. Die durch die Bank positive Resonanz brachte der Band 2014 eine Nominierung als 'Band des Jahres' und Sebastian Tvedtnæs eine Aufstellung für den Titel 'Männlicher Sänger des Jahres' vom amerikanischen Sunset Island Music Magazin ein, bei der die Hardrocker prompt das Rennen machten. In Deutschland feierten sowohl das Classic Rock Magazin «eine gelungene Glam Platte, die NITERAIN als einen bedeutenden Player in der europäischen Szene etablieren könnte» als auch das Legacy «der Hit-Soundtrack, mit dem die Band garantiert die norwegischen Charts knacken wird» und das Rock Hard «richtig gute Songs, mal bluesig, mal klassisch-glamrockig» die Band ab. Auch ihre 2014er Single "The Threat" wurde von zahlreichen Radiostationen auf Rotation gesetzt, so auch bei Norwegens größtem Radiosender P1. 2015 knüpften die Jungs nun wieder an ihre Live-Erfolge an und tourten durch Italien, Österreich und die USA, wo sie reichlich positives Feedback für ihre intensiven Live-Shows ernteten. Diesen Sommer spielten NITERAIN unter anderem mit Twisted Sister auf dem heimischen Tons Of Rock Festival. Als absolute Highlights der US-Tournee stechen vor allem die Gigs beim berüchtigten Crüefest im Whiskey A Go Go in Hollywood sowie die Show in Las Vegas hervor, für das die Musiker fantastische Live-Kritiken erhielten und sie der US-Presse und TV-Sendern zahlreiche Interviews gaben. Ihre musikalischen Wurzeln haben NITERAIN im bluesbasierten Rock der 70er und 80er Jahre gefunden. Künstler wie BB King, Jimi Hendrix, AC/DC, Guns N' Roses und L.A. Guns verleihen dem originellen Sound der Skandinavier seine solide Hardrock Basis. Durch rohe Sleaze-Elemente und den kratzig-hohen Gesang von Sänger Sebastian Tvedtnæs, der sich nicht selten auch zu schrillen Schreien verleiten lässt, erhält dieser seine ganz eigene Note. Eingängige Gitarrenriffs, melodische Basslines und Refrains, die zum Mitsingen animieren, geben der Musik dazu ihren genretypischen, dynamischen Groove, der zu durchzechten Nächten mit viel Sex, Drugs and Rock 'n' Roll verlockt.
Genau das zeigen die agilen Sleazer auch in ihrem unterhaltsamen Musikvideo zu ihrer neuen Single "Rock N' Roll", in dem sie Los Angeles unsicher machen. Vom Los Angeles International Airport geht's für NITERAIN im fetten Mustang zum Venice Beach, über den Sunset Strip bis hin zum Hollywood Boulevard – natürlich mit Feierlaune, Pilotenbrille, Cowboystiefeln und mächtig viel Rock 'n' Roll im Gepäck. Eine absolute Kaufempfehlung für alle, die in ihrer Musiksammlung zwischen Crashdïet, Mötley Crüe und Pretty Boy Floyd noch ein Plätzchen frei haben und keine Geduld haben bis zur Veröffentlichung des zweiten Albums "Vendetta" im nächsten Jahr zu warten.
+++
Norway's young Sleaze sensation NITERAIN fire off their new single "Rock N' Roll"
Being one of the internationally most successful newcomers from Norway, NITERAIN set the tone of the new Rock 'n' Roll generation hailing from Scandinavia. While the genre's full rawness is acted out, NITERAIN refine it with Glam and Sleaze elements and give it a modern, innovative tone. Moreover, there is no mistaking the good vibes of the 70s and 80s which lend consistency to the music. Their livewire of a song "Rock N' Roll", which will be released on 24th October 2015 by NiteRain Enterprises, presages their second studio album "Vendetta" which will cause proper uproar in the international Hard Rock community at the beginning of 2016.
NITERAIN have already been conquering the scene's international realms with their energetic, explosive live shows since 2012. After they had supported L.A. Guns on their 2011 Scandinavia tour very successfully, they went on a European tour as support act for the band around Phil Lewis and Steve Riley in 2012. Since then, the Norwegians have been rocking the stages along with celebrities like Steel Panther, TNT, Sebastian Bach and The 69 Eyes. NITERAIN's debut album "Crossfire", produced by Ronni Le Tekrø (TNT) and mixed by Bjørn Erik Pedersen in the Norwegian Whiteroom Studios, was released in 2013 and brought forth the three singles "Dirty", "My World" and "Judgement Day", which could be heard on the radio worldwide. A whole lot of positive feedback yielded nominations for the band as the 'best band of the year' and for Sebastian Tvedtnæs as the 'best male singer of the year' by the American Sunset Island Music Magazine – and the Hard Rockers won promptly. The German Classic Rock Magazine celebrated their album as a well-made Glam record that could help NITERAIN to establish themselves as a major player in the European scene. Germany's Legacy Magazine calls the album a hit soundtrack that will definitely storm the Norwegian charts, while Rock Hard commends NITERAIN's really good songs, which are sometimes bluesy and sometimes classic glam rocking. Furthermore, their 2014 single "The Threat" was put on rotation on numerous radio stations including P1, which is Norway's largest radio station. 2015 the guys lived up to their earlier success and toured through Italy, Austria and the United States reaping plenty of positive feedback for their intense live shows. This summer NITERAIN played at the local Tons Of Rock Festival accompanied, among others, by Twisted Sister. The utter highlights of their US tour were, however, their gigs at the Whiskey A Go Go in Hollywood at the notorious Crüefest as well as their show in Las Vegas. Due to these events the musicians gave many interviews in US TV and press and received fantastic responses. NITERAIN found their musical roots in the Blues based Rock of the 70s and 80s. Artists like BB King, Jimi Hendrix, AC/DC, Guns N' Roses and L.A. Guns build the solid Hard Rock base of the Scandinavians' inventive sound. Raw, sleazy elements and Sebastian Tvedtnæs' high and rough chant, which frequently turns into shrieks, form this unique sound altogether. Additionally, catchy riffs, melodic basslines and choruses which encourage to sing along provide the dynamic groove, which is typical of this genre, and makes you want to feast away the night with sex, drugs and Rock 'n' Roll.
This is exactly what the agile Sleaze Rockers show in the entertaining music video for their new single "Rock N' Roll" in which they paint the town. Starting at Los Angeles Airport, NITERAIN set out for Venice Beach, the Sunset Strip and Hollywood Boulevard in a mighty Mustang – feeling in a party mood and bringing pilot glasses, cowboy boots and a good deal of Rock 'n' Roll with them, of course. So everyone who has some space left in their music collection between Crashdïet, Mötley Crüe and Pretty Boy Floyd should buy "Rock N' Roll", especially if they are not patient enough to wait for NITERAIN's second album "Vendetta", which will be released in 2016.
Line-Up:
Sebastian Tvedtnæs: Vocals
Adrian Persen: Guitar
Frank Karlsen: Bass
Morten Garberg: Drums
Tracklist "Rock N' Roll":
Rock N' Roll
Discography:
2015 Rock N' Roll (Single) | NiteRain Enterprises
2013 Crossfire (Album) | Indie Recordi
Record Label: NiteRain Enterprises
Press Downloads: www.dr-music-promotion.de
Website: www.niterain.no | www.facebook.com/niterainkicksass | www.youtube.com/niteraintv