MY OWN ARMY:
Ein progressiver Streifzug durch den düsteren Industriemoloch Rotterdams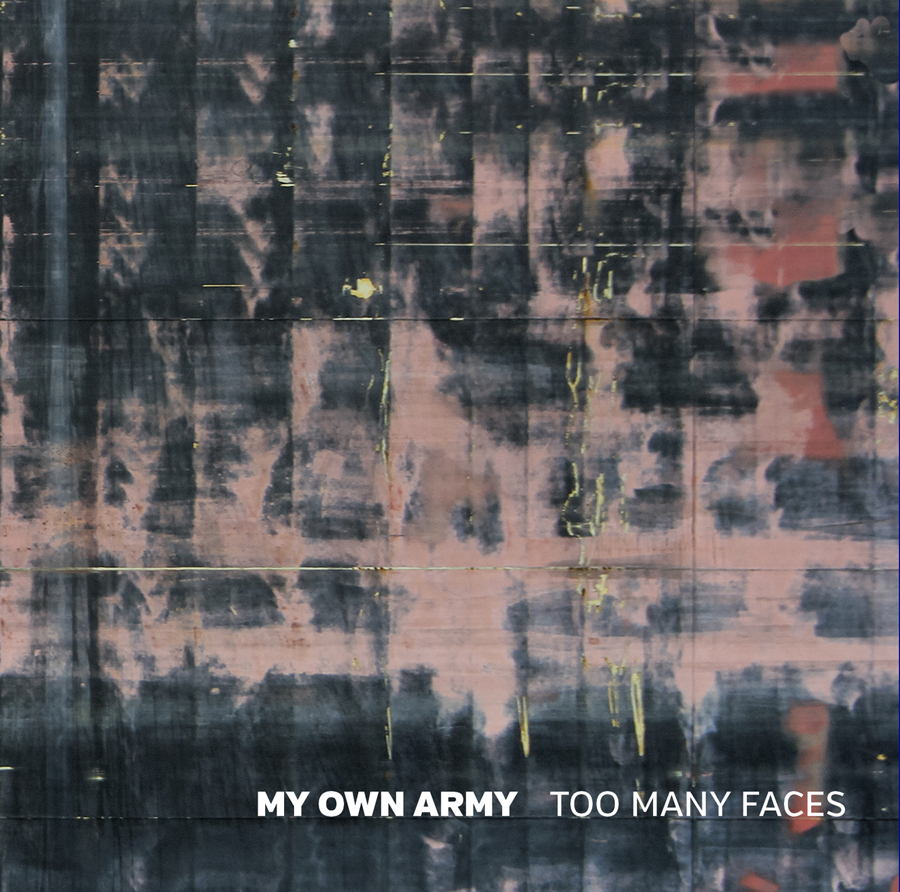 MY OWN ARMYs progressiver Streifzug durch den düsteren Industriemoloch Rotterdams
MY OWN ARMY sind eine aufstrebende Alternative Rock Band aus den Niederlanden, die sich stilistisch im Fahrwasser von Bands wie Oceansize, Soundgarden oder Tool am wohlsten fühlt. In ihrer Heimat haben die fünf Musiker um Sänger und Gitarrist Herman de Kok sowie dem Gitarristen Vincent Hekkert, dem Bassisten Ferry Westdijk und Schlagzeuger Sven Spierings bereits zahlreiche Shows gespielt. Auf ihrem neuen Album "Too Many Faces" verbinden sie rohe Kraft und atmosphärische Klänge zu einer spannenden Melange, die von den intensiven Lyrics, die die menschliche Moralfabrik in Frage stellen, noch anspruchsvoll erweitert wird. Die industrielle Atmosphäre zieht sich durch das stilecht im lokalen Steel Cable Factory Studio produzierte Album und erscheint am 03.04.2014 weltweit über RVPrecords.
Gegründet haben sich MY OWN ARMY vor drei Jahren in Rotterdam und belegen, dass diese niederländische Metropole mit dem größten Seehafens Europas mehr zu bieten hat als harte elektronische Musik. Mit ihrem zeitgemäßem progressivem Sound fangen sie den Hörer ein und nehmen ihn mit auf eine eindrucksvolle Reise in die düstere Welt eines kalten Industriemolochs. Mal kraftvoll und energisch, dann wieder zart und zerbrechlich. Progressiver Alternative Rock wie man ihn so nicht ganz so oft findet. In dem Titel "Proy" erzählt Sänger Herman von der auf einer Asienreise mit der Familie kennengelernten buddhistischen Lebensweise der Asiaten und von seiner durch diesen Trip veränderten und neu gewonnenen Sicht auf das Leben. Das in einer schwierigen Bandsituation entstandene "…Open End", in dessen Songwritig-Phase der alte Bassist ausstieg, offenbart die Probleme, die entstehen können, wenn es ums Musik machen geht. «All those jackles in the sand, waiting for you to break» heißt es im Titel-Track "Too Many Faces", gemeint ist damit, dass wir in einer Welt leben, in der du mehr Gesichter als nur dein Wahres benötigst, um erfolgreich zu sein. Das Stück "Sideshow" wiederum ist ein wütendes Statement: «A big fuck you to capitalism and commerce», so Sänger Herman.
Das minimalistisch morbide Cover-Artwork von Mikolaj Polinski und Macielj Sarna spiegelt die Soundfarbe von MY OWN ARMY sehr gut wieder und es bleibt zu hoffen, dass dieses starke Album viele Freunde finden wird, wenn es Anfang April über RVPrecords weltweit erscheint. Die Niederlande können stolz sein auf diese anspruchsvolle Rock-Band. MY OWN ARMY werden ihren Weg gehen und werden sicher auch bald live auf deutschen Bühnen zu sehen sein.
Die Presse über MY OWN ARMY:
+++
A progressive stroll through the gloomy industrial juggernaut of Rotterdam
MY OWN ARMY is an upcoming Alternative Rock Band from the Netherlands that feels most comfortable being compared to bands such as Oceansize, Soundgarden or Tool. In their home country, the five musicians around singer and guitarist Herman de Kok and guitarist Vincent Hekkert, bass player Ferry Westdijk and drummer Sven Spierings have played many shows. On their new album "Too Many Faces" they combine raw power and atmospheric sounds creating an exciting melange which is brained up by the intense lyrics which question the human morale. In proper style, the industrial atmosphere spreads over the entire album which was produced at Steel Cable Factory. The worldwide release is due out on April 3rd, 2014 via RVPrecords.
Founded in Rotterdam three years ago, MY OWN ARMY prove that the Dutch metropolis with Europe's biggest port has a lot more to offer than hard electronic music. With their contemporary progressive sound, MY OWN ARMY catch the listener and take him on an impressive journey into the dark world of a cold industrial juggernaut. At times powerful and energetic, soft and fragile at other times. Progressive Alternative Rock you won't find very often. In the song "Proy" singer Herman reflects on his last family trip to Asia where he got to know the Buddhist lifestyle and his new view on life gained from that journey. "…Open End" is the result of a difficult band situation – the former bassist quit in that phase – that may arise when you're making music together. «All those jackles in the sand, waiting for you to break» is a line from the title track "Too Many Faces" and points at the fact that we're living in a world where you seem to need more faces than your real face to be successful. "Sideshow" is an angry statement: «A big fuck you to capitalism and commerce» says vocalist Herman.
The minimalistic-morbid cover artwork created by Mikolaj Polinski and Macielj Sarna reflects MY OWN ARMY's sound perfectly and we are certain that this strong album will find many fans when it will be released worldwide through RVPrecords. The Netherlands can be very proud of this high-level Rock Band. MY OWN ARMY will make their way up and certainly play other European stages as well.
What the press says about MY OWN ARMY:
Line-Up:
Herman de Kok: Vocals & Guitar
Vincent Hekkert: Guitar
Ferry Westdijk: Bass
Sven Spierings: Drums
Tracklist:
Too Many Faces
Painting By Numbers
…Open End
Onepager
Sideshow
Friendly Fire
The Ad
Proy
Discography:
2010 Throw Away The Silence | Dying Giraffe Recordings
2014 Too Many Faces | RVPrecords
Record Label:
RVPrecords | www.rvprecords.com
Press Downloads:
www.dr-music-promotion.de
Website:
www.myownarmy.nl | www.facebook.com/myownarmy | www.youtube.com/MyOwnArmyChannel
Tour Dates:
29.11.2014 NL-Zaandam, Jinx
12.09.2014 NL-Castricum, De Bakkerij
21.06.2014 NL-Den Haag, Paard van Troje
03.04.2014 NL-Rotterdam, Rotown (Album-Release-Show)
23.03.2014 NL-Middelburg, Schuttershof
14.03.2014 NL-Rotterdam, Live uit Lloyd