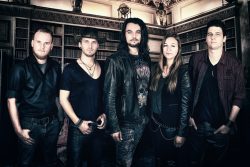 OVERSENSE tauchen im neuen Musikvideo "Mr. Mackie's Chase For Love" aus dem kommenden Melodic Metal Album "The Storyteller" in die von Brechts Dreigroschenoper inspirierte Gefühlswelt des Massenmörders ein
Heute veröffentlichen OVERSENSE mit "Mr. Mackie's Chase For Love" ihr großartiges neues Musikvideo. Mit diesem Clip können sich die Fans der nordbayerischen Melodic Metal Hoffnungsträger schon mal für die Veröffentlichung ihres zweiten Albums "The Storyteller" am 12.05.2017 über Dr. Music Records bestens aufwärmen. Wie das gesamte Album wurde der Titel von Olaf Reitmeier (Avantasia, Kamelot, Epica) und Miro Rodenberg (Edguy, Brainstorm, Rhapsody Of Fire) in den legendären Gate Studios produziert und begeistert mit seiner an Brechts Dreigroschenoper angelehnten abgedrehten Story rund um die Gefühlswelt eines fiktiven Massenmörders namens Mr. Mackie. Mit seiner rockigen Attitüde, dem prägnanten Chorus in Verbindung mit einem manegenartigen Dreivierteltakt-Part ist der Song prädestiniert für die Verwendung als Musikvideo. Das Ergebnis kann sich definitiv sehen lassen und wer auf melodischen Heavy Metal steht, sollte sich den OVERSENSE Videoclip direkt ansehen: https://youtu.be/4VS9lyHh_B4
Mit "The Storyteller" hat die Band um Sänger Danny Meyer, den beiden Gitarristen Marco Volpert und Marcel Winkler, Bassistin Lisa Geiß (ex-Arven) sowie Drummer Patrick Lippert ein beeindruckendes Album geschaffen, dass mit allerlei anspruchsvollen und einfallsreichen Elementen aufwartet. Ob Pianoklänge, durchgeschlagene Akustikgitarren, formidable Gitarrensolos, auch dank des Gastauftritts von Avantasia-Gitarrist Sascha Paeth im Song "Wild Hunt", OVERSENSE präsentieren auf ihrem zweiten Album eine stilistische Bandbreite, die es in dieser Form nur sehr selten gibt. Die Kombination aus harten Headbanger-Riffs, bombastischem Orchester und Chören kreieren einen einzigartigen Sound in Form von schnellen Heavy Metal Tracks bis zu melodiösem Power Rock.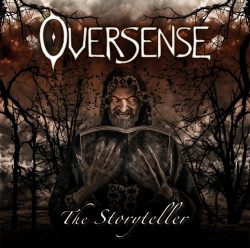 "The Storyteller" ist ein ganz besonderes Meisterwerk und kann ab sofort international in jedem Plattenladen oder bei einem der folgenden Online-Shops vorbestellt werden: Amazon | MetalMailorder.com | Saturn | Media Markt | ExLibris | WOM | JPC | Buecher.de | Grooves | Rubydon
Weitere Informationen zu den lyrisch angehauchten Melodic Metallern sind in unserem Bandprofil zu finden und natürlich findet ihr neben allen aktuellen News auch die anstehenden Live-Termine unter www.oversense.de. Auf Facebook unterhalten euch OVERSENSE zusätzlich mit vielen weiteren Hintergrundinfos und aktuellen Teasern sowie exklusivem Bildmaterial zum Album.
Musikjournalisten, die durch den Videoclip zu "Mr. Mackie's Chase For Love" auf die unterfränkische Band aufmerksam geworden sind, sollten sich direkt in unserer VIP & Press Lounge für die Bemusterung und weitere Pressematerialien akkreditieren. OVERSENSE stehen natürlich gern für Interviews zur Verfügung.
+++
+++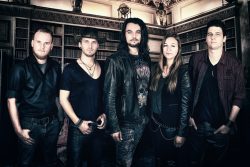 The new OVERSENSE music video "Mr. Mackie's Chase For Love" from the upcoming Melodic Metal album "The Storyteller" takes you to the feelings of the mass murderer inspired by Brecht's three penny opera
Today, OVERSENSE release their magnificent music video "Mr. Mackie's Chase For Love". Watching this clip, the fans of the Melodic Metal hope from Germany can already warm themselves up in the best possible way for the release of their second album "The Storyteller" on May 25th 2017 through Dr. Music Records. Like the whole album, the song was produced by Olaf Reitmeier (Avantasia, Kamelot, Epica) and Miro Rodenberg (Edguy, Brainstorm, Rhapsody Of Fire) at the legendary Gate Studios and thrills you with its crazy story about the feelings of a fictitious mass murderer called Mr. Mackie following Brecht's three penny opera. The song is predestining for the use as a music video because of its rocking attitude and a concise chorus combined with the circus-like three-quarter part. The result speaks for itself and who's into Melodic Heavy Metal should watch OVERSENSE's video clip right away: https://youtu.be/4VS9lyHh_B4
"The Storyteller" is an impressive album created by the band around singer Danny Meyer, the two guitarists Marco Volpert and Marcel Winkler, bassist Lisa Geiß (former Arven) as well as drummer Patrick Lippert, which offers all sorts of challenging and imaginative elements. On their second album OVERSENSE present a stylistic range, which rarely exists in this form, using piano sounds, resounding acoustic guitars, formidable guitar solos, as well as thanks to the guest appearance of Avantasia's guitarist Sascha Paeth in the song "Wild Hunt". This combination of heavy headbanger riffs, bombastic orchestras and choirs creates a unique sound in a variety from fast Heavy Metal tracks to melodic Power Rock.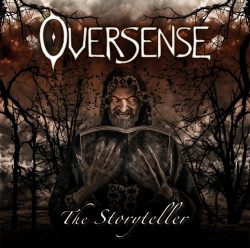 "The Storyteller" is a very special masterpiece and can be preordered internationally in every record store or at one of the following online shops from now on: Amazon | MetalMailorder.com | Saturn | Media Markt | ExLibris | WOM | JPC | Buecher.de | Grooves | Rubydon
Further information about the Melodic Metal heads with lyrical tendencies can be found at our band profile. Besides the latest news you can also find the upcoming live dates on the band's website www.oversense.de. OVERSENSE entertain you with a lot of additional background information and the latest teasers as well as exclusive pictures of the album on Facebook.
Music journalists who became aware of the band from Northern Bavaria by the video clip of "Mr. Mackie's Chase For Love" should go to our VIP & Press Lounge to accredit for the sampling and additional press material. Of course, the band is also available for interviews.
Posted by Miriam Guigueno on 03.05.2017 14:00
Last change on 17.04.2019