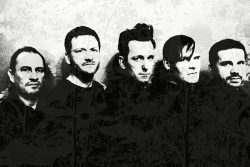 Die süddeutschen selbsternannten 'Melancholipendent' Rocker BAIL haben mit ihrem neuen Musikvideo zum Song "Somewhere There Is Light" aus dem am 21.10.2016 über N13 Music erscheinenden neuen Album "Superscar" den passenden Clip für den Start in den Goldenen Herbst gedreht. Gemeinsam mit Regisseur und Kameramann Max Kiesele, der schon die beiden vorherigen Videos produzierte, haben BAIL eine gefühlvolle düstere Atmosphäre erzeugt, die genau den wechselhaften Sound des Songs transportiert. Man schwingt zwischen Hoffnung und verzweifelter Dunkelheit. Der Zuhörer, und in diesem Fall auch Zuschauer, wird einem Melancholie-Floß gleich, weit in die Tiefen des menschlichen Verstandes getrieben, wo er am Ende doch noch auf etwas Licht hoffen mag. Im Videoclip schreitet Sänger Klaus Biehler durch das altehrwürdige gotische Freiburger Münster, am Feuer zahlreicher Kerzen vorbei und lässt so eine mysthische Atmosphäre entstehen. Zwischendurch immer wieder Szenenwechsel mit dem kultigen Kenziger Kino, wo die Zeit stehen geblieben scheint. Diese Bilder illustrieren die im Text beschriebenen Gefühle auf einzigartige Weise.«There is light beyond my sight» wie es in einer Textzeile des Liedes heißt.
Mit dem neuen Musikvideo werden BAIL für weitere Aufmerksamkeit rund um ihr neues Album "Superscar" sorgen und mit seiner kraftvollen Präsenz nicht nur Fans von The Smiths, The Smashing Pumpkins oder Coldplay in Trance versetzen. Die zwölf im Neuwerk Studio aufgenommenen und von André Horstmann produzierten Songs des Albums pendeln zwischen Licht und Dunkel und machen auf leicht provokante Art und Weise auf die Niedertracht des Menschen aufmerksam, die sich insbesondere in Lügen und Realitätsverleumdung äußert. Dabei beleuchten die Stücke des düsteren Rock Epos mit New Wave Einflüssen aber auch die Wahrheit und verborgenen Realitätsperspektiven. Im Ganzen ist es BAIL gelungen, ein eingeständiges Album zu produzieren, das sich mit der Liebe und Angst vor dem Misslingen auseinandersetzt. "Somewhere There Is Light" setzt dieses Konzept in beeindruckenden Bilder in perfekten Kulissen großartig um, wie ihr hier im Musikvideo sehen könnt: https://youtu.be/hPW7MgRcy0s
Wer nach dem Anschauen des düster schönen Musikvideos auf den Geschmack gekommen ist, der kann das BAIL Album "Superscar" ab sofort bei den folgenden Plattenhändlern vorbestellen: Amazon | Saturn | Media Markt | JPC | Weltbild | WOM | Ex Libris | Grooves | Rubydon | Rakuten
Weitere Informationen zum melancholischen Indie Rock Ensemble BAIL um Sänger Klaus Biehler sowie seinen Mitmusikern Toby Ventura an der Gitarre, Kai Escher am Bass, Bertram Hensle am Keyboard und Jürgen Spänle am Schlagzeug findet ihr auf unserem Band-Profil oder unter www.bail-music.com und www.facebook.com/bailband sowie im Band-Videointerview unter https://youtu.be/Yj3K8KPZ9Bs.
Journalisten und Radio-DJs, die ihre Zuhörer und Leser auf eine aufregende Reise durch verschiedene Erzählungen und Emotionen schicken möchten, sind herzlich eingeladen, sich in der VIP & Press Lounge für die Bemusterung und weitere Pressematerialien zu registrieren. BAIL sind auch gerne dazu bereit, euch in einem Interview weiter über ihren spannenden musikalischen Trip zu berichten.
Posted by Miriam Guigueno on 06.10.2016 15:30