Der Liechtensteiner Dark Rock Phönix ETTA ZERO feiert heute die Veröffentlichung seiner neuen Single "Sorrow" über Dr. Music Records samt Musikvideo in großartigen Bildern. Der musikalische Hybrid aus Rock, Electro, Metal und Pop überzeugt wieder einmal mit seinem Gespür für außergewöhnliche Ideen. Die Single erscheint in verschiedenen neuen Versionen u.a. hat Aljoscha Sieg (Eskimo Callboy, We Butter The Bread With Butter, Any Given Day) den Song als Remix in den Pitchback Studios spannend bearbeitet. Dazu gibt es die bereits auf dem ebenfalls über Dr. Music Records erschienenen Album "The Last Of All Sunsets" als Bonus veröffentlichte Remix-Version des gleichnamigen Songs von Sybreed Mastermind Drop (Deathstars, Linkin Park, Coldplay). Von ETTA ZERO selbst stammt das chillige Piano-Medley aus "Sorrow" und "The Last Of All Sunsets", das Anfang des Jahres exklusiv für diese Single im Proberaum aufgenommen wurde und eine neue zerbrechliche Facette der Band zeigt, sowie die ursprüngliche "Sorrow" Demo-Version von der 2007er EP ihres alten Projektes Downfall, die seinerzeit den Radio Liechtenstein Contest als "Best Song International" gewann. Für das von Regisseur Pascale Manuel Vegas in hochauflösenden Bildern inszenierte Musikvideo wählten die Dark Rocker den Remix von Aljoscha Sieg aus. Das unterhaltsame Musikvideo ist ab sofort bei YouTube zu finden und auch als Bonus samt Making-of im Enhanced Part auf der CD-Single verewigt.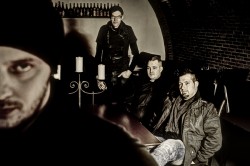 ETTA ZERO kennen sich seit Jugendjahren, musizieren bereits seit Mitte der 90er Jahre in verschiedenen Formationen, Besetzungen und Stilarten zusammen und sind mittlerweile eine eingespielte Truppe. Was 2000 unter dem Namen Downfall mit rockigen Covers von 80ies Synth Pop Songs begann, ist nach ihrem gewagten Neuanfang im Oktober 2010 als ETTA ZERO zu einer ausgereiften Dark Rock Band herangewachsen. Auf ihrem von Tommy Vetterli (u.a. Eluveitie, Coroner, 69 Chambers) produzierten Debüt behandeln die Liechtensteiner textlich die Gegensätze von Licht und Schatten, Schönheit und Tod, die bittersüßen Note des Endes, welches auch immer Ursprung eines Auftaktes ist. Auch in "Sorrow" geht es um ein Ende, nämlich eine verflossene Liebe, die Reue und Verzweiflung nach sich zieht. Und da ETTA ZERO ja bekanntlich Gegensätze lieben, gibt es den Song nun als energiegeladene Single mit ordentlich Electro Einfluss in verschiedenen eindrucksvollen Versionen samt bildgewaltigem Musikvideo.
ETTA ZERO haben euch also ein richtig starkes Paket geschnürt, das ihr ab sofort bei eurem Lieblings-Plattenhändler als limitierte CD-Single, wie auch digital bei allen wichtigen Shops und Streaming-Diensten bekommt. Schaut am Besten direkt mal bei folgenden Online-Stores vorbei: Amazon | iTunes | Amazon MP3 | Spotify | Deezer
Wenn ihr von den Liechtensteinern angetan seid und noch mehr hören wollt, dann könnt ihr euch das Album "The Last Of All Sunsets" jetzt bei folgenden Shops sichern: Amazon | Weltbild | JPC | WOM | Grooves-Inc | Spotify | Deezer
Live und in Farbe könnt ihr ETTA ZERO darüber hinaus an folgenden Terminen erleben:
23.04.2016 FL-Vaduz, Camäleon
23.01.2016 CH-Zürich, Komplex 457 (w/ Kärbholz)
Weitere Shows folgen in Kürze!
Mehr Infos über die düsteren Electro Rocker findet ihr auf unserem ETTA ZERO Bandprofil und www.ettazero.com bzw.www.facebook.com/EttaZero.
Posted by Miriam Guigueno on 20.11.2015 13:30