Das neue WOODBRIDGE Musikvideo "Lies" feiert Weltpremiere auf Legacy.de
Heute feiert das neue Musikvideo zum Song "Lies" der Schweizer Heavy Rocker WOODBRIDGE auf der Website von Deutschlands Stimme der dunklen Seite, dem Legacy Magazin, seine Weltpremiere. Der Titel stammt vom kommenden Album "The Fire Inside", das am 17.04.2015 weltweit über Dr. Music Records erscheint und sich an alle Machthaber richtet, die auf Kosten anderer herrschen und nur an sich selbst denken. Diesen Diktatoren schleudern sie den amerikanisch geprägten Klang ihres handmade Rock um die Ohren.
Die vier Schweizer aus dem Kanton St. Gallen repräsentieren den typischen Outlaw-Lifestyle und lassen dabei die Illusion aufleben, es rieche nach speckigen Lederjacken, Benzin und qualmenden Motorrad-Burnouts. Mit ihren energiereichen Songs sowie dem rohen, ungeschliffenen Sound wird der Freiheitsruf des Highways laut und unüberhörbar. Auf "The Fire Inside" verstehen es WOODBRIDGE mit jedem der zehn Tracks Hitze zu entfachen. Mit dem Album setzt die Band klare Statements und lässt sich musikalisch auf keinen Fall in ein enges Korsett zwängen. Im Gegenteil, das Album, das von von Andi Schneider und Tommy Vetterli (Corey Taylor, Gotthard, Vivian) produziert und von Dan Suter (Kool Savas, Eluveitie, Etta Zero) gemastert wurde, überzeugt besonders durch Abwechslungsreichtum bei den spannenden, mal lustigen und mal nachdenklichen Songs.
Mit der Weltpremiere von "Lies" auf der Legacy Website feuern WOODBRIDGE ab heute den Startschuss ab und machen auf ihr neues Album aufmerksam. Das Musikvideo wurde von der Schweizer Produktionsfirma VDPictures, um Matteo 'Diva' Fabbiani und Chiara Cerami, gekonnt in Szene gesetzt. Die beiden haben bereits Videoclips für so bekannte Bands wie Tanzwut, Stoneman oder Staubkind produziert. WOODBRIDGE werden mit "Lies" gehörig Staub aufwirbeln, überzeugt euch jetzt selbst.
Sollte der eine Clip nicht ausreichen, dem ist ein Blick in den WOODBRIDGE YouTube-Bandkanal nur zu empfehlen. Hier gibt es neben dem bereits veröffentlichten Musikvideo "Four Wheels", in dem die St. Gallener zeigen, was sie unter dem Ruf der Freiheit verstehen auch einige Live-Videos von verschiedenen Konzerten.
WOODBRIDGE sind in den nächsten Monaten auch wieder auf dem Highway unterwegs und machen Station in folgenden Clubs, weitere Zwischenstops folgen in Kürze:
18.09.2015 CH-St. Margarethen, Winter Break
25.07.2015 CH-Rorschach, Pavillon am See
11.07.2015 CH-Buriet SG, Rock Am Gleis
13.06.2015 CH-Schaffhausen, Rock Arena
06.06.2015 CH-Tägerwilen, Krach am Bach
05.06.2015 D-Ulm, Rock am Schilf
22.05.2015 CH-Lucerne, The Bruch Brothers
20.05.2015 CH-Winterthur, Frackwoche
16.05.2015 CH-Zürich, Neugasthof Rockbar
02.05.2015 CH-Gams, S-Event
01.05.2015 CH-Bern, Downi
28.03.2015 CH-Rheineck, Haus zum Eckstein
27.03.2015 CH-Wetzikon, Hall Of Fame
Weitere Infos über die sympathischen Schweizer Outlaws und ihr kommendes Album "The Fire Inside" findest du in unserem Bandprofil oder aber unter www.woodbridgerock.com bzw. www.facebook.com/woodbridgerock!
+++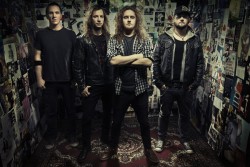 WOODBRIDGE's new music video "Lies" celebrates world premiere on Legacy.de
Today the new music video of the song "Lies" by the swiss Heavy Rock band WOODBRIDGE celebrates its world premiere on the website of Germany's voice from the dark side, the Legacy Magazine. The track is taken from the upcoming album "The Fire Inside", which will be released on April, 17th world wide through Dr. Music Records and it is dedicated to all the rulers who reign on the cost of others and only think self-centered. They throw their American characterized sound of their handmade Rock in the teeth of those dictators.
The four Swiss from St. Gallen represent the typical outlaw lifestyle and let the illusional smell of greasy leather jackets, gas and smoky bike burnouts come alive. With their high-energy songs and raw, uncut sound the call of freedom on the highways becomes loud and unmistakable. On "The Fire Inside" WOODBRIDGE understand how to let heat arise with each of their ten tracks. With the album the band sets clear statements and doesn't let themselves be forced into a tight corset. On the contrary the album produced by Andi Schneider and Tommy Vetterli (Corey Taylor, Gotthard, Vivian) and mastered by Dan Suter (Kool Savas, Eluveitie, Etta Zero), convinces especially with diversity in its straining and then again funny or thoughtful songs.
With the world premiere of "Lies" on the Legacy website WOODBRIDGE fire the starting shot and call attention to their new album. The music video has been ably staged by the swiss production company VDPictures around Matteo 'Diva' Fabbiani and Chiara Cerami. Both have already produced video clips for popular bands such as Tanzwut, Stoneman and Staubkind. WOODBRIDGE will definitely raise some dust, just convince yourself.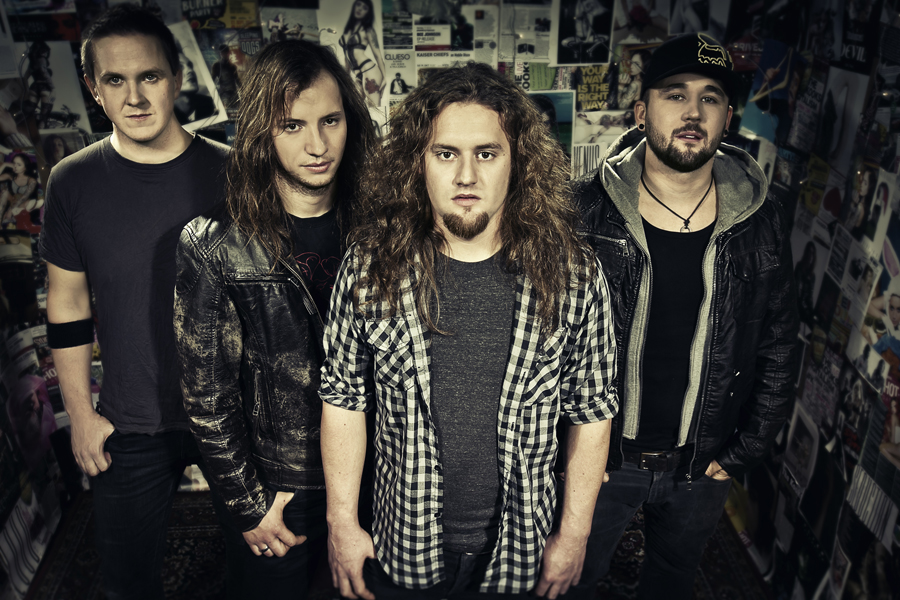 If the clip is not already sufficient, we recommend you to have a look at WOODBRIDGE's YouTube band channel. Next to the already released music video "Four Wheels", in which the band shows what they understand under the call of freedom, you will also find some live videos of several concerts.
For further news about the likeable Swiss outlaws and their upcoming album "The Fire Inside" check out our band profile or visit www.woodbridgerock.com and www.facebook.com/woodbridgerock!
Posted by Miriam Guigueno on 27.03.2015 12:00
Last change on 24.02.2016