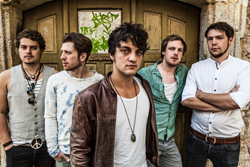 «Oh Sweet Moment, what are we looking for?». Ab heute gibt es die neue Single "Searching" von WILLIAM'S ORBIT für's Herz und dazu das passende Musikvideo, welches zum Träumen einlädt.
Die vier Jungs aus der Oberpfalz wissen nach "Take Your Time" und "Lullaby" wieder einmal mit einem gefühlvollen Musikvideo zu verzaubern. Mit der dritten und letzten Single ihrer ersten EP, welches bereits im September des letzten Jahres erschien, endet das Kapitel "Eurydice" und die Suche geht weiter, was die Single "Searching" mit ihrem Klang voller Herzschmerz anklingen lässt. Der sehnsüchtige Gesang von Sänger Siegfried Häusler mit seiner rauchigen Stimme geht mal wieder unter die Haut. Wer darauf gewartet hat, endlich wieder emotionsgeladenen Indie Rock mit Gänsehaut-Momenten serviert zu bekommen, bekommt diesen mit der aktuellen Platte von WILLIAM'S ORBIT und ist dabei nicht einmal auf Exporte aus England oder Schweden angewiesen. Wer Mando Diao, Kings Of Leon, Coldplay oder auch Mumford And Sons mag, wird diesen krönenden Abschluss zu "Eurydice" lieben und dahinschmelzen.
Ihr wollt mehr von WILLIAM'S ORBIT hören und die aktuelle Single ist euch nicht genug? Dann besucht doch mal die Website der fünf schneidigen Burschen unter www.williams-orbit.de oder schaut euch die liebevoll gepflegte Facebook-Seite der Band unter www.facebook.com/williamsorbit an, wo euch die Jungs persönlich mit News und aktuellen Tourdaten auf dem Laufenden halten.
Die EP "Eurydice" könnt ihr bei folgenden Händlern erhalten und euch von der Musik auf eine wundervolle Reise gefüllt mit positiver Melancholie und Liebesabenteuern begleiten lassen:
Posted by Miriam Guigueno on 13.02.2015 14:30
Last change on 13.04.2015