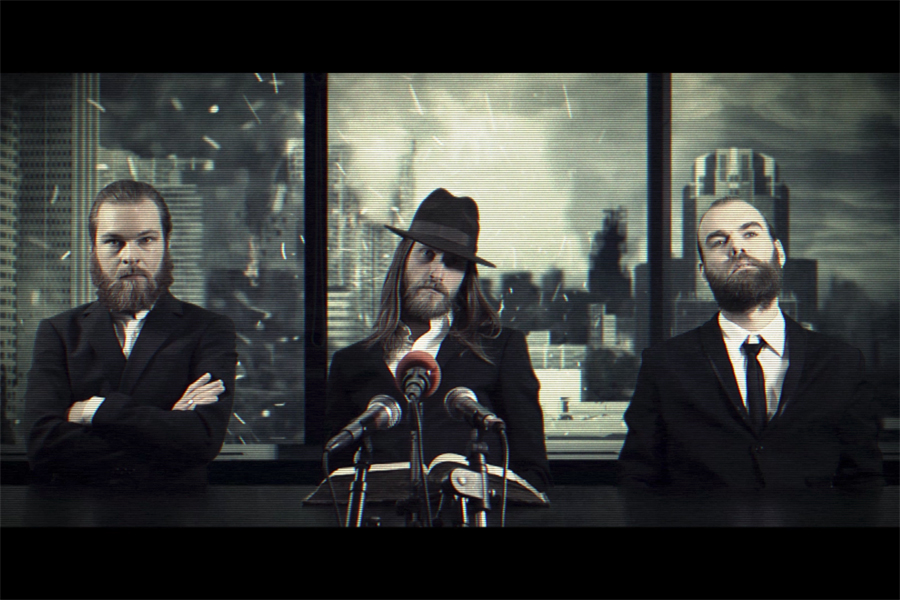 JESUS CHRÜSLER SUPERCAR läuten beim Metal Hammer mit ihrem neuen Musikvideo "God Gave Me Nothing" den Weltuntergang ein
Heute haut der Metal Hammer mal wieder ein paar neue Musikvideos raus! Dieses Mal sind auch unsere Lieblings-Rauschebart Death 'n' Roller JESUS CHRÜSLER SUPERCAR dabei! Ihr Video zu "God Gave Me Nothing" von der neuen EP "Full Blown Hell" ist eine Mischung aus schwedischer Lässigkeit, Weltuntergangsvisionen und selbstverständlich darf die ein oder andere Explosion auch nicht fehlen!
Also, wenn eurem Wochenende noch das gewisse Etwas fehlt, hier der Video-Link zum Metal Hammer, der euren Puls mit ordentlich Doom hochtreiben wird!
Die EP "Full Blown Hell" könnt ihr euch ab sofort in der limitierten 7" Vinyl-Version oder als Download bei den weiter unten gelisteten Shops besorgen!
+++
JESUS CHRÜSLER SUPERCAR sound the bell for the apocalypse with their new music video "God Gave Me Nothing" on Metal Hammer
Today the German Metal Hammer knocks out some new music videos! And this time our favourite big bushy beard Death 'n' Rollers JESUS CHRÜSLER SUPERCAR are in! Their video to "God Gave Me Nothing", taken from the new EP "Full Blown Hell", is a mixture of Swedish nonchalance, apocalyptic visions and of course you will see one or another explosion as well!
Anyway, if your weekend lacks of that special something, here is the video link to Metal Hammer, which will let your pulse increase with a lot of doom!
Get now the new EP "Full Blown Hell" as limited 7" vinyl version or as download at the following shops:
Amazon: http://bit.ly/jcsc_fbh_amazon
Flight13: http://bit.ly/jcsc_fbh_flight13
HHV.de: http://bit.ly/jcsc_fbh_hhv
Amazon MP3: http://bit.ly/jcsc_fbh_amazonmp3
iTunes: http://bit.ly/jcsc_fbh_itunes
Spotify: http://bit.ly/jcsc_fbh_spotify
CDON: http://bit.ly/jcsc_fbh_cdon
Play.com: http://bit.ly/1lhZQiZ
Posted by Miriam Guigueno on 14.06.2014 16:45
Last change on 19.02.2019