MY OWN ARMY: "Too Many Faces"  – Holländischer Rock allererster Güte ab heute im Handel!
MY OWN ARMY, aus der niederländischen Metropole Rotterdam, veröffentlichen am 03.04.2014 ihr im Steel Cable Factory Studio produziertes Album "Too Many Faces" weltweit über RVPrecords. Mit ihrem zeitgemäßem progressivem Sound fangen sie den Hörer ein und nehmen ihn mit auf eine eindrucksvolle Reise in die düstere Welt eines kalten Industriemolochs. Mal kraftvoll und energisch, dann wieder zart und zerbrechlich. Progressiver Alternative Rock wie man ihn so nicht ganz so oft findet.
Das Album ist ab sofort als Download bei den allseits bekannten Shops erhältlich und beinhaltet acht Songs, die rohe Kraft und atmosphärische Klänge zu einer spannenden Melange, die von den intensiven Lyrics, die die menschliche Moralfabrik in Frage stellen, noch anspruchsvoll erweitert werden. Das niederländische Webzine WrittenInMusic.com ist von dem MY OWN ARMYs Musik bereits begeistert und schreibt: «MY OWN ARMY liefern mit "Too Many Faces" ein sehr cleveres Album ab, dass auf jeden Fall die niederländische Szene beleben könnte. Die Musik klingt genauso, wie sie aus den Niederlanden kommen muss. Holländischer Rock allererster Güte.
Die Trackliste und weitere Infos zur Veröffentlichung findet ihr auf der Dr. Music Promotion MY OWN ARMY Seite und weitere News zur Band unter www.myownarmy.nl oder www.facebook.com/myownarmy.
Bei Interesse an Promo-CDs oder Downloads des Albums "Too Many Faces" für Reviews oder Airplay wendet euch bitte direkt an das Dr. Music Promotion Team oder registriert euch in unserer VIP & Press Lounge. Selbstverständlich stehen MY OWN ARMY auch für Interviews bereit.
+++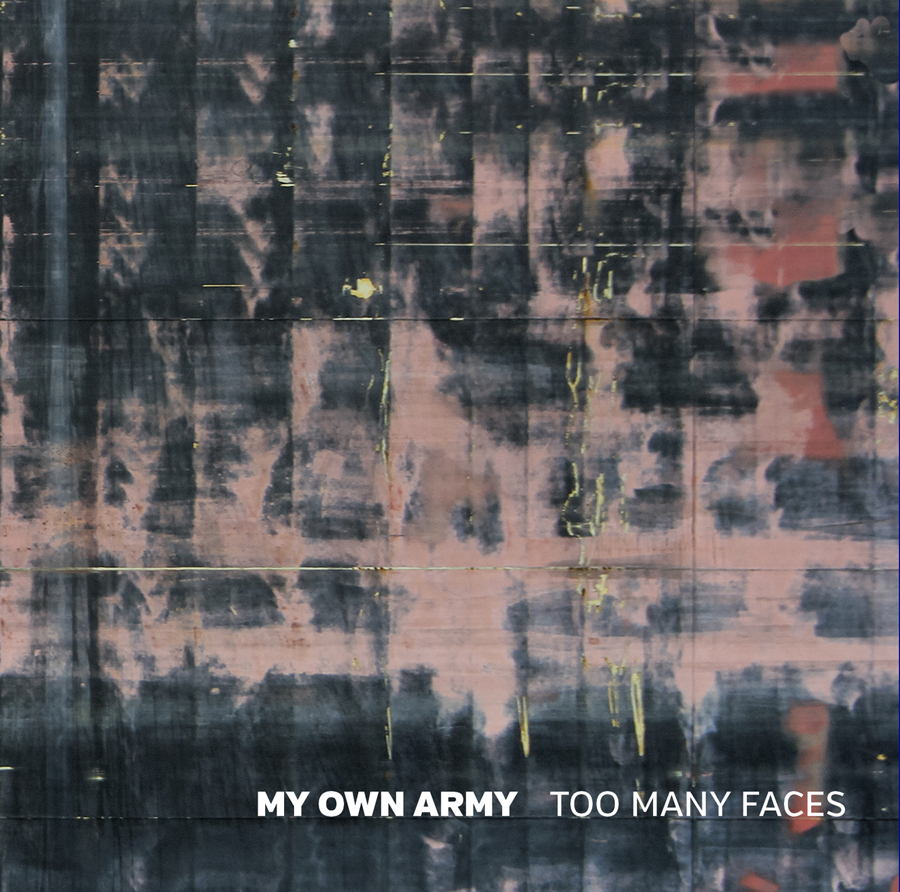 MY OWN ARMY: "Too Many Faces"  – Dutch premium Rock out now!

MY OWN ARMY, from the metropole Rotterdam, will release their at Steel Cable Factory produced album "Too Many Faces" worldwide on April 3rd, 2014 through RVPrecords. With their contemporary progressive sound, MY OWN ARMY catch the listener and take him on an impressive journey into the dark world of a cold industrial juggernaut. At times powerful and energetic, soft and fragile at other times. Progressive Alternative Rock you won't find very often.
The album is now available for download at the well-known stores and includes eight songs, which combine raw power and atmospheric sounds creating an exciting melange which is brained up by the intense lyrics which question the human morale. The Webzine WrittenInMusic.com from the Netherlands is already stoked by MY OWN ARMYs music and writes: «MY OWN ARMY deliver a very clever album with "Too Many Faces" which could certainly revive the Dutch scene. The music sounds just like it should coming from the Netherlands. Dutch premium Rock!»
Get the tracklist and more information about the release on Dr. Music Promotion's MY OWN ARMY page and further news to the band on www.myownarmy.nl oder www.facebook.com/myownarmy.
If interested in MY OWN ARMY's album "Too Many Faces" for reviews or airplay please contact directly the Dr. Music Promotion team or register yourselves in our VIP & Press Lounge. Naturally MY OWN ARMY are available for interviews.
Posted by Miriam Guigueno on 03.04.2014 18:20
Last change on 10.04.2014