Die New Yorker Progressive Power Rock Band FOUR TRIPS AHEAD veröffentlicht heute ihre EP "Remnants" mit der sie die gegen sozialen Unruhen in den USA protestieren
Am heutigen Freitag, den 10.09.2021 erscheint FOUR TRIPS AHEADs brandneue EP "Remnants" über Dr. Music Records. Angetrieben von ihrem Motto 'Reclaim Rock Music' belebt die New Yorker Progressive Power Rock Band den ursprünglichen Geist des harten, ehrlichen Rocks und trotzt den Auswirkungen der COVID-19-Pandemie. Denn auch die US-Amerikaner hat diese persönlich hart getroffen, nicht nur, dass sie ihr geplantes Album nicht zu Ende aufnehmen konnten, so gab es auch im Bandumfeld einige Schicksalsschläge zu verkraften. Doch echte Rocker stecken den Kopf nicht in den Sand, sondern machen das Beste aus der Situation. Vereint und fokussierter denn je, hat die NYC-Band eine feste, kompromisslose Haltung eingenommen und ihren unverkennbaren harten, melodischen Signature-Sound beibehalten, der FOUR TRIPS AHEAD als eine Größe in der modernen Rockmusik-Landschaft auszeichnet. Musikalisch präsentieren die vier Musiker mit den fünf neuen Songs einen reifen progressiven Modern Rock Sound, der raffinierte, verspielte und anspruchsvolle Passagen mit straighten Riffs und außergewöhnlichen Harmonien kombiniert, die "Remnants" zu einem ganz besonderen Hörerlebnis werden lassen. Das zeigen auch die beiden bereits vorab veröffentlichten Singles "Remnants" und "It's Alright", die von fulminanten Lyric-Videos aus der digitalen Feder von Wayne Joyner (Dream Theater, Primal Fear, Ayreon) begleitet werden. Produziert von Leadsänger Peter Wilson, wurden die Tracks von Nik Chinboukas (Metal Allegiance, Testament, Chris Caffery) aufgenommen und vom mit Grammy und Emmy preisgekrönten Toningenieur Nick Cipriano (Dream Theater, Twisted Sister, Erasure) wieder in den Spin Recording Studios gemischt, sowie von Roger Lian (Rush, Muse, Slayer, Pantera, Coheed and Cambria) gemastert. Peter Wilson äußert sich in eigenen Worten zu den ungewöhnlichen Zuständen des Aufnahmeprozesses inmitten des politischen Durcheinanders in den USA Ende 2019 sowie dem Beginn der Pandemie: «Wir befanden uns in einer hochkreativen Phase, also stürzten wir ins Studio, um die stärksten neuen Songs aufzunehmen und den kraftvollen Vibe einzufangen. Die fünf Songs hatten ähnlich brisante Themen und wurden sozusagen auf der Straße getestet. Es war unmöglich, sich nicht von der Wut, der Frustration und den sozialen Unruhen inspirieren zu lassen, die wir alle miterlebten und fühlten. Als wir dann mit dem Abmischen begannen, stand die ganze Welt plötzlich komplett auf dem Kopf.»
FOUR TRIPS AHEAD setzen ihren Weg unbeirrbar fort und haben mit "Remnants" eine aufregend, modern und frisch klingende EP im Gepäck, die mit einem fetten Heavy Rock Sound voller knarzender, verzerrter Gitarren, die mit kraftvollem Schlagzeugspiel kollidieren und dem intensiv energischen Gesang von Peter Wilson begeistert. Rockfans jeden Zeitalters sollten sich diese fünf modernen Power Rock Hymnen definitiv zu Gemüte führen. Fans von Black Stone Cherry, Alter Bridge, Tremonti oder The Brew werden mit FOUR TRIPS AHEADs EP "Remnants", dessen Artwork von Debbie Allen gestaltetet wurde, eine verdammt gute Zeit haben. "Remnants" ist ab sofort digital bei allen wichtigen Musikplattformen erhältlich: Amazon (DE) | Amazon (US) | SMStracks | Spotify | Apple Music & iTunes | Deezer | Tidal | YouTube Music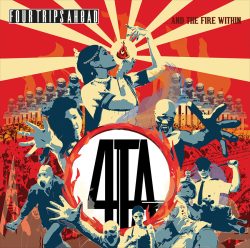 Die Anfänge von FOUR TRIPS AHEAD gehen auf das Jahr 2003 zurück, als sich die erfahrenen New Yorker Musiker erstmals auf der Suche nach einem neuen kreativen Betätigungsfeld trafen. Sofort erkannten Sänger Peter Wilson, Gitarrist Brian Eisenpresser, Basser Dan Cassidy sowie Schlagzeuger Ken Candelas ihre gemeinsamen musikalischen Interessen, das Komponieren von ausgereiften Heavy Rock Sounds mit starken Melodien und progressiver Dynamik. Schon bald brachte das Quartett seine energiegeladene Musik an die US-Ostküste und weiter in die gesamten Vereinigten Staaten. Auch in Europa haben sie mit Interviews und Samplerbeiträgen in namhaften Rockmagazinen zum Album "…And The Fire Within" erste Duftmarken gesetzt. Zudem ist das FOUR TRIPS AHEAD Album "…And The Fire Within" weiterhin bei diesen Plattenläden sowie allen bekannten digitalen Shops und Streaming-Diensten erhältlich: Amazon (DE) | Saturn | Media Markt | Thalia | Buecher.de | Weltbild | JPC | WOM | Moluna | Grooves | CeDe | ExLibris | Amazon (US) | MVD | Amazon (UK) | Plastic Head | Amazon (FR) | Fnac | Amazon (ES) | Amazon (IT) | Sound Pollution | Bengans | Ginza | CDON | iMusic.dk | SuperShop.sk | Mercado Libre | HMV | Tower Records | iTunes | Google Play | SMStracks | Spotify | Apple Music | Deezer | Tidal
Für aktuelle News sowie künftige Tourdaten dieser energiegeladenen NYC Progressive Power Rock Band, macht einen Satz zu www.facebook.com/fourtripsahead, www.instagram.com/fourtripsahead oder ihrer Website www.fourtripsahead.com. Weitere Infos zu FOUR TRIPS AHEAD und ihrem Motto #ReclaimRockMusic sind zudem unter www.dr-music-promotion.de zu finden.
+++
+++
New York City Progressive Power Rock band FOUR TRIPS AHEAD releases today their EP "Remnants" with which they protest against social unrest in the USA
Today, on Friday, 09/10/2021, FOUR TRIPS AHEAD's brand new EP "Remnants" drops via Dr. Music Records. Driven by their motto 'Reclaim Rock Music', the New York City-based Progressive Power Rock band revives the original spirit of hard, honest Rock and defies the effects of the COVID-19 pandemic. Since this has also affected the US-Americans personally hard, not only because they could not finish recording their planned album but also because they had to cope with some strokes of fate in the band environment. But real rockers don't bury their heads in the sand, instead they make the best of the situation. More united and focused than ever before, the NYC band has taken a firm, uncompromising stance, keeping its unique, poignant heavy, melodic signature sound that marks FOUR TRIPS AHEAD as a force to be reckoned with in the modern Rock music landscape. Musically, the four musicians present a mature Progressive Modern Rock sound with the five new songs, combining refined, playful and sophisticated passages with straight riffs and extraordinary harmonies that makes "Remnants" become an exceptional listening experience. This is also proven by the two already released singles "Remnants" and "It's Alright", which are accompanied by brilliant lyric videos directed by Wayne Joyner (Dream Theater, Primal Fear, Ayreon). Produced by lead vocalist Peter Wilson, the tracks were engineered by Nik Chinboukas (Metal Allegiance, Testament, Chris Caffery) and mixed by Grammy and Emmy award-winning engineer Nick Cipriano (Dream Theater, Twisted Sister, Erasure) once again at the Spin Recording Studios, as well as mastered by Roger Lian (Rush, Muse, Slayer, Pantera, Coheed and Cambria). Peter Wilson, in his own words, comments on the unusual state of the admissions process amid the political imbroglio in the U.S. at the end of 2019, as well as the onset of the pandemic: «We were in a highly creative period thus we rushed into the studio to track the strongest new songs to capture the powerful vibe. The five songs had similar urgent themes and were road-tested, so to speak. It was impossible not to be inspired by the anger, frustration and social unrest, which we were all witnessing and feeling. As we started mixing, the world turned completely upside down.»
FOUR TRIPS AHEAD continue their path unswervingly with "Remnants", an exciting, modern and fresh sounding EP that thrills with a fat Heavy Rock sound full of creaking, distorted guitars colliding a powerful drumming and the intensely energetic vocals of Peter Wilson. Rock fans of any era should definitely check out these five modern Power Rock anthems. Fans of Black Stone Cherry, Alter Bridge, Tremonti or The Brew will have a damn good time with FOUR TRIPS AHEAD's EP "Remnants", whose artwork was designed by Debbie Allen. "Remnants" is now available digitally from all major music platforms: Amazon (DE) | Amazon (US) | SMStracks | Spotify | Apple Music & iTunes | Deezer | Tidal | YouTube Music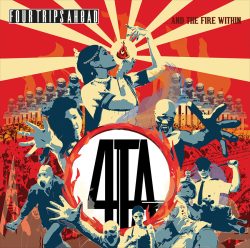 FOUR TRIPS AHEAD's roots date back to 2003 when the seasoned New York City musicians first came together in search of a new creative outlet. Vocalist Peter Wilson, guitarist Brian Eisenpresser, bassist Dan Cassidy and drummer Ken Candelas instantly recognized their common musical interests, composing sophisticated Heavy Rock sounds with strong melodies and progressive dynamics. The quartet soon brought their energetic music to the US East Coast and across the United States. Also, in Europe, they have left first scent marks with interviews and sampler contributions in renowned Rock magazines for the album "…And The Fire Within". Furthermore, FOUR TRIPS AHEAD's album "…And The Fire Within" is still available at these record stores, as well as all major digital stores and streaming services: Amazon (DE) | Saturn | Media Markt | Thalia | Buecher.de | Weltbild | JPC | WOM | Moluna | Grooves | CeDe | ExLibris | Amazon (US) | MVD | Amazon (UK) | Plastic Head | Amazon (FR) | Fnac | Amazon (ES) | Amazon (IT) | Sound Pollution | Bengans | Ginza | CDON | iMusic.dk | SuperShop.sk | Mercado Libre | HMV | Tower Records | iTunes | Google Play | SMStracks | Spotify | Apple Music | Deezer | Tidal
For the latest news and future tour dates of this energetic NYC Progressive Power Rock band, head over to www.facebook.com/fourtripsahead, www.instagram.com/fourtripsahead or their website www.fourtripsahead.com. To get more information about FOUR TRIPS AHEAD and their motto #ReclaimRockMusic, check out www.dr-music-promotion.de.
Posted by Miriam Guigueno on 10.09.2021 09:30
Last change on 13.04.2022