BEN GRANFELT:
BEN GRANFELT convinces on "My Soul To You" with fresh Blues Rock from the bottom of his heart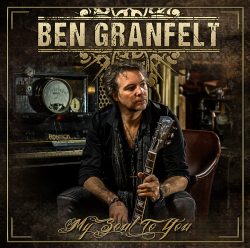 BEN GRANFELT überzeugt auf "My Soul To You" mit frischem Blues Rock aus tiefstem Herzen
Kraftvolle Texte, fesselnde Melodien und starke Gitarrenthemen sind die Grundlagen von BEN GRANFELTs neuem Album "My Soul To You". Der finnische Altmeister an der E-Gitarre liefert einen frischen Sound, der tief aus seinem Herzen kommt. BEN GRANFELT beweist über die gesamte Spielzeit immer wieder mit seiner präzisen Gitarrenarbeit, dass er in der Lage ist, mit Saite wie Stimme besondere Momente zu kreieren, die im Gedächtnis bleiben. Sein melodischer Rock mit Blues Note zeichnet sich durch sein wahnsinnig gutes Gefühl für Tempo und Atmosphäre aus. Zusammen mit seinen langjährigen Wegbegleitern Masa Maijanen und Produzent Okko Laru an Bass und Schlagzeug gelingt es ihm gleichzeitig seinem eigenen Sound treu zu bleiben, dabei aber auch die eigene Weiterentwicklung voranzutreiben. Zusätzlich werden Stammhörer erstmalig mit Gastsängern verwöhnt. Egal ob es raumfüllende lange Klänge, rockige Rhythmen oder erstklassige Blues-Soli sind, BEN GRANFELT schafft es den passenden Ton zu finden. "My Soul To You" erscheint am 22.06.2018 über A1 Records im Vertrieb von Soulfood.
BEN GRANFELT kann sich schon seit längerem als Urgestein der Rockmusik bezeichnen. Seit nun mehr 34 Jahren ist er als professioneller Gitarrist unterwegs und hat dabei nicht nur zahlreiche Stationen abgearbeitet, sondern auch reichlich internationale Erfolge gefeiert! Angefangen mit den Gringos Locos, über die Guitar Slingers, zum ganz großen Durchbruch mit den Leningrad Cowboys. Mit Letzteren hat er als Mastermind und Leadgitarrist riesige Erfolge in über 20 Ländern mit deren verrückten Stilmix gefeiert. Von 2001 bis 2005 zupfte er zudem in Andy Powells legendären Wishbone Ash die Saiten. Mit den Los Bastardos Finlandeses veröffentlichte er noch zusätzlich drei interessante Alben. Ganz nebenbei hat er unter den insgesamt 36 Alben, an denen er bisher beteiligt war, 15 Solo-Alben veröffentlicht, wovon mit "My Soul To You" nun das 16. vorliegt. Dass er nach all den Jahren noch lange nicht genug hat und stetig besser wird, spricht für ihn! So hat er auf diesem neuen Album auch seine gewöhnliche Ausrüstung aus Fender Strat und Gibson Les Paul um jeweils eine Duesenberg, Gretsch und Paoletti erweitert und somit weitere Zutaten für seinen herzhaften und leicht veränderten Sound gefunden. Schmackhaft geht es auch gleich mit dem ersten Track "Weight Of The World" zu. BEN GRANFELT lässt zu seinen pessimistisch, hoffnungslosen Lyrics gekonnt Raum und Zeit für seine Gitarre, ohne dabei in Trägheit zu verfallen. Außerdem sticht hier das signifikante Drumming heraus, welches einen gelungenen Einstieg manifestiert. "Life, Living And You" wirkt direkt als Gegenpol zum ersten Track. In einem stampfenden Rhythmus artikuliert der finnische Musiker aus Helsinki sein Verlangen danach, mit jemandem auszubrechen und allen frustrierenden Aspekten des Alltags zu entfliehen. Weitere Highlights sind sicherlich auch die Songs mit Gastmusikern: BEN GRANFELTs Ehefrau Jasmine Wynants-Granfelt singt auf dem gemeinsamen, an ZZ Top anmutenden und gut mitsingbaren, PJ Harvey Cover "This Is Love" während Wishbone Ash Gitarrist Muddy Manninen die Lap Steel Gitarre erklingen lässt. Bryn Jones wiederum verleiht mit seiner rauchigen Stimme "My Heroine" eine verruchte Stimmung, welche die Lyrics außerordentlich passend untermalen. Manche der nachfolgenden Songs sind rockiger, andere erinnern mehr an reinen Blues. Im bemerkenswerten Instrumental-Track "Sunrise" fängt der feinsinnige Songwriter die Stimmung des Sonnenaufgangs in seiner geduldigen Schönheit ein. BEN GRANFELT ist wie ein guter Wein, der beim Altern immer besser wird und dies im Herbst auf seiner Tour live wieder zur Schau stellen wird.
BEN GRANFELT bestätigt auf "My Soul To You" ein weiteres Mal, dass er sich, sogar auf den hohen Standards, die er sich selbst gesetzt hat, noch immer fortentwickelt. Sein chirurgisch-präzises Gitarrenspiel, das sich gleichzeitig reichlich Raum und Zeit für Atmosphäre nimmt, ist gepaart mit seiner feinen Stimme ein wahrer Ohrenschmaus, der definitiv Anerkennung ernten wird.
+++
BEN GRANFELT convinces on "My Soul To You" with fresh Blues Rock from the bottom of his heart
Powerful lyrics, captivating melodies and strong guitar themes establish the foundations of BEN GRANFELT's new album "My Soul To You". The Finnish doyen of the electric guitar delivers a fresh sound that comes from the bottom of his heart. BEN GRANFELT proves once more throughout the entire playing time with his precise guitar work that he is able to create special moments with string and voice that remain in your memory. His Melodic Rock with a Blues note is characterized by his outstanding feeling for tempo and atmosphere. Together with his long-time companion Masa Maijanen and producer Okko Laru on bass and drums, he manages to remain true to his own sound while advancing his personal development. In addition, regular listeners will be spoiled with guest singers for the first time. Whether his extensive sounds, rocking rhythms or first-class blues solos, BEN GRANFELT succeeds to strike the right note. "My Soul To You" will be released on 22.06.2018 through A1 Records, distributed by Soulfood.
BEN GRANFELT can already call himself an institution in Rock music for a long time. He has been on the road as a professional guitarist for more than 34 years and has not only worked through numerous stations but has also celebrated plenty of international successes! From the Gringos Locos, to the Guitar Slingers, to the big breakthrough with the Leningrad Cowboys. With the latter he has celebrated huge successes as a mastermind and lead guitarist in over 20 countries with their crazy genre mix. From 2001 to 2005 he also plucked the strings in Andy Powell's legendary Wishbone Ash. With the Los Bastardos Finlandeses he released three more interesting albums. Casually, he has released 15 solo albums out of the 36 albums in which he has been involved so far, of which "My Soul To You" is now the 16th. That he still isn't fed up after all these years and is constantly improving says it all! On this new album he also extended his usual equipment from Fender Strat and Gibson Les Paul by a Duesenberg, Gretsch and Paoletti each and thus found further ingredients for his hearty and slightly modified sound. The first track "Weight Of The World" is in some way tasty, too. BEN GRANFELT leaves space and time for his guitar to his pessimistic, hopeless lyrics without falling into inertia. Furthermore, the significant drumming stands out here, which manifests a successful entry. "Life, Living And You" acts directly as an antipole to the first track. In a stomping rhythm, the Finnish musician from Helsinki articulates his desire to break out with someone and to escape from all frustrating aspects of everyday life. Further highlights are certainly the songs with guest musicians: BEN GRANFELT's wife Jasmine Wynants-Granfelt sings on the joint PJ Harvey cover "This Is Love", which sounds quite like ZZ Top and is easy to sing along, while Wishbone Ash guitarist Muddy Manninen handles the lap steel guitar. Furthermore, Bryn Jones with his smoky voice lends a filthy mood to the lyrics of "My Heroine". Some of the following songs are rockier, others remind of pure blues. In the remarkable instrumental track "Sunrise" the subtle songwriter captures the mood of sunrise in its patient beauty. BEN GRANFELT is like a good wine that gets better and better as it ages and will show this live again on his tour in autumn.
On "My Soul To You" BEN GRANFELT once again confirms that he is still evolving, even on the high standards he has set for himself. His surgically precise guitar playing, which at the same time takes plenty of time and space for atmosphere, coupled with his fine voice, is real ear candy, which will definitely earn him appreciation.
Line-Up:
Ben Granfelt: Gesang, Gitarre
Masa Maijanen: Bass
Okko Laru: Schlagzeug
Tracklist "My Soul To You":
Weight Of The World
Life, Living And You
This Is Love
My Soul To You
A Better Place
Fuel To Burn
My Heroine
Tough Love
Mind Your Head And Watch Your Step
Sunrise
Discography:
2018 My Soul To You
2016 Another Day
Full discography: en.wikipedia.org/wiki/ben_granfelt
Record Label: A1 Records | www.a1records.de
Press Downloads: www.dr-music-promotion.de
Website: www.bengranfelt.com | www.facebook.com/bengranfeltband | www.twitter.com/bengranfeltband