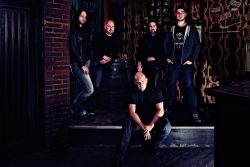 ATHORN kehren mit dem post-apokalyptischem Konzept-Album "Necropolis" zurück!
Was würde wohl passieren, wenn ein Meteorit ganz plötzlich auf der Erde einschlägt und die gesamte Menschheit in ein Volk von Untoten verwandelt? ATHORN prophezeien mit ihrem neuen Konzept-Album "Necropolis", das am 16.09.2016 über Dr. Music Records erscheint, genau dieses Ende der Welt. Ihre Zukunftsvision spielt sich in einem düsteren Wasteland-Szenario ab, in dem das Ende der menschlichen Zivilisation auf dem Planeten totales Chaos auslöst und ihn in apokalyptische Zustände versetzt. So sprengt die Band aus Hannover mit ihrem komplett in Eigenregie im Waveland Productions Studio von Sänger Carsten Frank produzierten Album, alle Grenzen des Metal-Genres und vereint so gut wie jeden Stil zwischen Melodic Death und Power Metal in einem kreativen Schmelztiegel miteinander. Damit beweisen ATHORN durchaus, dass eine explosive Mischung aus verschiedenen Genres und unaufhaltbarer Energie zu einem eindrucksvollen Ergebnis führen kann.
Einige Wochen vor dem Album wird als erste Single der Song "Another Day In Hell" zusammen mit einem monumentalen Musikvideo veröffentlicht. Der Clip ist von Sänger Carsten Frank phänomenal mit spektakulären 3D-Animationen in Szene gesetzt worden und wird mit seinem ganz besonderen Vorgeschmack auf die nahende Apokalypse in der Metal-Szene seinesgleichen suchen.
Bereits mit ihrem Debüt-Album "Phobia", welches 2010 über AFM Records erschien, sorgten ATHORN bei der Metal Presse und sogar beim Blind Guardian Mastermind Hansi Kürsch mit dem Zitat «Alle Achtung – das ist die volle Breitseite!» für Wirbel. Das zweite Album "Necropolis" wird genauso wuchtig einschlagen. Die zehn Songs des Longplayers kombiniert mit dem stimmungsvollen Artwork, das ebenfalls von Multitalent Carsten Frank kreiert wurde, bilden zusammen eine unschlagbare Einheit. "Necropolis" wird sowohl als Digipak im Handel als auch in einer streng limitierten Special Edition Metallbox inklusive einiger Goodies, die es nur über die Bandwebsite und bei Konzerten geben wird, erhältlich sein.
Es ist an der Zeit, sich auf das Ende der Welt vorzubereiten! Wenn ihr mehr über die bevorstehende Apokalypse oder die aktuellen Aktivitäten der fünf Musiker um Sänger Carsten Frank, Björn Spier und Tobias Liedke an den Gitarren, Bassist Matthias Brandt und Schlagzeuger Philipp Horst herausfinden wollt, besucht das Bandprofil von ATHORN oder schaut auf der Bandwebsite sowie bei Facebook vorbei. Für einen ersten Einblick in den nahenden Weltuntergang schaut euch jetzt schon den Videoteaser zu "Necropolis" an.
Journalisten und Radio DJs, die ihren Lesern und Zuhörern ein paar schöne letzte Stunden vor dem Ende unseres Planeten bereiten möchten, sind herzlichst eingeladen sich in unserer VIP & Press Lounge für die Bemusterung vormerken zu lassen. ATHORN stehen auch gern für Interviews zur drohenden musikalischen Endzeit zur Verfügung.
+++
+++
ATHORN return with their post-apocalyptic concept album "Necropolis"!
What would happen if a meteorite suddenly hit the earth and turned the entire mankind into a nation of the living dead? ATHORN predict this exact end of the world crisis with their new concept album "Necropolis", which will be released on September 16, 2015 through Dr. Music Records. Their vision of the future is set in a gloomy wasteland scenario, in which the end of human civilization causes complete chaos on the planet and puts it into an apocalyptic state. The German band bursts all boundaries of the metal genre with their in vocalist Carsten Frank's Waveland Productions Studio completely autonomously produced album and unites pretty much every style between Melodic Death and Power Metal in a creative melting pot. This way, ATHORN absolutely prove that an explosive mix with different genres and unstoppable energy can result in a spectacular result.
A few weeks before the album's release, the first single "Another Day In Hell" will be released including an epic music video. The clip has been spectacularly arranged by vocalist Carsten Frank with phenomenal 3D animations and with its special pretaste for the upcoming apocalypse, it will be on the lookout for its equals in the metal scene.
Even with their debut album "Phobia", released through AFM Records in 2010, ATHORN were able to cause a stir in the metal press battlefield and also for Blind Guardian mastermind Hansi Kürsch with the statement «Well done! That is a complete knockout!». Their second album "Necropolis" will strike just as massively. The ten songs of the longplayer combined with the atmospheric artwork, also created by all-rounder Carsten Frank, make up an unbeatable unity. "Necropolis" will be available in stores as digipak as well as in a super limited special edition metal box including some goodies, which will only be available through the band website or at live shows.
The time has come to prepare for the end of the world! If you want to know more about the upcoming apocalypse or the band, namely singer Carsten Frank, guitarists Björn Spier and Tobias Liedke, bassist Matthias Brandt and drummer Philipp Horst and their recent activities, check out our ATHORN band profile or their website and their Facebook page. For a first impression of the approaching doomsday check out the video teaser for "Necropolis".
All journalists and radio DJs who want to give their readers and listeners some quality time before the end of the world are cordially invited to sign up for the sampling in our VIP & Press Lounge. Of course, ATHORN are available for interviews regarding the threatening musical armageddon.
Posted by Miriam Guigueno on 16.06.2016 14:00
Last change on 12.07.2016